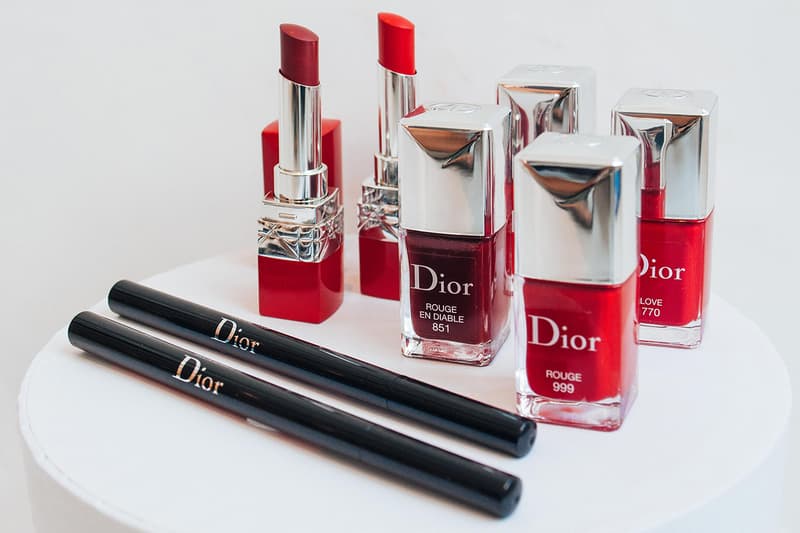 Beauty
Our Editors Review Their Favorite Rouge Dior Ultra Rouge Shades
The perfect fall reds for your lips and nails.
Our Editors Review Their Favorite Rouge Dior Ultra Rouge Shades
The perfect fall reds for your lips and nails.
The colors of the falling leaves have really inspired us to use red-hued makeup more often this season. In search for the perfect reds to wear on our lips and nails, the HYPEBAE editors have tested out products from Dior Makeup's recently launched Rouge Dior Ultra Rouge collection. Arriving in various shades of the classic red, the new range that's made up of lipsticks, lip liners and nail lacquers is perfect for adding a touch of sophistication to any day or night look.
Continue reading for our editors' honest reviews on each product. If you're looking to pick up a shade or two for yourself, head over to dior.com to shop.
Like most girls, I'm always chasing after the perfect red lip. I tried the Ultra Rouge lipstick ($37 USD) in both "999" and "851." "999" is a vibrant signature red and gives me all the pin-up girl vibes. "851" is deeper, more sultry red and definitely more for a night look. Both shades would not be daily lip colors for me, but I'm definitely going to save them for special occasions. Because the lipstick has a shiny finish, I didn't know whether to believe the advertising that it would last 12 hours, but I did the classic lipstick versus dinner test, and although the color didn't come out unscathed, it lasted throughout the meal.
One con of the lipstick was that I found it hard to create clean lines because of the rounded edge. This is why it's essential to pair the product with the Rouge Ink Lip Liner ($32 USD). I was initially intrigued by the product, because it comes in felt-tipped form. The lip liner is made of a water-based solution, which gives a translucent lip stain appearance. Unlike other cream-based lip liners, I don't think this would a good product to wear on its own, but paired with the lipstick, it was extremely blendable and helped to create a clean lip look. The lip liners don't come in as many colors as the lipsticks, but I paired the "999" lipstick with the "777" lip liner and the "851" lipstick came with a matching "851" lip liner, and they were the perfect duos.
I like to pack light, so despite being a self-confessed beauty junkie, I don't usually carry around that many products in my makeup bag. While I do love a dramatic, bold pout, I enjoy wearing lip colors that aren't particularly time consuming and tricky to apply on a day-to-day basis. It's especially ideal when a mirror isn't required to achieve the perfect application.
The Rouge Dior Ultra Rouge "777" and "641" really tick all the boxes for me. Not only are both shades gorgeous and perfect for fall — the former is a vibrant, warm-toned red while the latter is a brownish red — they're extremely fuss-free to wear. On days when I'm in a hurry, I'd skip using the matching Rouge Dior Ink Lip Liner and apply either shade directly onto my lips. The formula of the lipstick feels lightweight and very moisturizing, and is forgiving to wear even without a mirror on hand. The lip colors are buildable, so you can really go from sheer to opaque depending on your mood. 
I've always been a fan of Dior Makeup, and have been a loyal user of the brand. Coincidentally, I've also been on the lookout for the perfect red lipstick, and came across this release. After trying out the new Rouge Dior Ultra Rouge in the shade "777," I was immediately hooked. The pigmentation of the product is perfect, and only requires one to two coats for full-coverage. The orange/red hue is incredibly flattering on all skin tones, and adds a luxury pop of color to any look. After taking my makeup off at the end of the day, my lips still didn't feel dry after a full day of wearing the lipstick, which is a big plus in my eyes.
As for the Rouge Dior Ink Lip Liner, I was incredibly excited to try the felt-tip product and went for the shade "777." When I applied it, it didn't stick to my lips at all. The liquid product seemed to sink into the ridges on my lips, but wouldn't cover the rest. The shade was absolutely gorgeous, though, so I'm going to have to keep testing out the product in new ways to figure out how to achieve the coverage.
I paint my nails almost every single week, and I have come to be incredibly picky with which products I use. I've tried a few shades from Dior before, and this time around, I really loved both the nail polish brush as well as the color "999." My pet peeve is also when my nail polish chips after only a day or two, but this seemed to stay on after only two coats, which also provided full coverage. After a week, my nails still looked up to par, and I will definitely continue using the nail polish in all the new red shades throughout fall and winter.
I have to admit that I don't wear nail polish as often as I used to. However, when I do, I definitely prefer darker shades. The particular hue that I tried out was "851: Rouge En Diable." Literally translated to "Red Devil," the color is true to its name – diabolically stunning. Showcasing a deep tone of red that almost completely crosses the line over to being a rich burgundy, I adore the lushness of this particular rouge.
As for the formula itself, it's not bad. I will say that I didn't apply the nail polish with a base or top coat, so that certainly affected the quality of wear. However, I found that even without the proper supplementary coats, the nail polish was quite robust and did not chip as easily as I expected. Most importantly, the product didn't damage my nails and they still looked quite healthy after removal. Overall, the color was extremely pigmented and I found that two coats was plenty. Once dried, the gloss on the nail truly glistened and was very luxe indeed. Retailing at $210 HKD ($28 USD), it's somewhat of an investment for someone who doesn't wear nail polish regularly. However, for those who are avid nail queens, this is truly a beautiful shade that can easily be transformed into one's signature color.
Editor

Teresa Lam/Hypebae
---
Share this article