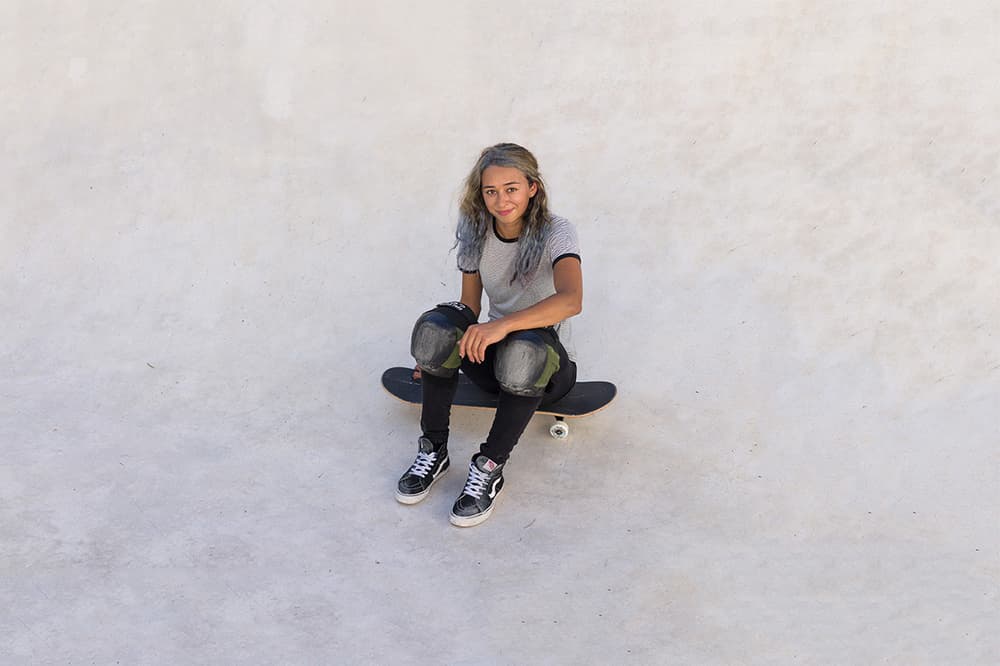 Culture
Lizzie Armanto on Female Skate Communities and Tackling the "Loop of Death"
We catch up with the superstar skateboarder in Sweden.
Lizzie Armanto on Female Skate Communities and Tackling the "Loop of Death"
We catch up with the superstar skateboarder in Sweden.
When I sit down to speak to skateboarder Lizzie Armanto, it's just over a week since she completed Tony Hawk's "Loop of Death". The infamous trick, a 360-degree loop, has only been completed by two dozen people according to Lizzie – and she became the first woman ever to do it. It's no mean feat – exactly as it sounds, the loop requires a skater to defy gravity and muster enough force to do a complete 360, momentarily hanging upside down and somehow not dying. To even be approached to do it, Tony Hawk himself has to have an impressive amount of faith in you. To achieve it, you have to be a skilled, brave, and immensely dedicated skater.
This is where Armanto excels. Born in Santa Monica, California, the home of skateboarding, she took up the sport when she was 14. Since then, her love for and commitment to skateboarding has landed her opportunities that set her against the greats; she's now a part of Tony Hawk's Birdhouse crew, is sponsored by Vans and has won over 30 skateboarding awards. Armanto also does work to further women's skating, recently travelling to Bangalore for Vans Girls Skate India to check out the scene there.
Lizzie Armanto's resumé is impressive for any skater, let alone one of just 25. We caught up with her at Vans Park Series at Malmö's Kroksbäck Skatepark to talk about the loop, women's skating, and what could possibly be next for someone who seems to have done it all.
So you just completed Tony Hawk's infamous loop?
Yeah. He'd asked me before, years ago, and I was really sceptical. I was like, if you're bringing it out I'll go look at it and make a decision. He said: "The people who do the loop are the people that have a calling for it."
I guess you have to feel ready.
You know how you see something and you instantly know how you feel about it? Some people are like, "I have to do that, I want to do this." I was like, "I don't think I feel like that." Then he [Hawk] was going to have a VR event with the loop and I said I'd go. I skated it the day before and I didn't have the technique. If I didn't have the technique I wasn't going to really go for it, it makes no sense.
The next day they had the event and I kept trying it and would fall kind of consistently. I wasn't making it around. Then the show ended, people left and the VR company started packing up all their stuff; they were going to start packing up the loop but I still wanted to skate it.
It doesn't make sense until your body does it. I feel like I can relate the loop to learning how to drop in because it's so different to everything you've ever done until that point. It was all this advice but it wasn't until I actually figured out the technique that I totally got what they were saying. Eventually I got the rhythm and once I figured that out, that was when I knew I had a shot at it.  I went down the roll-in and that was the first one I bailed early, I fell before 12 o'clock. I made it all the way around but I went back, tried it again, I think I fell and then the next one I went all the way around and then a panel later I fell and everyone was like, "Oh my God you did it! And I was like, "Did I?" They said I should do it again while I was still warm so I ran back, went again, leaned a little forward, slammed a little, but got up and went back – by the fifth or sixth one I made it, I was like halfway across the parking lot. Tony and a bunch of my friends were just like, running to where I was going, it was so crazy.

You're the first woman to do it, but it's impressive whoever you are. How did you feel after you did it?
I was really stoked. I feel like I had a smile stuck on my face, and then I went to dinner and got Thai food and you just feel like, really satisfied with yourself.
Tony Hawk seems like a mentor to you, is that like a dream come true?
It's really cool to have the support from him. He's a really good example and I'm stoked that I'm a part of his crew. It's not like I thought I could have ever imagined all of this; situations just come your way and you get these opportunities and you slowly find yourself down the road and you see how far you've come. He definitely reaches so many people, which is crazy. He's the kind of person that gives more than he takes.
How did you initially get into skating?
My brother wanted to try it and my mom took us both to our local skatepark down the street and signed us up when I was 14. I would go after school and get to watch my brother. When you're just starting it's not like you're a part of the scene, you're just skating on your own. You don't feel connected to anything. You feel connected to the activity itself, but the community and culture is so different.
I think that's why girls' nights and similar events are so good, they're a nice entry point to feeling like part of the culture.
It makes such a big difference when you go to something like that. Especially the women's events, it makes such a difference when you go there and find out that there's other people doing the same thing. You find your people and you feel empowered.
"I think the biggest thing for people is you have to allow yourself the room to learn… if you just try and work up to it you can get there."
I think they're really good for finding your confidence, it can be quite intimidating going to a park knowing nothing.
Yeah, but you have to start somewhere. I think the biggest thing for people is you have to allow yourself the room to learn. I think if you always look at videos where there's people that are really good and you admire but then you never put yourself there, you always say "I can't do that, I'm not good enough", but if you just try and work up to it you can get there.
That's true. There are a lot of women here competing this weekend, which is great to see. What do you think the Vans Park Series is doing for women on a grassroots level?
It's giving girls a path to follow. By having contests you can enter, you can progress your skating and you get to meet so many people in the industry. Sometimes events are where people are first seen and you make friends, too. It's fun. You just have to find what you want out of it.
Even though things are getting so much better with the disparity between female and male skaters, what do you think can be done that we aren't already doing to get girls into skating?
I mean, I don't think skating is for everyone. I feel like you have to have a calling to it and you have to want to do it. You shouldn't do it if you don't want to, but the more we make it to bigger events and the more popular it gets, the more people will find out about it and decide that they want to be a part of it. So just the exposure. This year there were so many more events in comparison to previous years. I think it's only going to get busier, which is awesome. That's going to make room for more girls to come compete and skate. It opens up the opportunity to so many more people.
You went to Bangalore, too, for Girls Skate India. What was that like?
I went to India to see the girls' scene there. The skateboard scene in general is just starting and it was really cool to see what they had built. They have a DIY park which is better than the actual skatepark and they're really just going for it and trying to make it happen but you can't just skate on the sidewalk because there is no sidewalk. It's cool, there are a good amount of girls skating in India. Percentage-wise, worldwide, it's never been this big.
I think it's also positive for women to see people like you just, thriving on quite a visible level.
Yes. But then I feel like, if you have the same approach to everything in life, you'd be an example anyway. Everyone should be their own example. I don't think we should endorse the mindset that each person is on a different level in the sense that everyone should try to be the best version of themselves and apply that to everything they do. You could be talented at one thing but for me, with skating I've put the time in and I think if anyone put the same amount of time into any other activity they would be also advanced.
"I don't think anyone should be all one thing. People are so diverse. You shouldn't allow yourself to only be one thing."
True. So you're thinking about doing the Tokyo Olympics in 2020, right?
I'm taking things one step at a time. It's a long way away and it's not set up yet, there's no clear path. The organizers are figuring it out as we speak. They have to set up all the rules; there's so much that goes into it, but I'm interested in being a part of it. With skateboarding it's so cool that it's going to be on that platform because you don't need much, you just need a sidewalk essentially. It's basic.
What do you want to try next?
Right now I'm just focusing on contests. I have some collections coming out with Vans which is really exciting in a totally different way. It's a totally different thing to put my energy into. I've been doing different house projects because I moved so I've been trying to grow a garden – when I'm home I swear I think about my garden more than skating.
You need that balance, it's good for you. You need to do something completely different.
I don't think anyone should be all one thing. People are so diverse. You shouldn't allow yourself to only be one thing.
Share this article