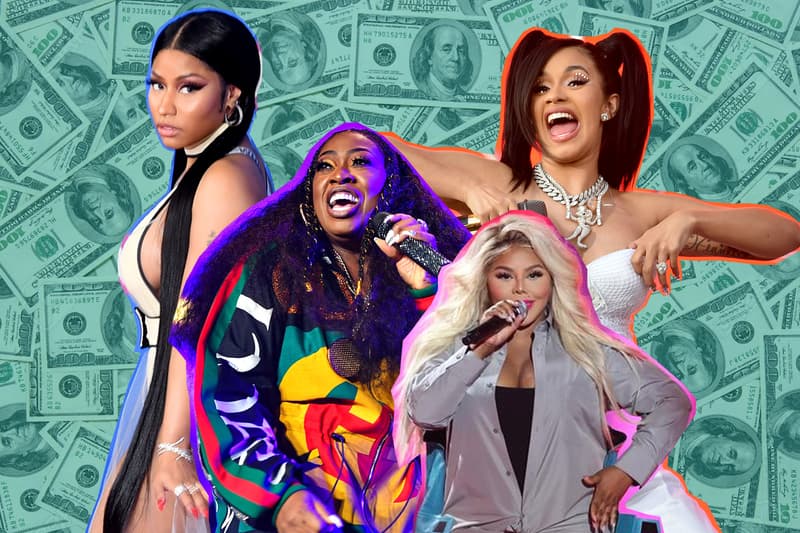 Music
How Patriarchy & Lack of Diversity in Hip-Hop Cause Friction Between Female Rappers
Without the inequalities, we will see more female rappers at the top.
How Patriarchy & Lack of Diversity in Hip-Hop Cause Friction Between Female Rappers
Without the inequalities, we will see more female rappers at the top.
It could all be so simple, but we'd rather make it hard. In the 45 years that hip-hop has been around, the lack of representation of women in the industry has become a circular conversation, pointing out the gross misogynistic behavior that was there since birth amongst other things; yet whenever a woman enters the ring, she can only stand alone — at least that's what the field's competitive nature has led everyone to believe.
Women empowerment and hip-hop are two concepts that many have been trying to marry for as long as the genre has stood and it seems like they can't coexist all the way — as of yet. In a sea flooded with prominent male hip-hop figures who have sustained longevity in an ever-changing business, women in hip-hop who are on that same level are few and far between, almost always leaving room for only one to hold that title over a certain period of time. Why is that? The answer is pretty obvious: the hip-hop industry has diversity issues and similar to what many female professionals face in the workplace environment, women often deal with sexist behavior that is a direct reflection of the man's need to always be in power.
In 2018 alone, listeners are witnessing a new era of female rappers coming to the forefront. Tierra Whack, Saweetie, Rico Nasty, Kash Doll, Maliibu Miitch are just a few of the newcomers making waves this year, but the one making the biggest splash of all is Cardi B. Over the past year, the Bronx native has earned Grammy nominations and quadrupled her fan base thanks to her music and larger-than-life personality. The industry hasn't seen a female rapper reach this kind of commercial success since Nicki Minaj entered the scene about 10 years ago. Has Nicki met her match or is hip-hop making room for more women to rap?
Since Cardi's rise to fame, journalists and critics didn't waste any time comparing her to Nicki. In the past year, a series of events have led up to the two ultimately having issues with each other. From subtweets and denial of any beef existing (at first) to musical collaborations gone wrong and public altercations at New York Fashion Week, the two women dominating hip-hop are going head-to-head with one another, leaving no sign of reconciliation.
"Tryna make a new Nicki with a factory/They'll never toe to toe on a track with me/There'll never be another one after me/'Cause the skill levels still just a half of me" raps Nicki on "LLC," the eleventh track off of her highly-anticipated fourth studio album Queen. The first lady of Young Money didn't hold back in her new album as an attempt to remind the hip-hop world of her power and influence. This particular line struck me for numerous reasons: this segment would land differently if it were coming from a male rapper. Why? Because male rappers have the freedom and the privilege to be competitive with each other, without putting their careers at risk. These lyrics also give the impression that she's excluding those who are on the rise. Perhaps Nicki feels the pressure to uphold the "best-selling female rapper of all time" title she's earned over the course of her career. One can also argue that this is a case of pitting women against each other or it could be boiled down to the true essence of Hip-Hop, an art form with battling and dissing making up part of its fabric.
Thinking back, the last time we saw prominent female Hip-Hop figures get together to create history was during the 90s. Lisa "Left Eye" Lopez, Angie Martinez, Da Brat, Missy Elliott and Lil Kim joined forces on "Not Tonight (Ladies Night Remix)," each of them being in their prime. The video shows the women living their best life on a boat and later, in a jungle setting. Notable women like Queen Latifah, Mary J.Blige, SWV, and more made an appearance, making it the ultimate women empowerment soirée. Since then, those women went off on their own journeys, surpassing milestones in both media and music.
Back then, social media didn't exist for artists to use as a way to market themselves. Nowadays, social media is one way that makes it more susceptible for female rappers to be pitted against each other. Comparing one to the other in terms of looks and music, taking a deeper look into a tweet or an Instagram comment to decipher whether or not it's a jab to another artist, are just a couple of ways music consumers contribute to the ongoing muddle between women in hip-hop. Yes, men experience this but not to the extreme that women do.
Slowly but surely, we're seeing more female rappers collaborate with each other. Miami's own Trina recruited Detroit rapper Kash Doll for her latest EP "Blue Magic," while newcomer Dream Doll brought in Lil Kim for a feature on her latest project, "Life in Plastic 2." This idea is starting to be disrupted over time, though we have yet to see it happen on a mainstream scale.
All in all, female rappers being pitted against each other stems into a larger issue: men want to remain in control. In the 45 years of hip-hop, we've never seen two successful female rappers go on tour together or collaborate on a joint project. Men are encouraged to stick together and make amends, while women are instead being told to create and stay in their own lane, rarely leaving any room for an alliance between us. The patriarchy in hip-hop needs to be dismantled and it's partially up to us women, unfortunately, to break this pattern.
Editor

Tora Northman/Hypebae
Share this article