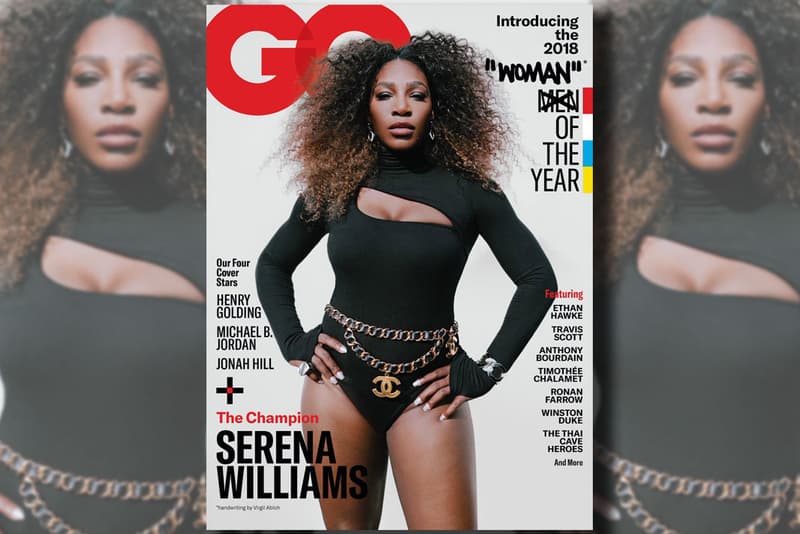 Fashion
Here's Why Serena Williams' 'GQ' Magazine Woman of the Year Cover Sparked Controversy
Fans took to Twitter to share their thoughts.
Here's Why Serena Williams' 'GQ' Magazine Woman of the Year Cover Sparked Controversy
Fans took to Twitter to share their thoughts.
GQ magazine has been met with online backlash after naming Serena Williams as the 2018 Woman of The Year. Yesterday, the glossy unveiled numerous covers starring Michael B. Jordan, Jonah Hill, Henry Golding and Williams. In a move that some onlookers would view as creative, GQ allowed Virgil Abloh to mark out "MAN" and replace it with a handwritten "WOMAN."
The cover is undoubtedly a poignant moment for Williams who has recently finished her return to the professional tennis industry. Notably, her year was marked by the highly coveted Off-White™ x Nike "QUEEN" collection designed by Abloh. Following the drop of the cover, fans flocked to Twitter to share their thoughts on the cover. It is important to note that Abloh is known to handwrite on his designs with quotations.
One fan tweeted:
"Everyone knows Virgil. We know his designs. We get the quotations. Doesn't mean putting quotes around woman makes it any less insensitive esp. considering the masculinization of Serena and black women in general!"
To add context, throughout her career Williams has received negative commentary regarding her appearance and her strength. Though GQ has not come forward with a comment on the cover, a research manager Mick Rouse has come forward with a response via Twitter on why the quotations were added. He shared,
"Because it was handwritten by Virgil Abloh of Off-White, who has styled everything in quotation marks as of late (see Serena's US Open apparel that he designed)."
Back in 2017 Serena wrote an open letter to her mother on Reddit describing her problematic mistreatment in the past. In the letter she wrote:
"I've been called [a] man because I appeared outwardly strong…It has been said I don't belong in Women's sports — that I belong in Men's — because I look stronger than many other women do. (No, I just work hard and I was born with this badass body and proud of it)."
Williams has not released an official statement in response to the cover. Stay tuned here as details emerge.
i get the @virgilabloh reference but that quotation around woman is weird af and totally uncalled for. https://t.co/6tKReal3CP

— Ryan Mitchell (@TheSlayGawd) November 12, 2018
so why didn't he put "men" in quotation marks on the men's covers? ? https://t.co/5mjTatH3xo

— king crissle (@crissles) November 12, 2018
Did she have final say in this?? This is just tone-deaf. And please save your "y'all outraged by everything!!!!" takes. I assure my, Serena, and GQ's days will all go on. But as @melissabeck pointed out, this just ain't it. Not even by a long shot. I'm more interested in

— #ImWithStacey? (@seabethree) November 12, 2018
---
Share this article