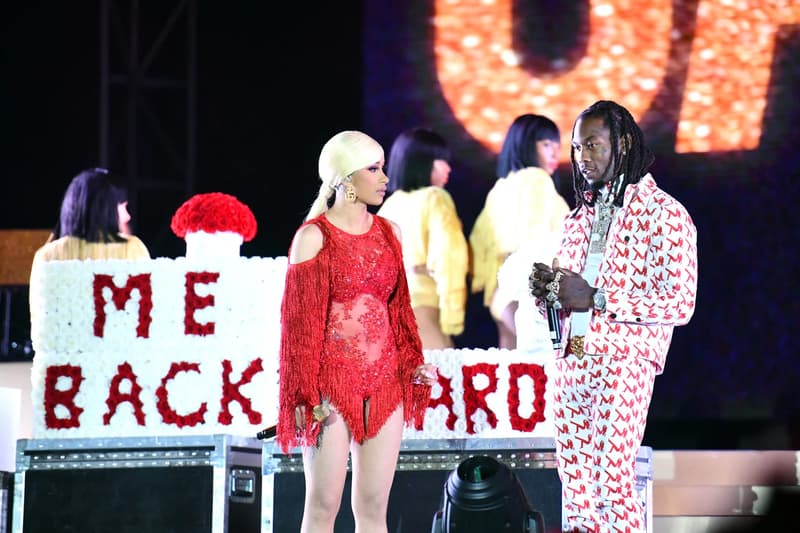 Offset Asks Cardi B to Take Him Back On-Stage – Is Promptly Rejected
Fail.
Following Cardi B's Instagram announcement earlier this month that her and Offset have separated, the drama escalates as the Migos rapper makes a public plea for forgiveness. Offset made the following statement on the social media platform, imploring the "Bodak Yellow" rapper to forgive him:
"I've only got one birthday wish, and that's to get my wife back, Cardi. You know what I'm saying? We're going through a lot of things right now, a lot of things in the media. I want to apologize to you, Cardi. You know I embarrassed you, I made you look crazy. I was partaking in activity that I shouldn't have been [partaking] in and I apologize for breaking your heart, breaking that promise, breaking God's promise, and being a selfish and messed up husband. I'm trying to be a better person. I want to get this off my shoulders, I want to get this off my back. I apologize to you, Cardi. I love you and Kulture, I want to spend Christmas with you. I want to be able to spend the rest of my life with you. I apologize, I'm sorry for what I've done for you. I didn't fuck that girl but I was entertaining her, you know what I'm saying? I love you, I hope you can forgive me. It's my birthday wish to have you back."
As a follow-up to the message, Offset recently crashed Cardi B's performance at Los Angeles' Rolling Loud festival. Coming on stage with a large floral display that spells out the words, "Take me back, Cardi," Offset certainly hoped for the grand gesture to put him back in Cardi's good books. However, things don't seem to have gone according to plan, as the duo engaged in a brief discussion off-mic before Cardi B swiftly asked her ex-partner to leave the stage, followed by a prompt clearance of his "gifts."
After the incident, Cardi took to Instagram to urge fans and viewers alike to not attack Offset. "The whole coming at my baby father bull shit — that doesn't make me feel any better," she says. You can watch a video of the on-stage incident below, as well as Cardi's response.
CARDI B MADE OFFSET LOOK LIKE A FOOL LMAO pic.twitter.com/v4JPYLHVKU

— emily nunez (@nunezemilyy) December 16, 2018
---
Share this article