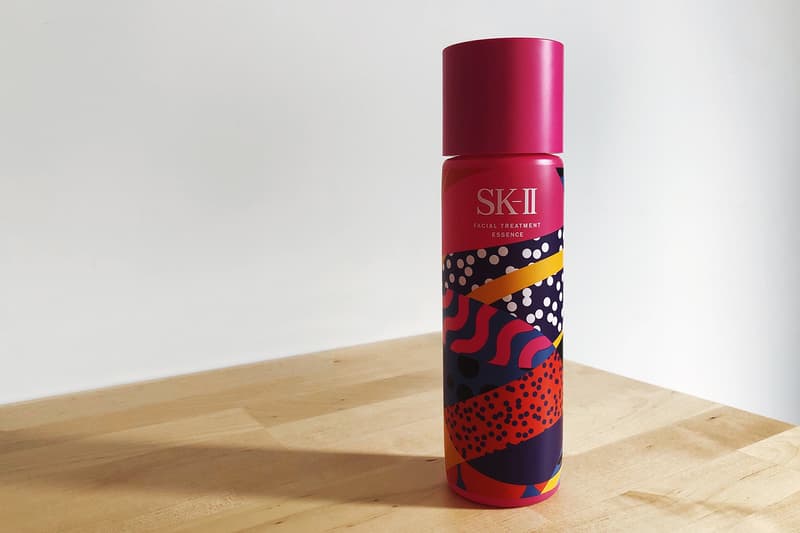 Beauty
I Tried SK-II's Cult-Status Facial Treatment Essence to See What the Hype Is All About
There's a reason why this skincare savior is nicknamed "Miracle Water."
I Tried SK-II's Cult-Status Facial Treatment Essence to See What the Hype Is All About
There's a reason why this skincare savior is nicknamed "Miracle Water."
Among all of the cult-status beauty products out there, SK-II's Facial Treatment Essence has always been placed on a pedestal in my mind. Not only does it come with a $179 USD price tag, but it has been branded with the ubiquitous nickname: Miracle Water. Since moving to Hong Kong over three years ago, it quickly became clear to me that SK-II's "holy water" is nothing less than full-on venerated by its loyal legion of beauty lovers in Asia. The iconic product is perhaps the closest thing to the fountain of youth that one can get to – or so I had heard. Those who swear by the product have been known to affirm that the water-like substance firms up skin, reduces blemishes, creates a youthful glow and even prevents the look of spots. Essentially, SK-II's Essence will reverse the clock on your complexion. So are these claims true? Can SK-II's Miracle Water really make you look younger? I finally had a chance to try the product and after some initial skepticism, I am now a believer.
Before we dive into the review, here's one thing that you should know first: the Essence water is formulated with a "secret" ingredient known as PITERA™. It is a clear liquid that is derived from a fermentation process controlled with meticulous precision. Discovered through the seemingly un-aged hands of sake brewers, scientists soon began to uncover the secrets of a unique formula rich in vitamins, amino acids, minerals and organic acids. After discovering the history of the product, a few things soon connected for me. Firstly, the smell. The Essence water has a very distinct, natural odor. Due to the luxury status of the product, I had initially expected a fragrance with the typical floral notes that are often found in higher-end skincare items. However, I was surprised that the liquid actually has a very pure, wholesome smell – almost like rice water. Although I found it a little unnerving at first, I now quite enjoy it and even find it rather soothing.
For me, I like to apply all my skincare with my hands. Along with not wanting to waste any product (which often gets absorbed by cotton pads), I also like to lightly pat in all the creams, serums, et cetera into my skin after applying them to my face so that my skin fully takes in all of the nutrients and benefits. For the SK-II water, I take a full minute sometimes after applying by hand to my face, to make sure that all of the liquid is completely absorbed into my skin. Even from the first time I tried the product, I could already feel that my skin was noticeably more supple and felt hydrated and refreshed. However, I must admit that for the first week or so that I used the product, I wasn't that entirely impressed. It wasn't until after the end of the second week or so that my skin really started to see a noticeable improvement.
Without exaggeration, my skin really did feel younger. My complexion was not only brighter, but also felt rejuvenated in an "I'm getting eight hours of sleep every night" sort of way. There was no "aha" moment, but rather a gradual improvement over several weeks that culminated with a day at a press event in which a makeup artist asked me with genuine sincerity what my skincare routine was (yes, I shed a small tear).
Basically, the above has just been a very longwinded way of saying that SK-II's Facial Treatment Essence is an investment. Do not expect immediate results. You will not get a satisfying product-induced facelift after a couple of uses. The Miracle Water is not about instant gratification – it is about introducing a new product into your daily routine and essentially letting it change the chemistry of your skin. The Essence is no bandaid. It is a long-term treatment (another dot connected) that is meant to make lasting changes. All in all, I get what the hype is all about. It's truly a revolutionary product that has rightfully deserved its name. Now if only I could experience my own miracle and afford to replenish my supply once this bottle runs out.
You can shop the Facial Treatment Essence at SK-II's website, as well as at the brand's makeup counters and in-store for $179 USD. The particular SK-II edition pictured above is a limited edition bottle designed in collaboration with Australian artist Karan Singh.
Share this article