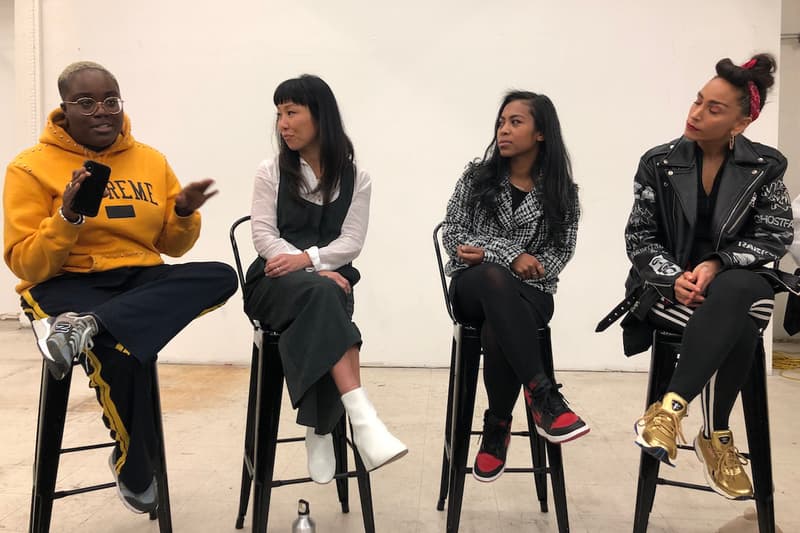 Fashion
Create With Purpose: Being Environmentally Concious in the Digital Era
Why sustainability is more important than ever.
Create With Purpose: Being Environmentally Concious in the Digital Era
Why sustainability is more important than ever.
In a society where over-consumption is being subtly encouraged and information overload desensitize some of us from acting on important issues, we need to stop and ask ourselves "when is enough enough?" Global temperatures have increased in concerning levels over the course of nearly 4 decades, causing more droughts and heat waves each year. Gun violence is at an all-time high, becoming a leading cause of death in the United States. Mental illness is increasing each year, ranking in at #1 in disabilities amongst those between the ages of 15-44. Social media has become a great tool in bringing awareness to these issues, but it's time we hold the brands we adore, and ourselves, accountable in hopes of creating a safer, sustainable future. We're currently living in a modern, materialistic society. We're consuming a lot of natural resources per day and it is becoming vital to find balance on the fine line between competing needs — society's need to be technologically and economically progressive and protecting the environment for everyone across the globe.
Despite the toxic work environments and environmental impact, consumers remain optimistic, believing companies have the power to influence societal change and address the issues facing us. These were a couple of the topics women-led diversity network Incorp[HER]ated tackled a few weeks ago during their second annual 'Straight to Feet' speaker series. Attendees, mostly women, gathered together to engage in thought-provoking conversations led by industry veterans, from an exclusive keynote on environmental sustainability to authenticity and purpose.
Environmental and social sustainability can be approached through different angles, but it all depends on your industry and brand mission. In 2012, the United Nations' Conference on Sustainable Development came up with a list of 17 goals to work towards, such as achieving gender equality, conserve and sustainably use the oceans, and ensure inclusive and equitable quality education. Companies like adidas have already taken a stand in protecting the environment. The sportswear giant formed a partnership in 2015 with Parley for the Oceans, an environmental organization dedicated to addressing the threats towards the ocean through plastic pollution. Alas, the UltraBOOST Uncaged Parley was born, made with materials derived from 11 plastic recycled bottles per pair in the heel lining, shoe laces, and sock line covers.
"We can't keep producing with the materials that we're using because they're not the right materials," says Director of Communication Silvia Raccagni of Parley for the Oceans. "It's all about the materials of the future that are in sync with nature and not against nature. It's not just about how much product, but how the product is made." This past summer, adidas announced their commitment to eliminate all use of virgin plastics in their products by 2024; this includes plastic in their offices, warehouses, distribution centers and retail stores, saving an estimated 40 tons of plastic per year. Major retailers like H&M have also begun working on implementing sustainability initiatives into their business fabric, while pioneering sustainable brands like Reformation make clothing out of eco-friendly materials and are transparent with their customers by sharing their environmental footprint.
Taking in the harsh data around pollution, climate change and even gender inequality can be emotionally overwhelming for some, but how do you incorporate emotion while communicating and connecting with their audience when working towards a more sustainable environment? Isis Arias from Complex says, "Mindfulness. It sounds silly but if you can treat people like humans, if you can be empathetic, that will make it go further."
Being authentic is the name of the game and it can truly tarnish a brand, personal or not, once consumers get a sense of those who are hopping on the "woke wagon" for the sake of generating dollars or reaching a bigger audience. Brianna Ryce of The Move Collective believes staying true to your story and your consumer is a key to successful marketing in today's digital era. "It's super important in those meetings, in those spaces, to be that true voice to say 'this is what they want.'" She continues, "You don't always have to have the same experience, the same point of view that everyone else is having. You can tell them No, this actually wouldn't work. I think this will work better. Just having that kind of voice to step back and say, "okay, this is how we should operate."
It takes a certain type of willingness to unlearn ideologies that many have felt were important to have for a thriving business. It's obvious that some brands have people in power, particularly men, who have biases about the female consumer. Truth is, some women just don't want their own space; we want to be able to buy the same product and have the same experience as men. "We want an inclusive space, we don't want to be segmented into our space with our own pink walls and special seating section," says Jazerai Allen-Lord, Moment Engineer at Crush & Lovely. "We want to be included into the shopping spaces that everyone else is enjoying. We want to be part of the experience and not sideload off into a corner or this weird wall. We want our sizes to be on display, the same exact product just for us."
People are no longer just buying what you make; people buy what you stand for. Purpose is the new luxury; the messaging, the cause and how it's presented is crucial to getting your audience engaged and motivated to make a change. So what can be done? The consumers need to get involved just as much as the companies. Research which local organizations have programs focused on environmental conservation. When managers are deliberating on important business decisions, it should be a rule to ensure that everyone in the room is of a diverse background. Diversify the pool you're hiring from. Get informed on what's happening in your community. Be respectful towards one another. Creating these spaces and culture start with us. No one is going to do it for us.
Editor

Tora Northman/Hypebae
---
Share this article