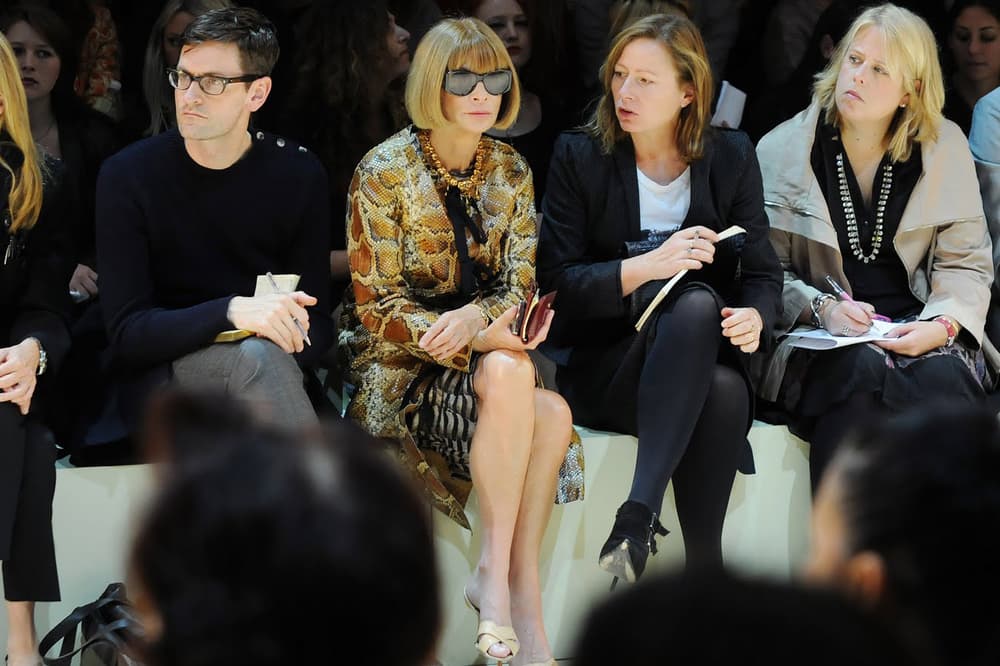 Fashion
How to Survive Fashion Week: All the Key Brands and Names You Need to Know
We break it down.
How to Survive Fashion Week: All the Key Brands and Names You Need to Know
We break it down.
Fashion month is about to kick off, starting in New York Fashion Week and wrapping up in Paris. With the fashion industry moving ever so rapidly, it is difficult to keep up with the inevitable shifts, names and trends that come and go, which is why we've put together a simple round-up of some of the key players in the industry.
Keep reading below to see the biggest brands to keep an eye out for throughout fashion week, as well as who's running the show. For more fashion content, make sure to keep checking back here for all the latest updates.
Current Creative Director: Karl Lagerfeld
Perhaps the most well-known brand when it comes to fashion, was founded in 1909 by Coco Chanel. In 1983, Karl Lagerfeld took over the Parisian fashion house, and has been its Creative Director since. Lagerfeld is also creative director for fur and ready-to wear for the iconic Italian fashion house Fendi since 1965, and also runs his eponymous label Karl Lagerfeld.
Chanel has been showcasing its spectacular runway shows at Paris Fashion Week, and this year the label holds the last spot on the coveted schedule, ending the long fashion month with a bang.
Current Creative Director: Nicolas Ghesquière
Louis Vuitton has not only made a huge comeback during the past few years, the brand has also seen a lot of changes recently with men's creative director Kim Jones recently stepping down from his position with no known replacement as of now. Nicolas Ghesquière is now the CD for the luxury house, founded in 1854. Owned by LVMH, Louis Vuitton is one of the biggest and oldest labels in the game, and it is still staying relevant through collaborations with brands like Supreme, as well as trying out new approaches.
Louis Vuitton will showcase its collection in Paris, joining Chanel as one of the last shows, putting an end to fashion month.
Current Creative Director: Alessandro Michele
In January 2015, Alessandro Michele stepped up as the Creative Director of Gucci, taken the brand from a tacky, forgotten label to the hottest brand on the market in only two years. From its iconic logo T-shirts to coveted sneakers, Michele has brought a refreshing touch to the Italian label, and becoming one of the most valuable brands in the Kering group.
As always, Gucci will be showing its collection in Milan, alongside brands like Fendi, Moschino and Versace.
Current Creative Director: Maria Grazia Chiuri & Kris Van Assche
Another key player in the LVMH group, Dior, sees Maria Grazia Chiuri and Kris Van Assche as the labels Creative Directors. With Chiuri taking on the brand's womenswear collections as well as haute couture, she has taken over the brand after Raf Simons stepped down from the position in 2015. Known for its stikingly Parisian aesthetic and elegant tailoring, Dior has managed to stay as one of the biggest luxury brands since its conception in 1946.
Current Creative Director: Miuccia Prada
Prada has recently gained a lot of traction for its new, streetwear oriented approach. Lead by Miuccia Prada, the label has been around 1913 when it was founded by her grandfather Mario Prada. Known for its elegant and luxury aesthetic, the brand has been a timeless classic since its early days. Miuccia Prada also fronts the label Miu Miu.
The Italian fashion house will be hitting the runway in Milan later this month.
Current Creative Director: TBA
Burberry has been the epitome of British Fashion, and has been under Christopher Bailey's reign for the past 15 years. The Creative Director recently announced that he will be stepping down from his position, leaving huge shoes to fill. Perhaps most recognized for it's Nova Check pattern, Burberry has also become one of the brands making a huge comeback this year with collaborations with Gosha Rubchinskiy and a huge demand for vintage pieces.
You'll be able to see Burberry's collection at London Fashion Week.
Current Creative Director: Hedi Slimane
Celiné has been one of the most elegant and refined brands during the past few years, with Phoebe Philo leading the womenswear brand. Sadly, the British designer will be stepping down this month, and Hedi Slimane will be taking over. Previously at Yves Saint Laurent, Slimane will be bringing his unique aesthetic to Celiné, and will also be adding menswear and fragrance to the iconic label. It remains to see what impact the change will have on the house, but make sure to stay tuned for all the latest updates.
Current Creative Director: Demna Gvasalia
Of course, Balenciaga snags a spot on the list. Georgian fashion designer Demna Gvasalia took over the label in 2015, and has turned it into the hottest brand of the moment. Mixing luxury with streetwear and obscure silhouettes, Gvasalia brought a new approach that had not previously been seen in the luxury fashion industry, paving the way for his own label Vetements to grow into one of the must-have.
Current Creative Director: Anthony Vaccarello
Previously headed by Tom Ford in the early 2000s as well as Hedi Slimane, who rebranded Yves Saint Laurent's ready-to-wear line to just Saint Laurent, is now headed by Anthony Vaccarello. The Italian-Belgian fashion designer previously held the same role at Versus Versace, but left the brand to join YSL in 2016. Known for its unique, modern aesthetic, Saint Laurent has managed to create a range of iconic pieces such as its tailored tuxedo jackets for women.
Current Creative Director: Donatella Versace
Italian label Versace was founded by Gianni Versace in 1978. With its flashy prints and bright colors the brand quickly developed its own unique and identifiable aesthetic, Versace managed to quickly create a name for itself in the industry. In 1998, creative director and founder Gianni was murdered, leading his sister Donatella Versace to step up and take his place.
Versace will be showing its collection on the runway at Milan Fashion Week. Meanwhile, watch Donatella's 73 Questions interview with Vogue here.
---
Of course, these are only a handful of the brands to know. As the fashion industry is constantly moving, it is difficult to keep up with all the changes and all the key players in the game. Of course, there are brands like Alexander Wang, Off-White™, Givenchy, Jeremy Scott, Kenzo and so many more that are also hugely impacting the industry. With the huge business that fashion has become, the brands above are some of the early pillars of the industry, acting as the catalyst for the ever changing phenomenon.
---
Share this article