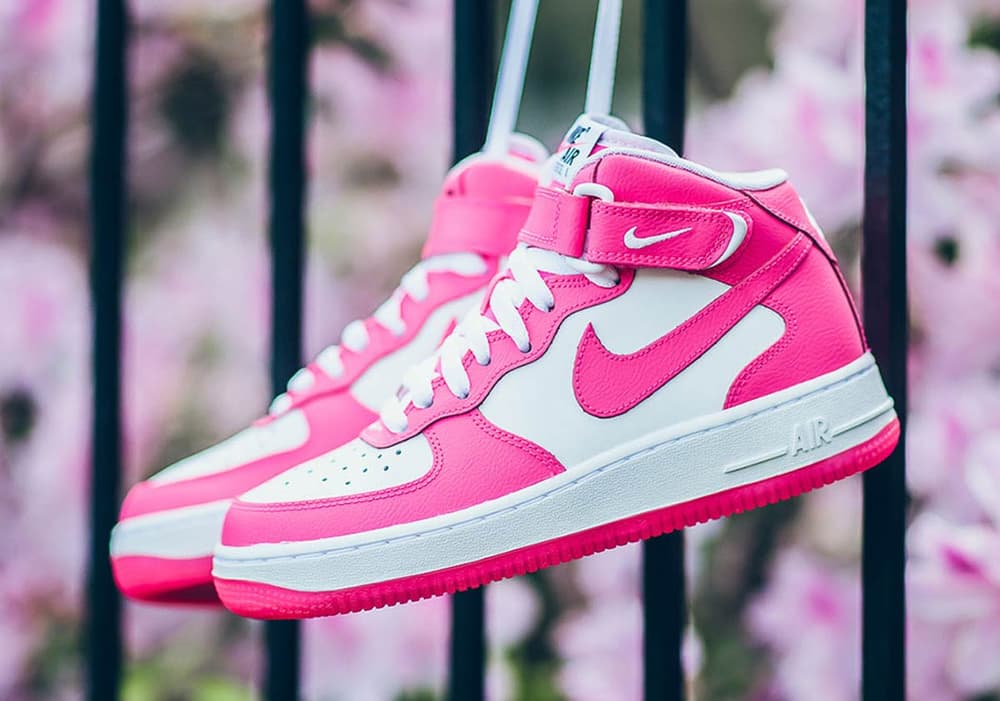 These Are the Top 5 Sneakers for the Spring Season
Time to update your rotation.
It's officially spring, which means we have an excuse to shop. After cleaning out your wardrobe, there should be more than enough room for some new footwear. The warm weather means you can finally let your legs show and wear those low-top shoes that have been collecting dust in your closet. To stir up some inspo, we've rounded up five of the hottest sneakers of the season. Before we jump into the list, an honorary mention must be made.
Nike's Air Force 1 is a staple shoe in any rotation. We spent most of the winter fighting through the snow, wind and hail with the SF-AF1 but now it's time for a lighter pair. There are so many options now, too. You can swap out the Swoosh or pick up one covered in shimmer, corduroy or even suede. Doesn't matter what you choose, just be sure to have this classic silhouette in your possession.
Read on to peep the must-cop kicks of the season.
Balenciaga Triple-S
Balenciaga's Triple-S has become a staple in the footwear scene. Despite the clunky sole and unusual upper, celebrities like Rihanna continue to sport them. The colorways continue to get better and we'll admit that styling them can be fun. They work with track pants, overalls and dresses as well. Even if you're not a fan of the triple-stacked midsole, you have to admit that they're interesting to look at. Hues like the pink one add a feminine accent to the awkward shoe. Risk takers love them so much that they continue to sell out at each release. To get your hands on your size, check out the Heroine app.
Chanel Pre-Spring 2018 Sneaker
Chanel's Pre-Spring 2018 sneaker is our sleeper pick. These are not the shoes that come to mind when you think of hot drops but they have slowly risen to become a favorite. The lifestyle shoe is simple and has an all-around appeal because of that. A mix of grey, white and black hues are detailed with bold neons to add a punch. The "CC" logo on its lateral is the final cherry on top that takes it from common to must-cop. Luckily, the masses haven't quite caught onto the movement. Select colorways of the $950 USD runner are still available on Chanel's site.
FILA Disruptor 2
What more can we say about FILA's beloved Disruptor 2? The jagged-sole sneaker is both edgy and photogenic. It's one of the top ugly shoes to dominate last year and it's continuing its reign in 2018. To keep our interest piqued, FILA continues to release sweet shades of the shoe in bubbly pastel colors that just scream spring. Go the extra mile and check out the head-turning metallic silver version which reflects the light at every angle.
Nike Air Jordan 1
One of the best decisions Nike made was to go full force with its women's footwear. The Air Jordan 1 has been the shining star of this push and we're not mad. Everything from the reworked "1 Reimagined" pack to the "Season of Her" collection confirms that Nike is trying to reignite our love affair with the classic silhouette. Add a little bit of Ultra Violet to your style with the "Orchid Mist" AJ1 which is currently available for $160 USD.
Louis Vuitton Archlight
Louis Vuitton's Archlight has popped up everywhere. The warped-sole shoe made an appearance in every single one of our street style photos, confirming that they are the must-have sneaker of the year. All of the colorways are wearable but we recommend going all out with the "LV" monogram pair. It would be $1,090 USD well-spent.
Share this article