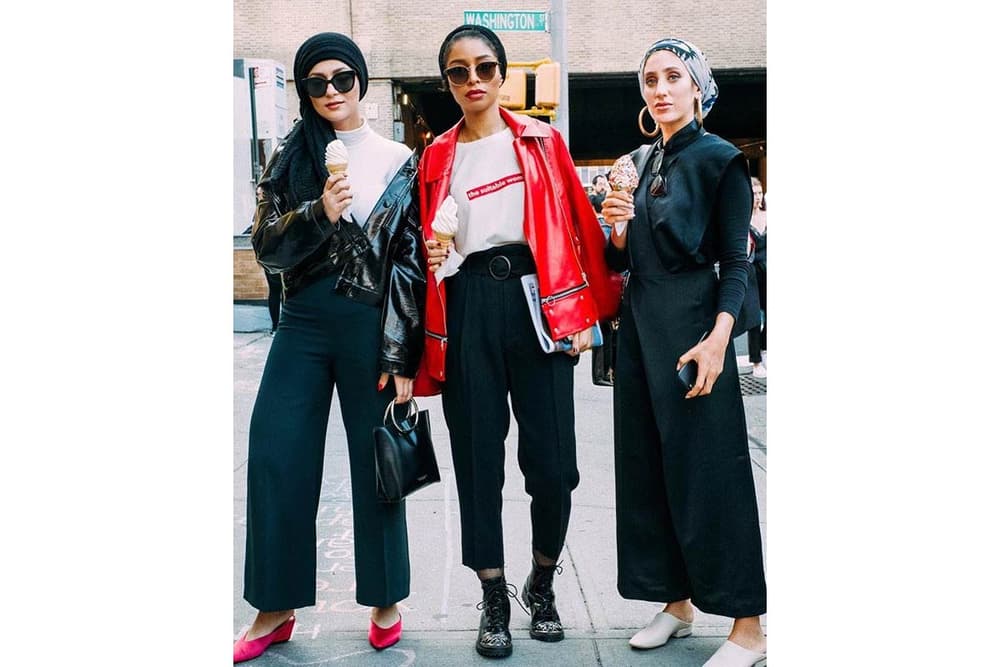 A Fashion Guide to Modest Streetwear For Women
Get all of this season's inspo here.
Muslim women are finally getting more options on the trends they can wear without compromising their style or modesty. Thanks to the modest fashion movement, closets no longer have to be limited to oversized cardigans but instead women can join in on the latest trends and make it known that they can dress with the best. The merging of high fashion and streetwear has presented a unique opportunity for modest women to express themselves through clothing, accessories and footwear. 
From athleisure-inspired pants, plastic clothing and tulle skirts, there is nothing to be missed out on. Whether your aesthetic is chic and feminine or eccentric and bold, there's something for everyone.
Check out some of our favorite modest streetwear trends below for your spring outfit inspiration.
All Plastic Everything
No one is better at layering than modest fashionistas. The plastic trend lends itself to the modest movement and presents the perfect opportunity for ladies to try out a new material. We've been dreaming about life in plastic ever since Off-White™ and Jimmy Choo debuted their plastic-covered shoe collection. You can also try out transparent coats and neon-hued pants. The possibilities are endless.
Denim All Over
This '90s have made a comeback and that means there will be denim versions of everything. Denim no longer needs to be limited to just jeans. Chanel was ahead of the trend transforming its cosmetics bag into a denim masterpiece. You can even throw it on your feet. Acne Studios' denim Manhattan sneakers gives us a chance to take the Canadian tuxedo to the next level. 
Suit Up
Traditionally, suits were created to be worn for professional occasions but that's changing now. They're modest and they come in a variety of styles and saturated colors (yellow is a personal favorite). You can style one with a plain white shirt or dress it up with heels for an evening look. Model Emily Ratajkowski even wore a power suit to her wedding, ending any conversation that women can't slay a suit. 
Try Track Pants
Athleisure has officially taken over the fashion industry. Forget just thinking of track pants as a gym-only outfit, pair it with your favorite top or jacket instead. It's comfortable, modest and adds a surprising element to your outfit while elevating it unexpectedly. Brands like Champion and adidas offer some bold options that are sure to boost your wardrobe.
Give Tulle Skirts a Spin
Maxi skirts have been a long-time favorite for every girl who dresses modestly. Now tulle skirts are all the rage. Can you see why? The sheer material turns any outfit from plain to posh turning ladies into full-blown ballerinas. This item can also be worn with jeans underneath for a more casual look. 
Editor

Esiwahomi Ozemebhoya
---
Share this article