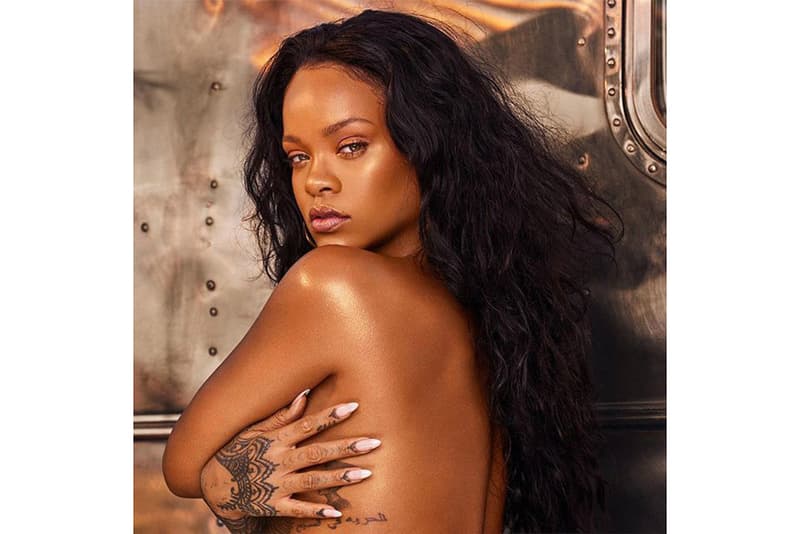 Beauty
Rihanna Teases Another Glitter-Filled Fenty Beauty Product: the Fairy Bomb Pom Pom
Have you been stacking your coins?
Rihanna Teases Another Glitter-Filled Fenty Beauty Product: the Fairy Bomb Pom Pom
Have you been stacking your coins?
Following up on the makeup teasers unveiled earlier this week, Rihanna now drops another new product teaser: the Fenty Beauty Fairy Bomb pom pom. On Instagram Stories, she revealed the forthcoming Fenty Beauty product, which appears to be a vintage-inspired powder puff filled with a plethora of glittery, shimmer pieces. The sneak peek didn't stop there — Rihanna even posted a short clip dabbing Fairy Bomb on her shoulders and chest. The singer then shared a look at the resulting, glistening look which followed a few swift dabs of the product. The Fairy Bomb, Body Lava range and Kabuki Brush are all a part of Fenty Beauty's "Beach Please" collection.
The forthcoming glitzy product appears a bit similar to the Fenty Beauty Match Stix Shimmer Skinstick which dropped in ten different shades last year. The Skinstick also had a shimmer finish, catches the light remarkably well and was crafted for long wear. A small difference is that the Match Stix product has a cream-to-powder formula.
Purchase the Fenty Beauty Fairy Bomb on April 6 over at fentybeauty.com, Sephora and Harvey Nichols.
Don't miss out on the newly announced Body Lava full-body luminizer which is set to drop in two shades, "Who Needs Clothes" and "Brown Sugar." Check out the video below to see Rihanna's tutorial on using the Fairy Bomb.
Share this article