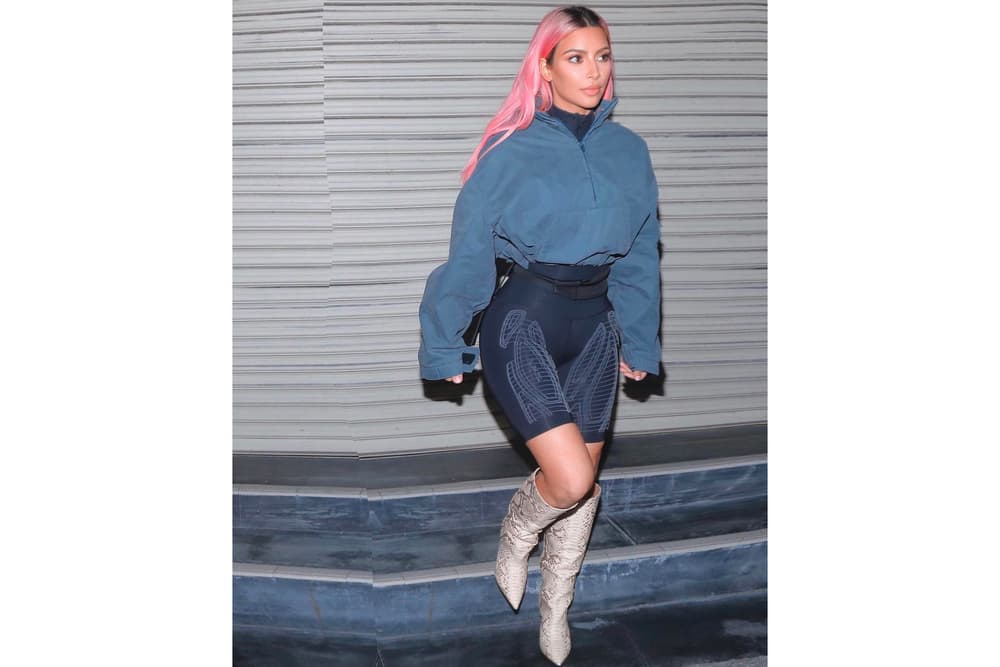 Fashion
Everything You Need to Know About 2XU x YEEZY Season 7's Collab, as Seen on Kim Kardashian
We spoke to 2XU co-founder Jamie Hunt to get insight on the brand's roots and design process.
Everything You Need to Know About 2XU x YEEZY Season 7's Collab, as Seen on Kim Kardashian
We spoke to 2XU co-founder Jamie Hunt to get insight on the brand's roots and design process.
Kanye West's forthcoming YEEZY Season 7 capsule is the latest collection which his cult fans are keeping their eyes glued on. West's design work is heavily inspired by sportswear as seen in the omnipresent leggings and comfortable apparel which is created each season. Here's where the Austrailian-based sportswear brand 2XU enters the narrative. Kim Kardashian has recently been sharing images of herself styled wearing unreleased co-branded pieces by both labels. The teased items include leggings with intense graphics emblazoned in bold colors. The relationship began between West's YEEZY design team and 2XU back in 2017 when it reached out after expressing a like for the label's wetsuits.
Originally created in 2005, the global athletics label utilizes world-class compression technology which has proven to improve athletes performance. In particular, 2XU's core relies on technical garments which provide support during workouts, absorb moisture, and are also known to increase blood flow during and after workout sessions. With the popular trend of streetwear fusing into athleisure garments, functional sportswear and high fashion are bound to meet at some point. The two worlds colliding presents an opportunity for expert brands like 2XU to step in and provide a luxury version of its world-renowned, high performance gear.
We recently tapped 2XU co-founder Jamie Hunt to get insight on the design process, how the YEEZY Season 7 collection with designs from 2XU came into fruition and more. Ahead of his role at the apparel label, Hunt was a triathlete who at one point in his career held the title of ranking third in the world. After retiring from sports in 2001, Hunt headed the product development team at Orca. While he has been the head of product of development at 2XU, the brand has shifted into a world leader in technical sports apparel. It has been endorsed by world sport's institutions and has been worn by some of the world's top athletes. Perhaps, the most beneficial endorsement a brand needs in this age of millennials is a co-sign from Kanye West himself. Read our full interview below.
How has your team's design process adapted to the changing landscape in sportswear?
Since we launched the company in 2005, the focus for us has always been the technology of high-performance fabrics, which is how we have become known as the leaders in this field. While designs develop, the technology of the fabric is never compromised. Fabric is the key; thinking about construction is extremely important. 2XU first and foremost creates the world's leading sports fabrication and from that, we build the products. The fabric is the building block and we take into account the athlete's needs when it comes to construction and comfort.
Can you explain how the experts at 2XU construct and test fabrics to withstand high-performance sports and activities?
We do exhaustive research into fabrics in association with universities and testing labs throughout the world, in particular with RMIT in Melbourne, which has one of the world's best fabric-testing facilities. Once we have created the fabric, we develop the garments and have these tested exhaustively through both the Australian Institute of Sport and 2XU's professional athletes.
When you were approached by the YEEZY team to collaborate, did you believe this to be a monumental moment for performance sportswear?
With YEEZY Season 6, we predominantly worked with the YEEZY team to develop a neoprene collection and they were so impressed with our expertise and our knowledge that they again partnered with us for Season 7. This season again includes the neoprene garments but also includes compression, jackets and socks. We are very excited to share our technical expertise and to see high performance meet high fashion in this way.
Did you pull from 2XU archives and '00s silhouettes to bring YEEZY Season 7 designs to life?
We worked alongside the YEEZY design team to ensure the fabrications that were used would be suitable. 2XU was involved in the design process on some product categories, however, on other projects the design was entirely driven by the YEEZY team using 2XU fabrications.
With your sports background, what has it been like sharing your personal expertise with the designers at YEEZY?
It's really exciting. I think we have really opened up the eye to what can be done in the fashion world. We have taken some products that are completely design orientated and added a flavor of technology to them. For example, we have taken a very fashion-forward jacket and created a completely waterproof garment. We have opened the eyes to what can be done using sporting principles with fashion fabrics. It's been really great for 2XU to see the approach that the fashion industry takes into design as well, so I think equally we both learn from each other.
Who is the ideal 2XU model?
It's still the same as it was when we first created the brand in 2005. The perfect model for 2XU is an athlete who wants to improve, it's not necessarily a professional or a beginner, it's anybody who wants to make themselves a better athlete. With our motto and our brand promise of being 'two times you' our perfect model is someone who is well-equipped to be better than what they are today.
Have you had your eyes on any upcoming trends?
First and foremost we make the world's leading sports performance fabrics, but they need to look good. We have a team full of designers, we have color experts, we have trend experts and we are always looking out for new trends and the right colors. However, we don't want to be followers, we want to be leaders. I speak to our designers to think of new things that we could do; being first to market is extremely important. I think the evidence is that we have now created many world-leading products that have never been seen before, especially with that level of technology, and we have done this through colors, silhouettes and looks all focused on performance.
Kanye West is notorious for being very hands-on in his creative process, did you find his influence to be a major part of designing the collaboration?
He is an extremely creative individual who like us, wants to create products that are world leading and that the world has never seen before. Both of our brands get along extremely well because we don't want to settle for the status quo and with that, it brings us challenges. The YEEZY design team and the 2XU design team both want the best. We have found the YEEZY team has been extremely professional to work with and we have got along very well.
Share this article