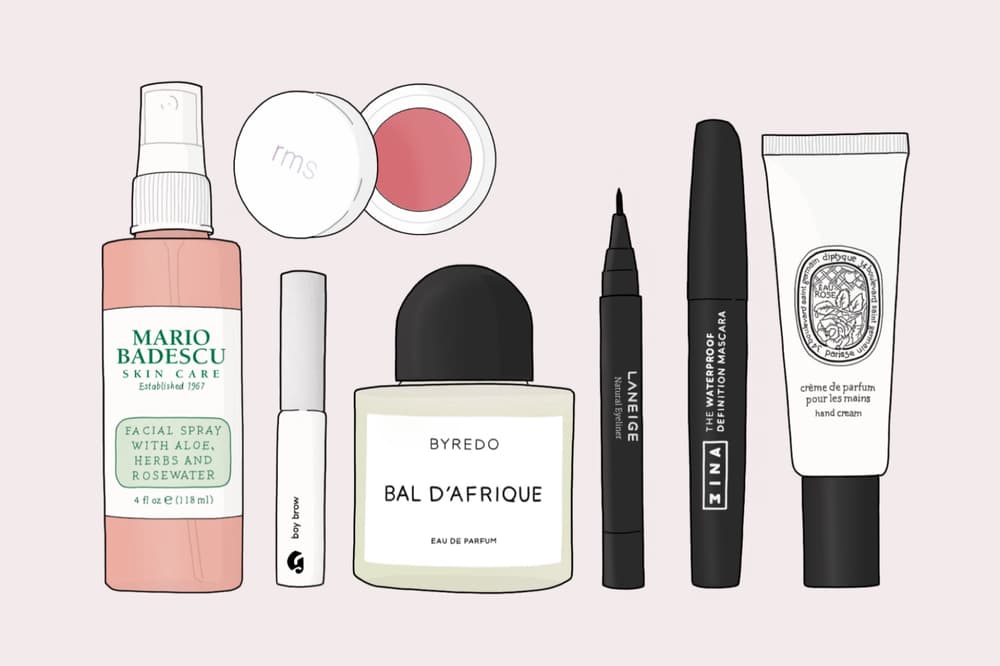 Beauty
21 Makeup & Skincare Products You Need to Try out This Spring
Holy grails that HYPEBAE editors can't live without.
21 Makeup & Skincare Products You Need to Try out This Spring
Holy grails that HYPEBAE editors can't live without.
With the arrival of spring equinox marks the beginning of a new season. While the snowy weather may suggest otherwise, you can still get into the mood for warmer weather, starting with updating your beauty regimen. From makeup to skincare, we're prepping our face and body with trusty old favorites as well as amazing new finds. Continue reading to learn about all the springtime beauty products that HYPEBAE editors swear by.
For more beauty inspo, read our perfume guide to find out which fragrance you should be wearing according to your zodiac sign. Be sure to also check out our "Get Unready" video series to see the evening skincare routines of some of our favorite ladies in fashion and entertainment.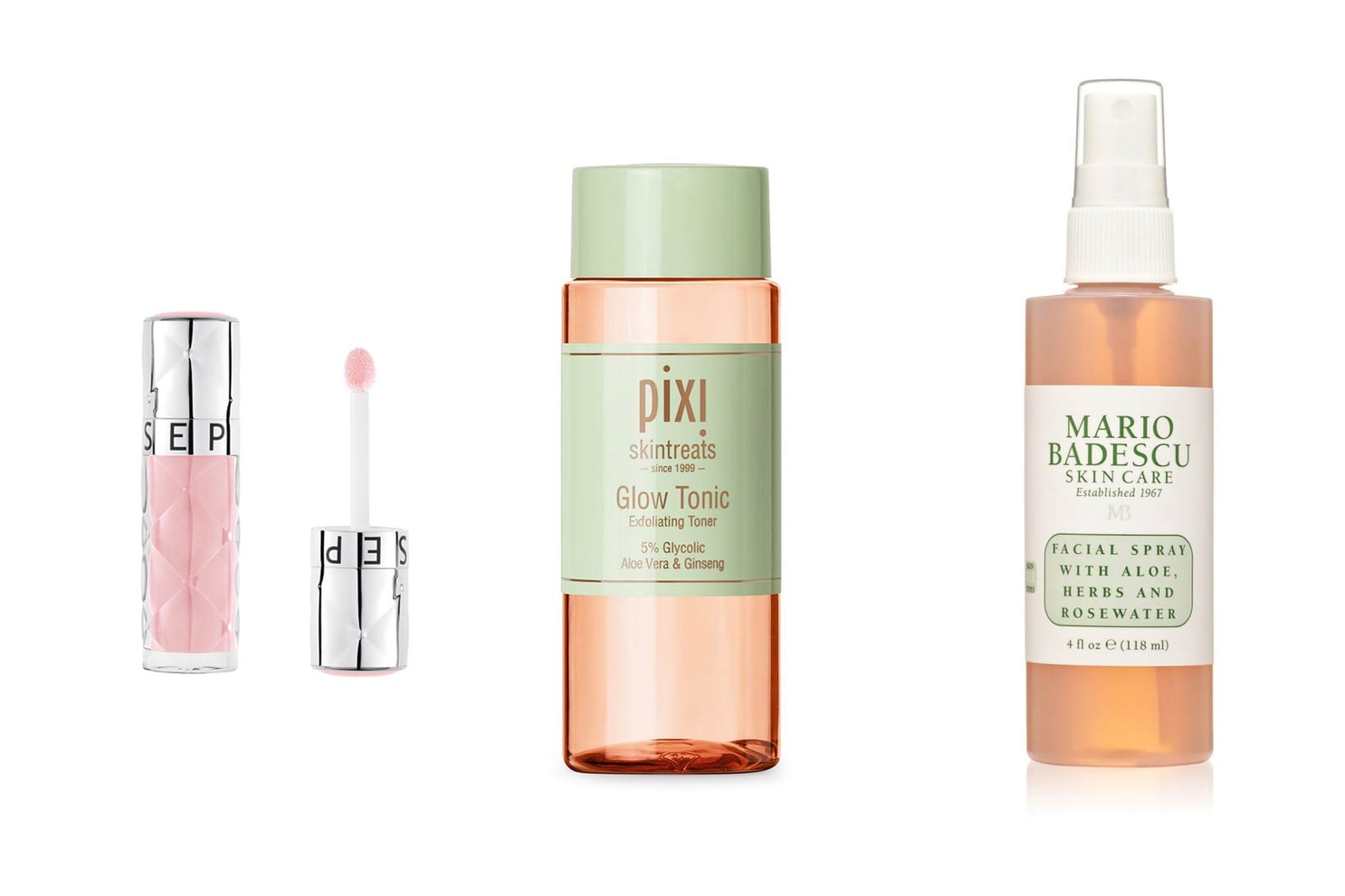 1. Mario Badescu Facial Spray with Aloe, Herbs & Rosewater
I don't know about you, but I maintain a healthy glow year-round thanks to this miracle worker. Twice daily I use Mario Badescu's rosewater-infused spray to wake my skin from its slumber. The rejuvenating mist is packed with herbal extracts like aloe vera and gardenia to re-energize my skin and make it look like I drink gallons of water. You can set aside your heavy duty setting spray and use this instead for a fresh makeup look. For just $7 USD, you can't beat this cult-favorite product.
New season, new skin. I use Pixi Beauty's Glow Tonic to slough off my winter layer revealing bright and smooth skin. This formula is made with five-percent glycolic acid to gently exfoliate and enhance your inner glow. I swipe it on at night before moisturizing and when I wake in the morning, my skin is soft and my blemishes reduced. Don't sleep on this $15 USD game changer.
3. Sephora Outrageous Effect Volume Lip Gloss
There's something about the spring that makes me want to pull off a glossy look. I use Sephora's Outrageous Effect Lip Gloss in "XXL Nude" to add some shine and subtle plumpness to my lips. Its formula is enriched with sunflower seed oil and peppermint oil to hydrate the skin on the lips. I never leave the house without this $12 USD gloss.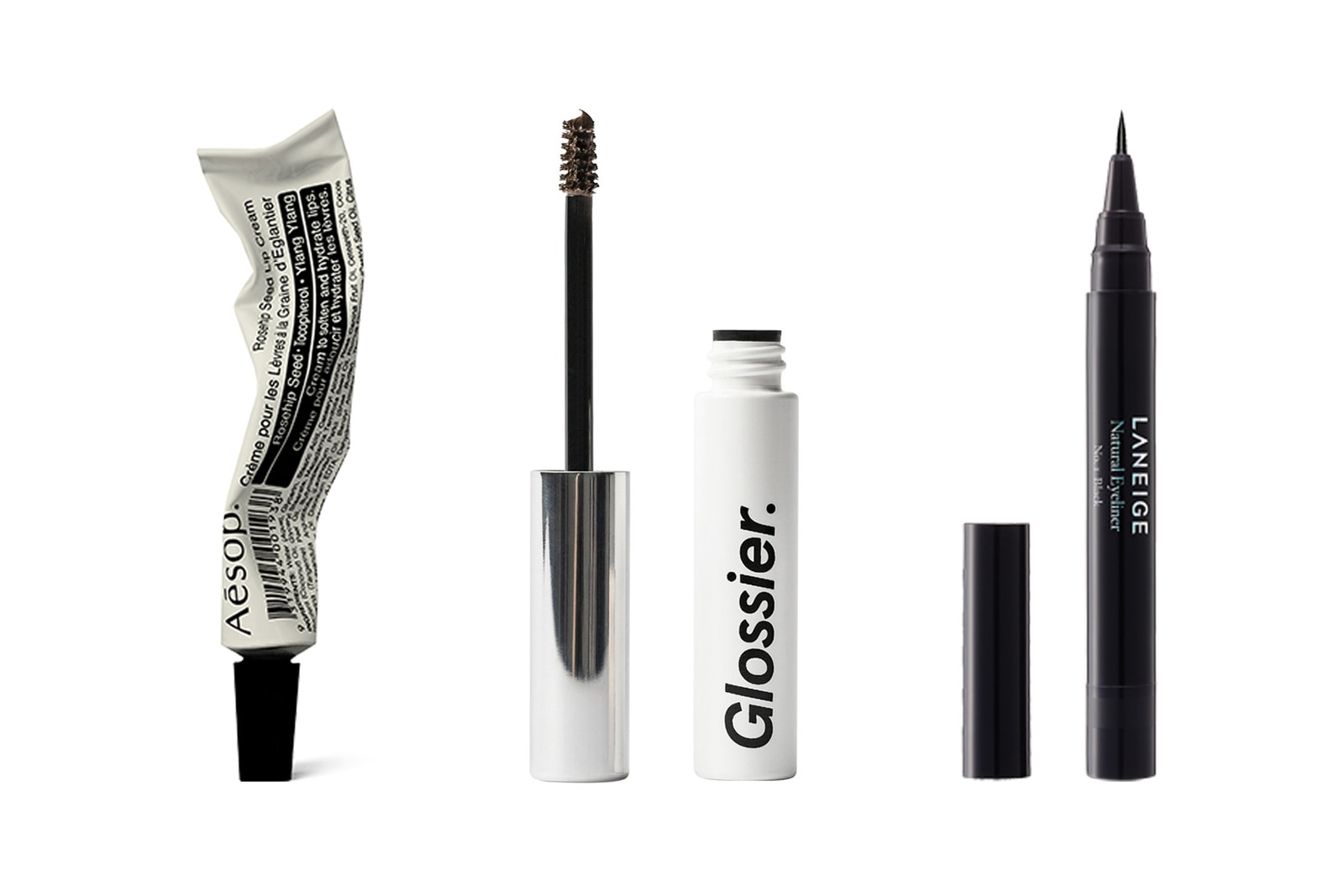 1. Aesop Rosehip Seed Lip Cream
I'm dry on the daily in winter so lipstick or lip color is lost on me. But it's back to red and nude lipsticks in the spring. In preparation, I've traded out my go-to drugstore brand chapstick, and opted to use Aesop's Rosehip Seed Lip Cream. The vitamin-rich lip savior is hydrating and is non-greasy, all the while, smoothing out that plump. The delicate citrus and nutty scent is only second to its hydrating power. Buy the lip cream at Aesop now, priced at $15 USD.
Eyeliner is my thing. For something so natural to my look, I'm picky about which product I use. I recently switched over to cult-loved Korean beauty brand Laneige's Natural eyeliner. I had never used its makeup but I swear by its skincare, so it was as good a time as any to test it out and I was not disappointed. Precise and delicate, it's my new go-to. Order the Laneige eyeliner over on at select Korean beauty stockists, priced at approximately $20 USD.
Glossier's Boy Brow is well-known. Most girls swear by it, and I am no exception, because it's proven to work and is simple to use. But one thing's changed – my new shade is "Brown" over the usual black. I assumed with my naturally black hair and eyebrows, I would automatically have to use black brow products. But during the last visit to my salon, the eyebrow specialist disputed said long-held notion to let me know that a lighter brown would still look natural. Pick up the Boy Brow over at Glossier, with a $16 USD price tag.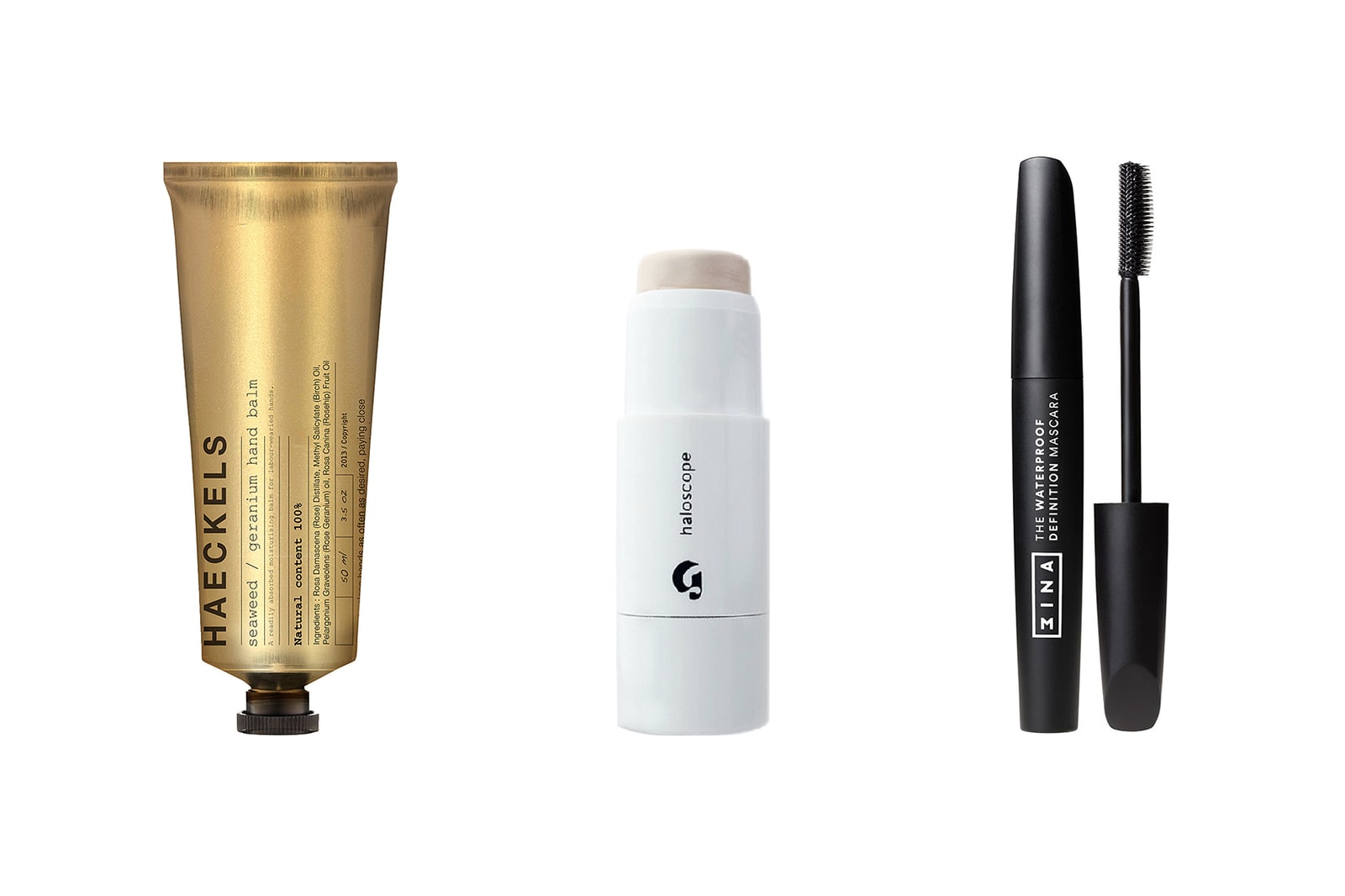 1. Haeckels Seaweed/Geranium Hand Balm
The transitional weather between winter and spring can be troublesome for your skin, and I've always found it tough to find a hand cream that genuinely works. Whilst many have tricked me with fancy scents and cool branding, few seem to leave my hands nourished rather than just, well, clammy. British brand Haeckels has been a godsend for me, in particular, this hand balm. The seaweed and geranium combo smells just like springtime and helps repair your skin as well as providing vitamins and essential moisturization, without being greasy. The luxe gold packaging is a total bonus too. Pick it up at Selfridges for $21 USD.
For those that need a little extra help getting that dewy glow, Haloscope hasn't failed me yet. I've been using this cult product religiously throughout 2017 and the crystal-infused formula does the perfect job of adding a subtle shimmer across my cheekbones. Unlike many powder highlighters, it doesn't leave my skin dried out because the core contains vitamin-rich moisturizers – so I stay both hydrated and looking fresh. Grab yours now at Glossier for $22 USD.

3. 3INA Waterproof Definition Mascara
With spring come those inevitable showers, so it's pretty much imperative to have a good mascara that won't leave you with panda eyes in the rain. Budget-friendly brand 3INA's Waterproof Definition Mascara is now the only one I honestly swear by. The definition this gives to each individual lash is insane – it makes me feel all levels of doll-eyed Hollywood glam and just one swipe lasts all day. At just £8.50 GBP (approx. $12 USD) it's my worst kept beauty secret.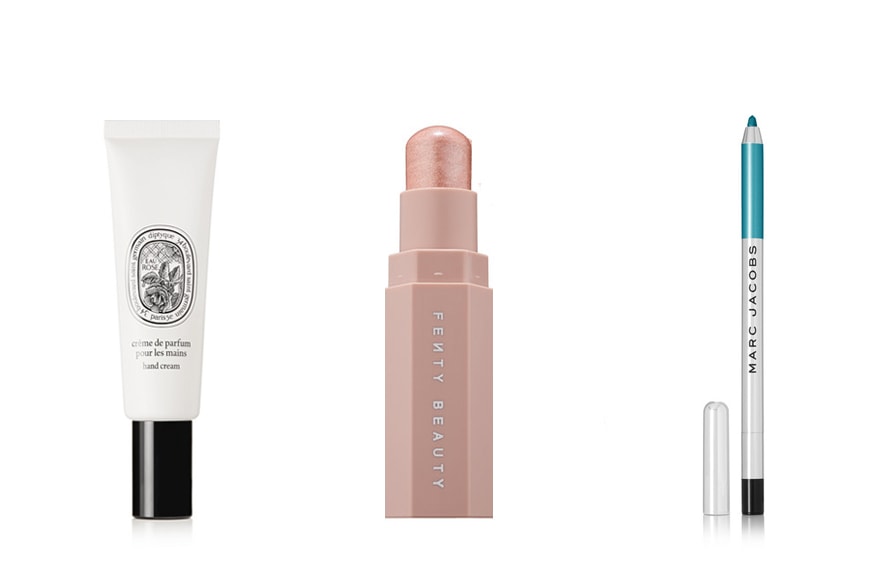 1. diptyque Eau Rose Hand Cream
I'd forgotten that I had this nearly sold-out hand cream and honestly I'm happy I stumbled across it. This ultra-soft hand lotion goes on smoothly and has a delicate scent that lingers for hours thanks to the rose and lemon ingredients. The aloe vera and macadamia oil makeup also add to what makes it perfect for swiping on to battle against extreme dryness. Honestly, I'm not one who loves perfumes, so when I fell in love with this I knew I'd hit the jackpot. Purchase it before it sells out for $35 USD at diptyque.
2. Fenty Beauty Match Stix Shimmer Skinstick
Yes, I fed into the hype of Fenty Beauty. I'm really looking forward to applying this so that when the sun is shining during spring, you'll be able to see the shade "Starstruck" glistening on my cheeks. I love that when I wear this product it actually stays on for hours rather than wearing off. It's also photo-proof and doesn't look painted on. When applied gently it gives a soft, ethereal glow. Pick up your favorite shade over at sephora.com for $25 USD.
3. Marc Jacobs Beauty Highliner Gel Eye Crayon
Spring calls for color, so what better way to bring in the upcoming season than a rich, glide-on eyeliner? I've been wearing "(Ody)Sea," a bright teal since last spring so I'm looking forward to wearing the metallic hue again in the next few months. What I enjoy the most about this product is that it's perfect for drawing on experimental and precise lines. It's also waterproof and has a perfect matte finish. The compliments I get whenever I wear this make it worth the price. Purchase this luxe Highliner for $25 USD at Net-A-Porter's web store.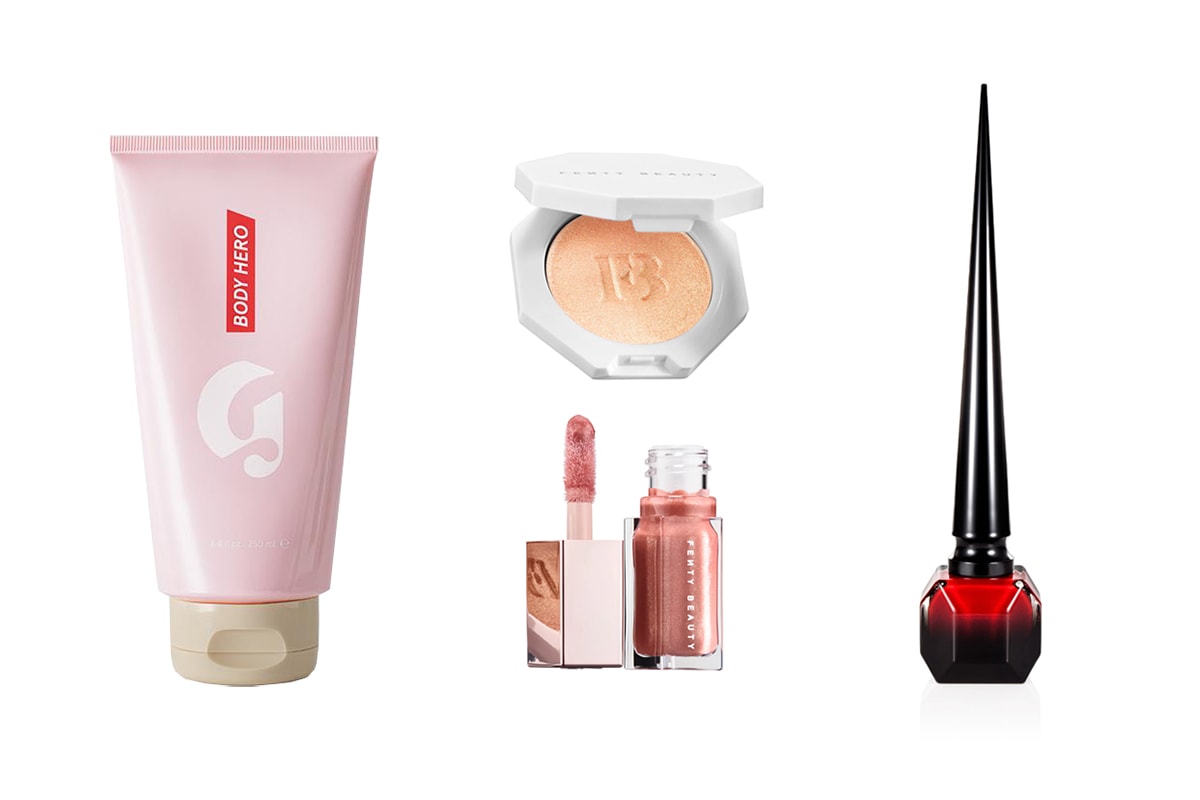 1. Glossier Body Hero Daily Perfecting Cream
This spring, I'm going back to basics and really focusing on taking good care of my skin. While I'd never ever skip facial moisturizer for my morning and evening skincare routine, I like many are guilty of neglecting skin on the rest of my body. I've made it my new year's resolution to use body lotion at least once every day. With its amazing scent and light-reflecting formula, Glossier's Body Hero has easily become an instant favorite of mine. Shop yours for $22 USD at glossier.com.
2. Fenty Beauty Mini Lip and Face Set
I mean, how cute are these baby-sized Fenty Beauty products? For a fresh-faced look, I like to keep my eye makeup pretty minimal, and to put emphasis on enhancing the radiance of my skin. The Killawatt Freestyle Highlighter is ideal for the job. Complete the effortless look by throwing on the Gloss Bomb in "Fenty Glow" — it's a shimmery, nude lip gloss perfect for everyday wear. Purchase the duo for $23 USD at Sephora.
3. Christian Louboutin Nail Polish
In case you didn't know already, Christian Louboutin not only makes beautiful shoes but also pretty great makeup products. The brand's red nail polish is inspired by its iconic rogue soles, and sees exquisite packaging that's shaped like a stiletto heel. The product itself is very opaque and requires only one coat to make your nails look super classy. It's also worth mentioning that its small brush allows for precise application. Pick up a bottle online for $50 USD.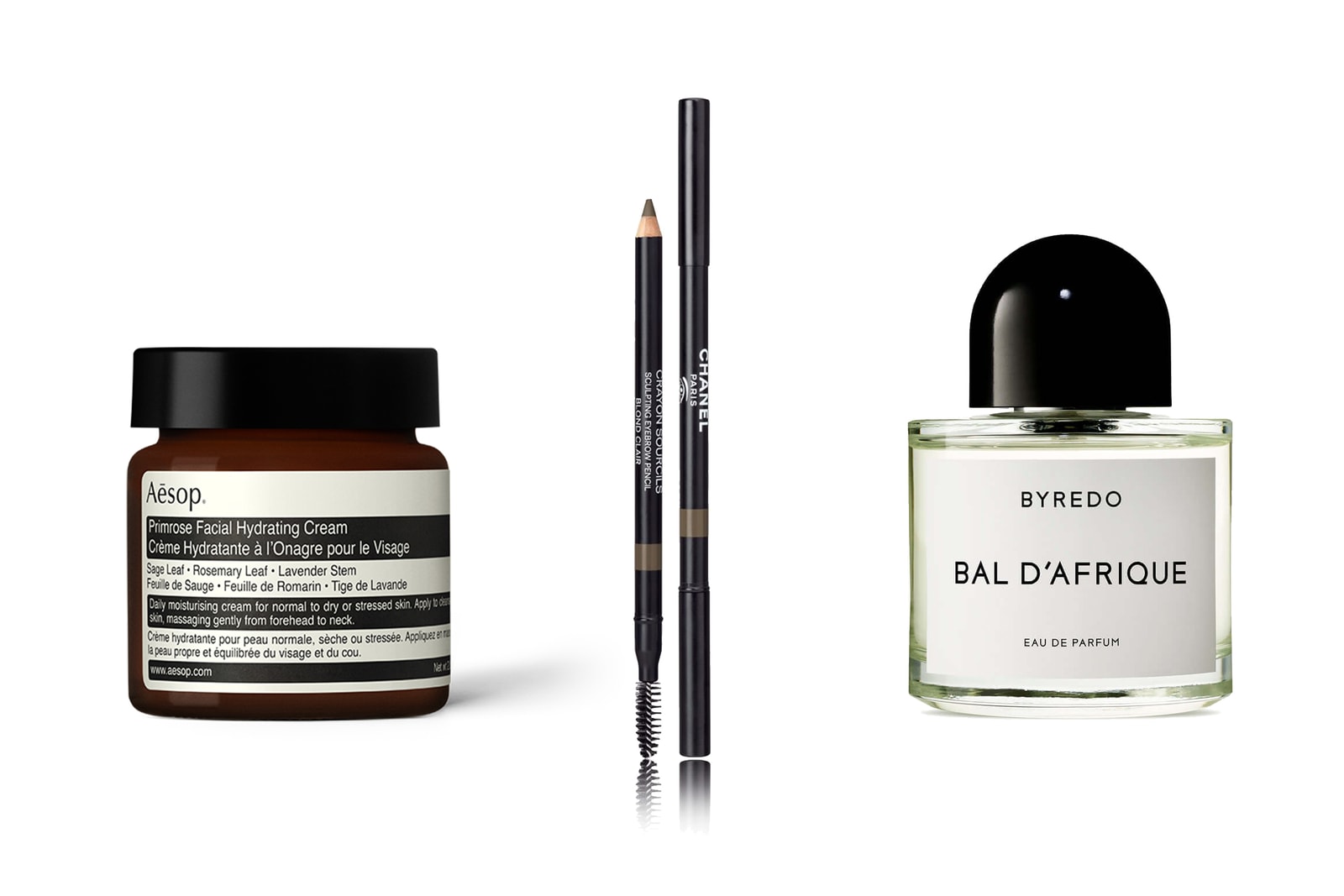 1. BYREDO Bal D'Afrique Perfume
There's no better way to welcome spring than switching up your perfume, and BYREDO's Bal D'Afrique is the perfect light scent. I'm someone who is very sensitive when it comes to fragrance, but I've found that I can never go wrong with BYREDO's sophisticated scents. Retailing at €130 EUR (approximately $160 USD) for 100 ml, you can get yours online.
2. Aesop Primrose Facial Hydrating Cream
I've always had quite normal skin, but throughout the cooler seasons I've found that my skin has gotten incredibly dry. After spending hundreds of dollars on skincare recommended by my dermatologist, I stumbled on Aesop's Primrose Facial Hydrating Cream by chance and I've been using it religiously ever since. The subtle scent is as soothing as the moisturizer itself, and at $45 USD, this cream will add a bit of luxury to your everyday routine.
3. Chanel Crayon Sourcils Sculpting Eyebrow Pencil
I've been using this product since I came across it almost three years ago, and it is still the best eyebrow pencil that I've used to date. I used to have a hard time finding a shade that complements my dark, cool-toned brows, and Chanel's eyebrow pencil in "Brun Cendre" is the perfect match. Not only is the formula long-lasting and easy to apply, but the product also lasts you forever. Available at Nordstrom, $29 USD is a small price to pay to get your eyebrows on fleek.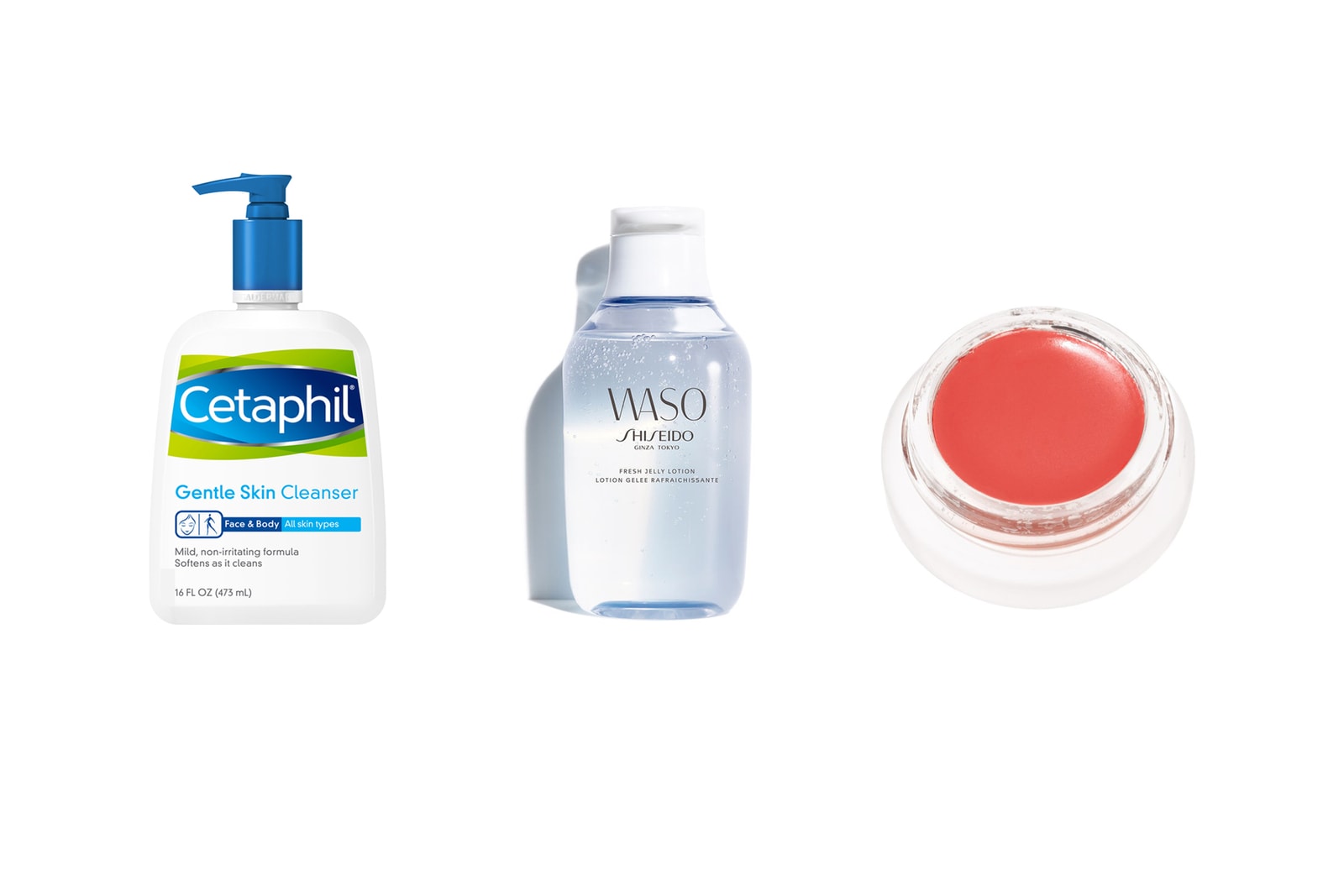 1. Cetaphil Gentle Skin Cleanser
It may seem excessive to some, but I actually cleanse my face twice before I sleep every night. After removing makeup with Bioderma's Micelle Solution, I usually lather and massage the Cetaphil cleanser on my face to remove any excess dirt or oil. The formula is extremely, well, gentle as the name suggests – which makes sense since the product is fragrance-free. The product is also great to use in the mornings, and always makes my skin feel fresh and prepped for applying the day's products. This cleanser is available at most drug stores and won't break the bank, as it usually retails at $9.49 USD for a 16 oz bottle.
2. Waso Shiseido Fresh Jelly Lotion
To be honest, Shiseido's entire Waso line is a must-cop in my books. Crafted from Japanese washoku philosophy, all of the Waso products are heavily inspired by nature and simple skincare. The Fresh Jelly Lotion is definitely an item that epitomizes this ideology. The alcohol-free formula smells incredible and provides lasting hydration throughout the whole day. After gently massaging into your skin, it immediately feels plump and dewy. The Jelly Lotion is definitely a must-have to get that springtime glow. A bottle goes for $30 USD at shiseido.com.
I'm a lazy makeup person. If I can't beat my face in under 20 minutes, it's already too much work. With all the work I'm putting into my skincare routine, I'm pretty much exhausted by the time I get to makeup. If you can relate, the RMS Beauty Lip2Cheek products are pretty ideal for gals on-the-go. I like to blot some of the product in "Smile" over my lips before heading out the door. If you're craving some color on your cheeks, this product is great for that too – a little goes a long way. Find yours for $36 USD at rmsbeauty.com.