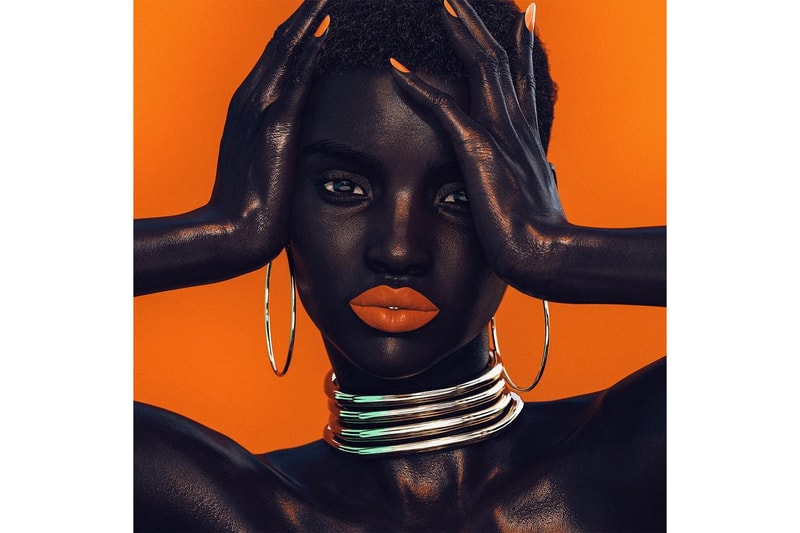 Meet Shudu: The World's First Digital Supermodel
It just gets creepier and creepier.
Fenty Beauty first shared an image of Shudu back in February of this year. In the image, the dark-skinned beauty is seen modelling the Saw-C lipstick. After the post, Shudu's Instagram account skyrocketed with followers and became an online sensation. Soon after, it was revealed that the too-perfect, statuesque model is actually a computer-generated rendering, completely fabricated by London-based photographer and digital artist Cameron James-Wilson.
Although the fact that she was a 3D, digitally-produced image was first obscured, her IG profile was soon updated with the description, "World's First Digital Supermodel." On why he created Shudu, Wilson explains:
"Basically Shudu is my creation, she's my art piece that I am working on at the moment. She is not a real model unfortunately, but she represents a lot of the real models of today. There's a big kind of movement with dark skin models, so she represents them and is inspired by them. Obviously some models like Duckie [Thot] were definitely big inspirations for her as well."
Inevitably, Wilson's comments on Shudu and why he created her have sparked mass outrage throughout the Internet. Most obviously, the fact that a white man has created a black woman to capitalize on today's "big kind of movement with dark skin models" is extremely problematic. Other critics are also pointing out the fact that black women remain underrepresented in the fashion and beauty industries, and the fact that Wilson has created a black model instead of hiring one only perpetuates this underrepresentation.
However, Wilson is adamant that he did not create Shudu for profit. Instead, he told Refinery29 that he has not monetarily gained anything from Shudu's creation but instead, she has cost him over £2,000 GBP (approximately $2,762 USD). "Her creation was a part of the learning process when I was developing my 3D modelling skills and the only intention was to create an image of the most beautiful woman I could," he says.
On top of the ethical issues here, let's not also forget the big, pink elephant in the room: all of these digital models popping up on Instagram are super creepy. Remember Lil Miquela, the virtual style influencer who boasts well over 600k followers on the platform. Whether this is a fad or an ominous new direction for fashion marketing, we can't ignore the overwhelming Black Mirror vibes at work here. Here's hoping that this trend stops soon.
You can read some of the comments on Shudu below.
A white photographer figured out a way to profit off of black women without ever having to pay one. Now pls, tell me how our economic system is in no way built on and quite frankly reliant on racism and misogyny ?? https://t.co/k7tDc7cXLL

— ur local sweetheart✨?✨ (@hodayum) February 27, 2018
Black models, specifically dark skin Black models are not a trend though. We should be the norm. Ok. Even though Shudu is a beautiful digital creation, I hope that he can shoot with real dark skin Black models and pay them accordingly too. https://t.co/2FGTZ2IoEm

— ?ecca (@MJFinesseLover) February 27, 2018
As much as I appreciate art I detest the fact that the minute dark skin is finally glamourized by the mainstream media a white man finds a way to commericalize & capitalize off it. Black skin is not a trend. Black skin is not a toy. Black women even more not so. #Shudu #FreeShudu pic.twitter.com/pu79IGcU1s

— Sonia Pratt (@adrianette_) February 28, 2018
This is problematic. Instead of hiring a black model, the photographer created one. Is it that hard to pay black women? Also shows how much dark skin is still being exoticised by the media. https://t.co/tfmcUzAdzZ

— Moza (@MozaFrique) February 28, 2018
First of all, the Black community is not a "trend"
Second of all, just shoot with a real Black model??? Why does this exist. https://t.co/QDKtKisUoY

— crocodile (@pairating) February 28, 2018
Share this article