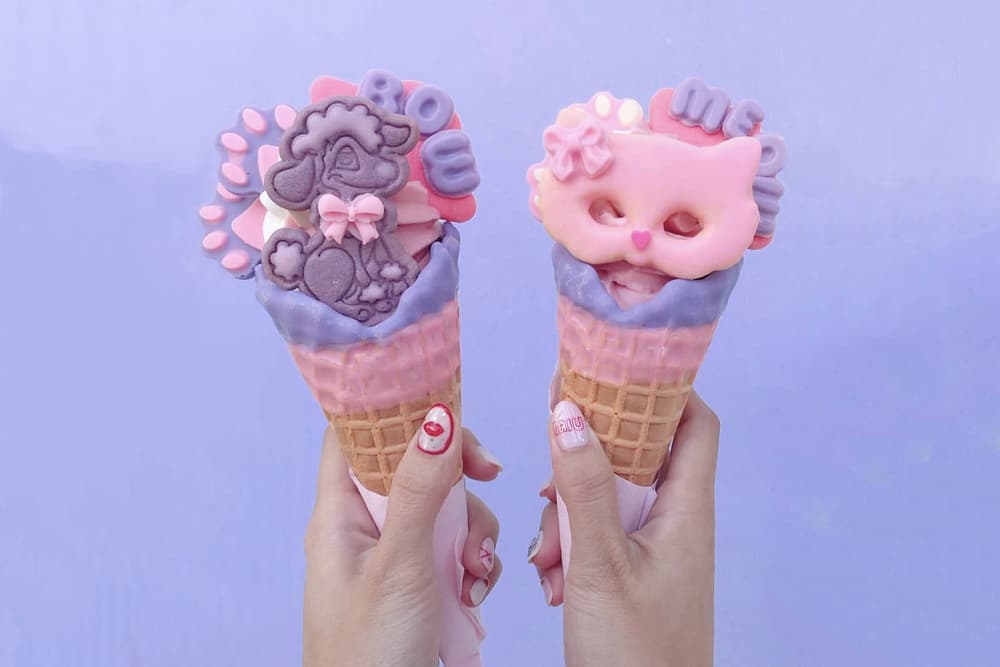 Food
Our Five Favorite Instagram Accounts This Week: The Ice Cream Edition
Get your 'gram ready for summer.
Our Five Favorite Instagram Accounts This Week: The Ice Cream Edition
Get your 'gram ready for summer.
Summer's (almost) within reach and what better way to get in the mood for sunnier days than planning your ice cream hit-list? Thanks to platforms like Instagram, we can drool over wild, wonderful and downright weird desserts and the unique stores that dream them up all over the world.
From bizarre flavor combinations and Frankenstein creations (ice cream taco, anyone?) to some of the most photogenic frozen treats we've ever seen, we've rounded up five ice cream stores you need to follow on Instagram for summer dessert inspiration – check them out below and satisfy that sweet tooth.
HYPEBAE Pick: Sweet Jesus started out as a humble, but achingly cool, ice cream store in Toronto and has since grown to 12 stores and counting across Canada. Soft serve is the speciality, and the cones come laden with delectable toppings – including real birthday cake pieces. Other favorites include the incredibly Instagrammable Krusty the Cone which has cotton candy and rainbow sprinkles and Rocky Road Rage – a chocolate soft serve coated in marshmallows, chocolate sauce, walnuts, cashew and Oreo cookie crumble. For Summer 2018, Sweet Jesus is set to reveal a yet unnamed strawberry ice cream – keep your eyes on its IG to find out more.
HYPEBAE Pick: It's hard to pick just one incredible ice cream store in New York City, but we couldn't let the Big Apple completely dominate our list so we had to narrow it down. Manhattan's Ice & Vice made the final cut – with two outposts (one on the Lower East Side and the other on Times Square), this contemporary parlour will be sure to settle any sweet tooth cravings. Flavors are ever-changing but some of the best at the moment include Breakfast Club (brown butter banana and candied bacon waffles) and Movie Night 2 (buttered popcorn, malted chocolate, raisin caramel). There are also ice cream pies and sandwiches available – oh, and let's not forget about that hot pink cone that will have you racking up Instagram likes in no time.
HYPEBAE Pick: Little Damage steals the coveted West Coast spot on our guide – best known for it's ultra-goth charcoal ice cream, this LA-based store is kind of a big deal. Alongside the black soft serve, Little Damage offers up a whole slew of vibrant treats and special, themed desserts like the Valentines cones above. As if serving its signature ice cream in cups and cones just wasn't enough, this offbeat store has also dreamed up the ultimate dessert combo – that's right, the ice cream taco. This place is a definite must-stop if you're ever in DTLA and if not, you'll always have the Instagram feed to salivate over.
HYPEBAE Pick: Tokyo is well-known for it's super-kawaii dessert offering but Eddy's Ice Cream really takes the game to a whole new level. Not only is the store itself insanely photogenic (think blush pink walls, retro telephones and neon lights), the desserts themselves are unlike anything we've ever seen before. Adorable candy unicorns and cats, bear-shaped cookies and oversized hearts are just a few of the add-ons you can get to truly pimp up your cone. Whilst we can imagine it would be a sugar overload, there's no denying this place will brighten up any social media feed.
HYPEBAE Pick: Located within Boxpark in London's Shoreditch area, what this petite parlour lacks in size it more than makes up for in sweet treats. Choose from the likes of Cloud 9 (vanilla ice cream with lashings of cotton candy, strawberry sauce, Pocky and popping candy), Espresso Yourself (Vanilla affogato, crumbled Oreos and waffle) and Matcha Madness (matcha ice cream, red bean paste, Oreos, Pocky and rice cakes). As the name suggests, soft serve ice cream is the go-to here, although for those who want to go all-out, you can get your hands on OTT freakshakes, too. You can also mix and match toppings to your taste and keep your eyes peeled for its special weekly flavors that are always sure to delight.