7 of the Greatest LGBTQ+ Movies to Watch This Pride Month
From 'Moonlight' to 'Blue Is the Warmest Color.'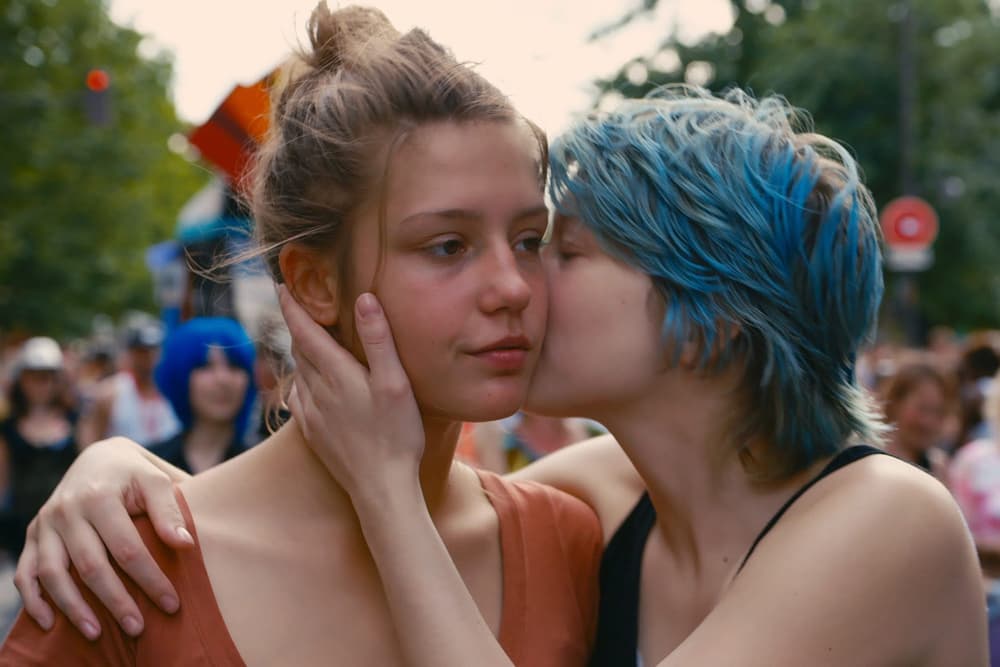 Every year in June, the LGBTQ+ community and their allies get together to celebrate Pride Month, which was started to commemorate the 1969 Stonewall rebellion in New York that significantly propelled the modern day gay rights movement. In honor of the annual event, we're taking a look back at seven of the greatest LGBT-themed movies made over the last 20 years, with each of them never failing to pull at our heartstrings. From queer classic Brokeback Mountain to the Sundance hit Call Me By Your Name, continue reading for a list of titles that you should be revisiting this Pride Month.
While you're here, check out five of our favorite LGBTQ stars including Lena Waithe and Laverne Cox, who're using their voices and creativity to make an impact in the entertainment industry and in our society.
1. Carol
Starring Cate Blanchett and Rooney Mara, Carol delves deep into the forbidden love between aspiring photographer Therese Belivet (Mara) and an older woman called Carol Aird (Blanchett) who's going through a tough divorce from her negligent husband. Set in the early 1950s, the movie follows the duo as they develop their friendship and later, a romantic relationship that risks Carol of losing custody of her daughter. The film captures in detail the heart-wrenching moments of love lost and found, as well as the struggles one goes through when trying to come to terms with one's sexuality. Needless to say, the performance of both actresses are absolutely phenomenal. Notably, Carol was awarded the Queer Palm prize at the 2015 Cannes Film Festival, which recognizes the treatment of LGBT themes throughout the movie.
2. A Single Man
Before the 2016 film Nocturnal Animals, designer Tom Ford actually made his directorial debut in 2009 with the highly acclaimed movie A Single Man. Based on the Christopher Isherwood novel of the same title, the cinematic masterpiece revolves around Colin Firth's character George Falconer, an English professor struggling to cope with the pain of losing his longtime partner Jim – his life is taken by a fatal car accident. Whilst coping with depression, George meets a student called Kenny Potter (Nicholas Hoult) who shows interest in him despite conventional standards, and who later plays a significant role in saving George from his suicidal urges. It's definitely not the most lighthearted movie but if you're looking for stories that deal with overcoming grief after a traumatic loss, you'll appreciate A Single Man.
3. Moonlight
Famously winning the Academy Award for Best Picture back in 2017, Moonlight is undoubtedly one of the most iconic movies of our time. Not only is it the first film with an all-black cast to be honored with the award, it's also the first-ever LGBT-themed movie in history to receive the Oscar for Best Picture. Broken down into three acts, Moonlight follows the story of Chiron, played by Alex Hibbert, Ashton Sanders and Trevante Rhodes at different stages of the character's life. Between heavy topics including identity and drug use, the movie paints a raw picture of Chiron's relationship with his best friend Kevin, who share a short-lived moment of passion when they're teenagers.
4. Blue Is the Warmest Color
Directed by Abdellatif Kechiche, Blue Is the Warmest Color is perhaps one of the most memorable LGBT films released in the past decade. The 2013 French movie centers around Adèle (played by Adèle Exarchopoulos), a 15-year-old whose life experiences sudden changes when she meets an older, blue-haired art student named Emma (Léa Seydoux). Originally seeing a boy at school, Adèle begins having fantasies about Emma, whom she randomly notices on the street one day. After being reunited unexpectedly at a lesbian bar, the two grow closer together and eventually become more than just friends — but it's not a perfect love story after all. The coming-of-age romance drama explores everything from sexual identity and social acceptance, to heartbreak and adulthood. Near three hours long, this beautifully melancholic movie is an emotional roller coaster for many.
5. Tangerine
Starring Kitana Kiki Rodriguez and Mya Taylor, Tangerine is remarkable not only because it's shot entirely on the iPhone 5s, but also for its down-to-earth depiction of Los Angeles' sex-trade subcultures. The Sean Baker-directed film, which first released at the 2015 Sundance Film Festival, follows two transgender sex workers Sin-Dee Rella (Rodriguez) and Alexandra (Taylor) as they confront one of the biggest tests of their friendship on Christmas Eve. Having just finished her short prison sentence, Sin-Dee excitedly meets up with Alexandra, only to find out that her boyfriend Chester (James Ransone) has been cheating on her — but this is just one of the many secrets that Sin-Dee finds out during that drama-filled day. Tangerine is currently available to stream on Netflix.
6. Call Me By Your Name
Another coming-of-age film on our list, Call Me By Your Name (2017) sees Timothée Chalamet starring opposite to Armie Hammer. Chalamet plays Elio, a teen who resides in Northern Italy with his parents. In summer 1983, Elio's father who's an archaeology professor invites his 24-year-old graduate student Oliver (Hammer) to stay at his home while assisting with his academic paperwork. Despite initially feeling annoyed by the presence of his family guest, Elio can't help but find an unusual connection to Oliver. The two share an intimate few weeks together, but like all of the best romances, the courtship results in heartbreak and not to mention a lot of tears.
7. Brokeback Mountain
This almost requires no introduction. Directed by Ang Lee, Brokeback Mountain (2005) follows rodeo cowboy Jack Twist (Jake Gyllenhaal) and ranch hand Ennis Del Mar (Heath Ledger) as they work together as shepherds in the Wyoming mountains. One night, Jack makes a drunken pass at Ennis, who initially isn't sure of how to react but finally reciprocates. What is meant to be a one-off incident turns into a secret affair that spans two decades. While both men seemingly carry on with their lives by marrying their wives (played by Anne Hathaway and Michelle Williams), they find it achingly impossible to forgo what they have between the two of them. Winning more than 80 prestigious awards, Brokeback Mountain is a timeless tale that'll break your heart no matter how many times you've rewatched it.