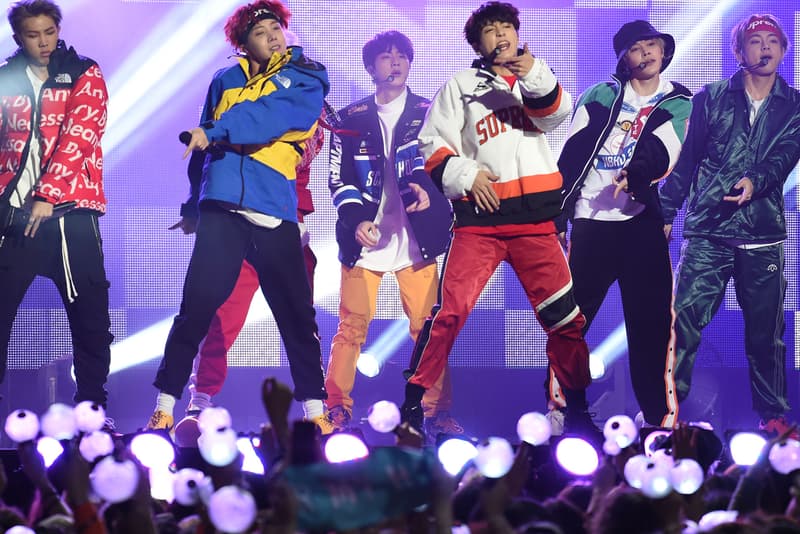 Culture
What to Expect From BTS' History-Making Shows at London's Wembley Stadium
The K-pop superstars are taking the UK by storm this weekend.
What to Expect From BTS' History-Making Shows at London's Wembley Stadium
The K-pop superstars are taking the UK by storm this weekend.
BTS' Love Yourself: Speak Yourself world tour has been wowing K-pop fans across the globe and it finally arrives in London this weekend. The shows have already made history – it's the first time a K-pop artist has played in the city's iconic Wembley Stadium and the 90,000 tickets issued for the first date reportedly sold out in just 90 minutes.
For all those lucky enough to attend, we put together our thoughts on what you can expect to see from Jungkook, Jin, Jimin, Suga, RM, V and J-Hope's biggest UK concert to date. Keep your eyes peeled for impressive sets, killer stage outfits, on-point choreography and maybe a surprise on-stage guest or two – read on to find out more.
What songs should we expect?
The setlist will most likely feature some of the band's biggest hits over the years, like "Mic Drop" and "Fire." There will also be a strong selection of more recent tracks, like "Fake Love," "Dionysus," "IDOL," and "Boy With Luv." Like with many K-pop shows, it's unlikely there will be any support acts but recent collaborations with Halsey and Ed Sheeran may well lead to surprise popstars joining the boys on stage.
What will the production look like?
It takes a lot to fill an arena as big as Wembley Stadium and we expect the seven-piece band will give their loyal fans, the #BTSARMY, a concert they'll never forget. As well as an exciting audio-visual set that will include larger-than-life screens, fireworks and light displays, impeccable choreography and stunning stage outfits, some of which have been designed by Kim Jones for Dior. As with many bands, merch will form a major part of the Love Yourself: Speak Yourself experience – you can pick up exclusive tour merch at the shows or at BTS' pop-up in East London.
Will there be any solo performances?
K-pop stars often become as well-known for their solo escapades as they are for their group success. Previous shows have included Jungkook performing the song "Euphoria" and Jimin singing "Serendipity." There will be a segment of the concert that allows each of the boys to shine on their own. If you weren't able to snag a ticket to Love Yourself: Speak Yourself show however, fear not – the entire London concert will be streamed online.
Share this article