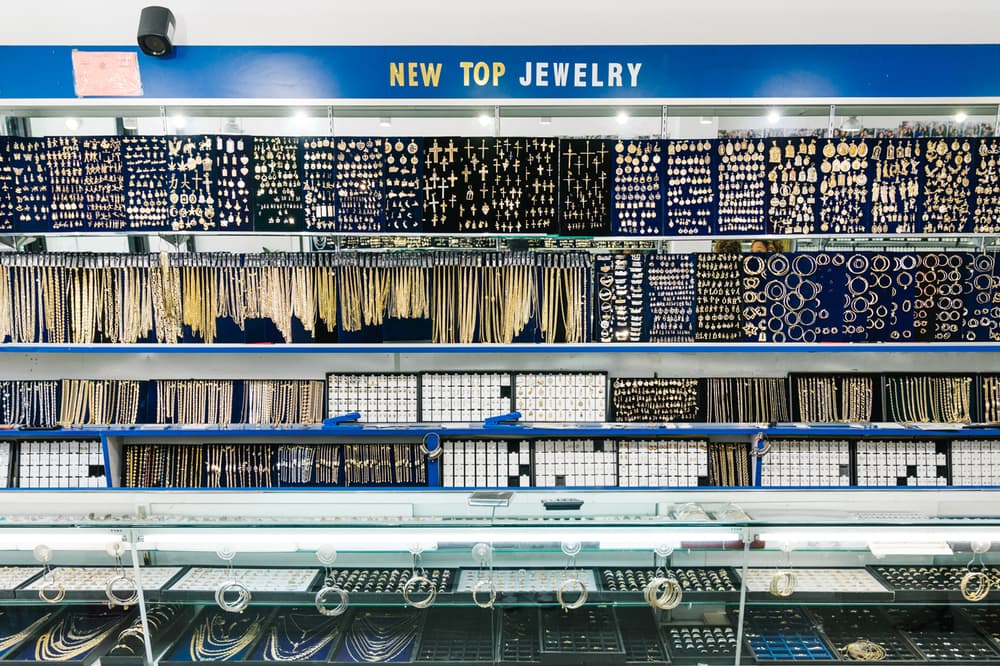 Fashion
The Best Nameplate Shops in New York City's Chinatown, Midtown and More
Including Jane Top Jewelry and The M Jewelers.
The Best Nameplate Shops in New York City's Chinatown, Midtown and More
Including Jane Top Jewelry and The M Jewelers.
Nameplate jewelry has been a staple for quite some time now. Quite honestly, receiving or getting custom pieces are a rite of passage in many cultures. Not only are they stylish, but they're also packed with memories for many who take the plunge and purchase one. In the Caribbean (more specifically Jamaica), purchasing a 14K or 24K gold jewelry and a set of earrings as a gift for a baby is not uncommon. It provides a culturally significant bonding moment for the child and the gift-giver, most likely parents, godparents or grandparents. It's important to note here that African Americans have been practicing this type of gift giving for generations. Typically, real jewelry is passed down to family members as elders get older — earrings, engagement rings, wedding rings or even rings of significant value.
As all trends typically find themselves circling back into the present, nameplate necklaces are slowly experiencing a resurgence, and they're everywhere. These accessories are perfect for topping off an everyday look. If you scroll through your Instagram feed, you're likely to stumble upon a friend wearing numerous stacked chains perfectly paired with a gold plated nameplate necklace or a 14K gold iteration.
For our latest feature, we've rounded up our top picks for where to purchase a nameplate in New York City. New Top Jewelry and Popular Jewelry are two of New York City's most respected jewelry destinations. In fact, the two are frequently visited by celebrities ranging from Vashtie to A$AP Rocky and even Travis Scott. Both shops provide an array of customizable nameplate options in a wide range of typefaces. Additional options for those willing to pull the trigger and cop a custom necklace include The M Jewelers and an e-boutique by the name of Melanie Marie.
Keep reading below to find out details on the popular shops.
New Top Jewelry
If you're looking for a quintessential jewelry shop that screams New York City, this is the winner. Owned by George Tsai, the Downtown staple is heralded as a top location for gold jewelry. Known for her sweet disposition, shopkeeper Jane Shuai provides an enjoyable experience for customers and individuals alike. When visiting, we counted over 25 different nameplate customization options in different karats depending on your preferred price point. As a bonus, this shop also offers custom rings. In total, New Top offers a plethora of selections for those who know exactly what they want or maybe even are willing to experiment with different detailing, chain lengths and more.
Pricing: Necklaces (14K) gold starting at $180 USD, rings (14K) starting at $200 USD.
185 Centre St.
New York, NY 10013
Popular Jewelry Inc.
Originally opening its doors in 1988, Popular Jewelry Inc. is notoriously known for being a staple in the rap community. The fine jewelry store located on Canal Street is owned by Chiokva "Eva" Sam who hails from Macau, China. Hanging up on the wall amongst a velvet maroon background is an impressive variety of different chains, rings and an assortment of customizable offerings. Notably, this shop features over 25 ideas for nameplate necklaces and earrings. If you come in with an idea, Eva and the staffers will be willing to bring the idea into fruition.
Pricing: Necklaces (14K) gold starting at $265 USD.
255B Canal St.
New York, NY 10013
The M Jewelers
Located in Midtown, The M Jewelers is a wildly popular boutique which has garnered quite a following on its Instagram. The shop's claim to fame is the variety of options it provides for those looking to purchase a nameplate. That's what landed this option on our radar years ago. Online alone, there are over 50 different ways a customer can put their personal touch on name-centric pieces ranging from necklaces, chokers, bracelets and more. A few of the most popular accessories include the Uppercase Gothic Choker Necklace ($180 USD) and the Cut Tone Nameplate Necklace ($150 USD.) Contact the showroom for private appointments.
Pricing: Necklaces (14K) yellow gold starting at $350 USD.
44 W. 47th St. #22
New York, NY 10036
Melanie Marie
After hearing about this jewelry line through a friend, we immediately began doing research. Created by designer, Melanie White, this gem calls NYC's Diamond District home. The customizable line features 14K, 18K and 24K gold. Options also include block letters, simple script necklaces and more. If you're not quite into gold, the line also offers platinum, gold filled in addition to diamonds and stones. After perusing the brand's web store we also saw rose gold plated pieces. Contact the showroom for private appointments.
Pricing: Necklaces (14K) yellow gold starting at $195 USD.
Share this article