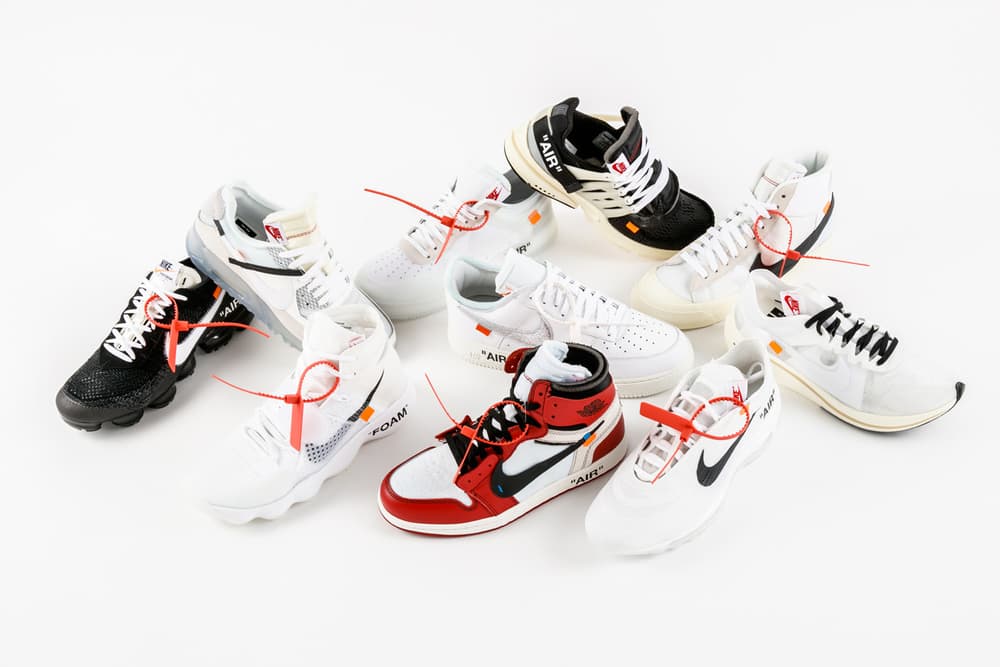 Footwear
How Come Brands Still Aren't Making Sneakers in Women's Sizes?
I want to rock all the coolest sneakers, too.
How Come Brands Still Aren't Making Sneakers in Women's Sizes?
I want to rock all the coolest sneakers, too.
Have you ever seen a pair of sneakers that you've wanted more than anything, only to realize that they only come in men's sizes? If your answer to that question is yes, I'm with you.
Being a size US 6 women's, I've always found shoes I like in my size – except when it comes to trainers. I don't think I could even count how many times I've seen a pair of sick sneakers (most recently the Virgil Abloh x Nike Air Prestos) and been excited to enter a raffle, only to realize that the shoes don't even come in my size. Disappointment is an understatement, but what is even more surprising is that big brands don't cater as much to their female audiences as they do to the male one.
Being a woman, there are a lot of options when it comes to copping cool shoes – but when it comes to more exclusive drops, it seems as if the female audience is often excluded. Usually, women tend to have smaller feet than men, (duh) with the average female shoe size being US 5.5 in men's sizing, yet most sneaker releases tend to start at a US 6 or 7 if we're lucky, and sometimes even higher than that. Of course, the release is meant to be exclusive, but does that mean that so many women need to be excluded?
Yes, I may be salty because I still have yet to take a W on any of the Virgil Abloh x Nike sneakers that come in my size (that I've taken so many countless L's on) – but on a broader scale, not catering to the women's streetwear audience is actually a bigger issue. We're living in a world where streetwear and sneakers are dominating the fashion industry, with brands like Louis Vuitton, Balenciaga and more tapping into the younger audiences, and the line between luxury and street is only getting thinner. It's already obvious that streetwear is male-dominated, but are brands actually trying to do anything about it?
Of course, we've seen female powerhouses like Serena Williams team up with Virgil Abloh and Nike for an upcoming collaboration, as well as Aleali May who made history with her Jordan 1 sneaker – but we've only just gotten started. These collabs have opened a whole new realm for women, in which we can finally wear and cop sneakers that come in our sizes, and are just as unique and as exclusive as the men's releases that don't come in a wider size-range. Point is, we don't need more shoes that are pink, glittery and labeled as "women's exclusive" – we really just want what the dudes are getting.
As women, we're given tons of sneaker options, but has there ever been a big and ultra-exclusive release from giants like adidas, Nike, Converse or others that only feature women's sizes? No, I don't think so. When I purchased the first drop of Tyler, the Creator's popular GOLF le FLEUR* One Stars, I had to wear them with two extra soles so they wouldn't fall of my feet – so yes, I am dedicated. My point is, that regardless of your gender, size and background, you should be able to take part of the immense culture that is sneakers. Just because I'm a girl with small feet it shouldn't mean I'll never be able to rock the coolest creps, right? Brands should be recognizing that there is an interest and a huge audience when it comes to women's streetwear, and that most of the time we're more interested in the exclusive men's releases than the women's.
So, to get to the conclusion, I will keep taking L's even if brands start expanding into women's sizes – but at least I know that I'm included, and that girls my size are out there sporting all the coolest kicks with pride.
Share this article