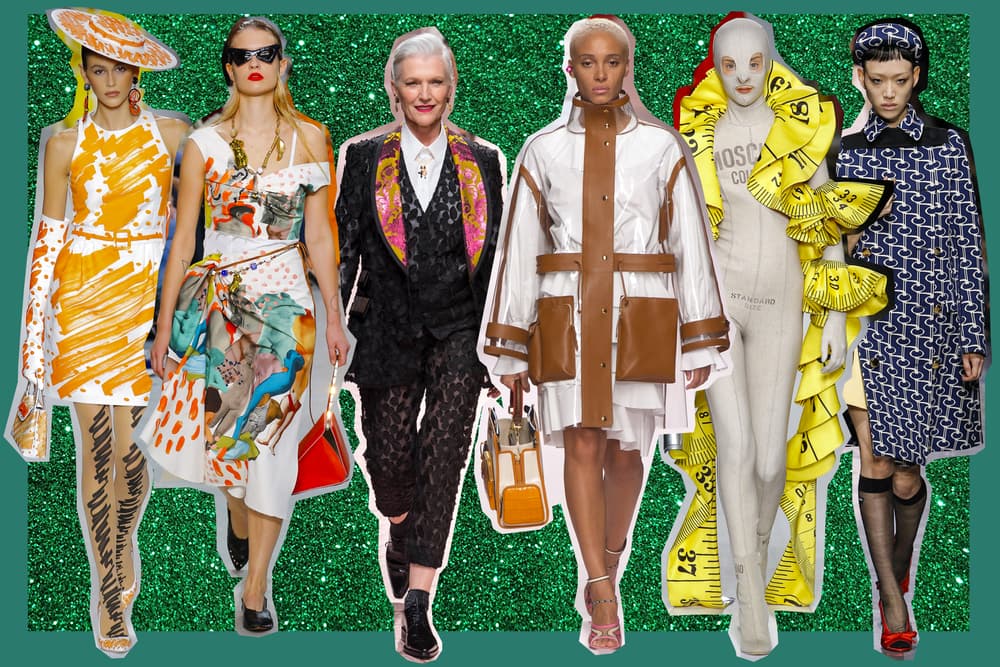 All the Shows You Missed at Milan Fashion Week SS19
Prada, Moschino, Versace and more.
Milan Fashion Week kicked off earlier this week, following two exciting, fashion-filled weeks in both New York and London. We've seen some impeccable street style from both cities, and as we drift into Milan, we're getting ready for all the best looks from industry insiders and fashion enthusiasts alike. The Italian city has always marked the half-way point of the hectic fashion month and this time around, we've geared up for shows from labels like Prada, as well as Jeremy Scott's bold Moschino.
Keep reading below to see all the Spring/Summer 2019 shows from the Milan runway, and make sure to keep checking back for all the latest fashion week coverage.
You can always count on Jeremy Scott to bring the show, and needless to say, the designer did. Moschino's Spring/Summer 2019 collection was made up of wide-brim hats, retro-inspired silhouettes as well as colorful and bold prints – all in true Jeremy Scott fashion. Known for his playful aesthetic, the collection also featured the recognizable teddy bear print as well as Moschino logo prints, and a range of new graphic designs throughout. Models like Gigi Hadid, Bella Hadid and Kaia Gerber showcased the vibrant range on the runway and we saw everything from day-to-day wear to red carpet-ready gowns.
Known for its minimalistic design, Jil Sander brought a well-tailored, experimental range to MFW. The collection featured a wide selection of textures, as well as a classy and minimalistic color palette that had cohesion throughout the whole presentation. Models also carried eye-catching bags, from small clutches to sleek leather totes, and sported both leather boots as well as platform flip-flops to go alongside the unique garments.
There's no doubt that Miuccia Prada always brings it, and this season was no exception. The collection followed a dark color palette, accented by bright shades like red and yellow throughout. Of course, we also saw a wide range of prints, which is one of Miuccia's biggest strengths. The collection was edgy, with models sporting bleached eyebrows, leather coats and knee-high socks, and also featured feminine elements like organza dresses and figure-fitting tops. Possibly one of the most anticipated shows, Prada didn't disappoint.
Max Mara showcased a range of coats, trousers, jackets and more on the Milan runway, all following a clean palette of white, brown and black. Throughout the show, pops of yellow also made an appearance, taking on the label's timeless aesthetic and minimal design. The earth-tone hues made the collection cohesive and a pleasure to watch as we slowly went from lighter browns, to darker hues and edgier silhouettes. Showcased on a plain runway, all the focus was on the simple, but effective Spring/Summer 2019 range.
Versace's Spring/Summer 2019 collection was a color-filled extravaganza. From sexy slip dresses, to power suits – Donatella Versace used the woman in charge as her muse, debuting a new logo graphic as well as a selection of eye-catching sneakers and accessories. The presentation featured some of the biggest names in fashion, like Kaia Gerber, Gigi Hadid and Bella Hadid to name a few, and showcased everything from neon pieces to sleek, black numbers.
Elevated simplicity would be the phrase to describe the Ferragamo runway, which saw figure-flattering coats and blazers, as well as chic dresses and feminine silhouettes throughout. The label adopted a limited color palette for the range, working closely with earthy hues as well as a few contrasting pops of color like red, white and yellows. We also saw sleek sunglasses as well as tiny purses in the accessories realm, finished off with luxury sandals and clog-like heels.
Patterns proved to be everything in Cavalli's Spring/Summer 2019 range. From playful animal prints to edgy florals – the collection featured it all. In addition, a range of materials graced the runway, proving for an interesting and eye-catching show that included both simple organza dresses, as well as modern silhouettes like biker shorts and blazers. From one-shoulder dresses to sheer shirts, the presentation featured pieces for the working woman to go from day to night in the blink of an eye.
Marni has long been known for its old-school silhouettes with a twist, and for the Spring/Summer 2019 collection the label took it to the next level. "It started with the processes of the work in the studio, and thinking of it as a painter's canvas, which keeps changing and modifying in the trials and mistakes—suddenly, that becomes the work itself," said creative director Francesco Risso in an interview with Vogue. Patterns, layering and contemporary silhouettes seemed to be the focus of the bold range, with models sporting art-inspired makeup as well as striking accessories.
Dolce & Gabbana has made headlines during the year for Stefano Gabbana's many controversies, but this time around the brand showcased a collection that caught our attention. As always, the label debuted patterned pieces inspired by luxury and royalty, utlilizing textures and prints to create everything from gowns and evening dresses to feminine suits. The runway saw models like Ashley Graham, as well as Maye Musk and proved that Dolce & Gabbana has finally realized the importance of inclusivity.
Share this article