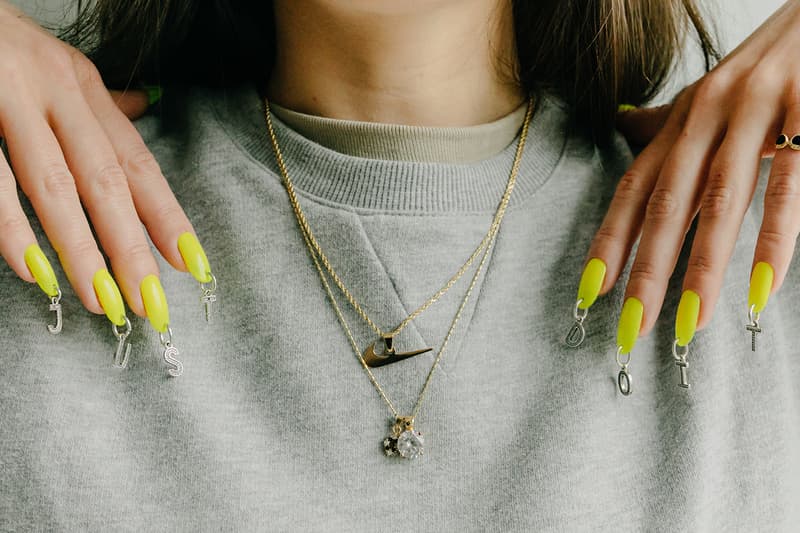 Beauty
How Jessica Washick Went From Painting Nails to Designing Air Force 1s at Nike
Meet the woman behind some of your favorite AF1s.
How Jessica Washick Went From Painting Nails to Designing Air Force 1s at Nike
Meet the woman behind some of your favorite AF1s.
Nails and sneakers may not be traditional canvases, but when touched by the meticulous hands of Jessica Washick, they become almost museum-worthy. Simply take a look at her gallery of work on her blog, U Don't Need a Man. U Need a Manicure, and you'll understand that nail artists are called artists for a reason. Whether it is a Swarovski-laden design or a logo-inspired set, Washick doesn't just "do it," she does it well while keeping in mind the fashion aspect of a manicure.
Having relocated from New York City to Portland, Washick is now a Senior Color Designer at Nike and is behind some of your favorite Air Force 1 styles, including those coveted AF1s with the clever, interchangeable Swoosh design. But how did she go from creating perfect shapes on her nails to delivering new variations of what's arguably one of the most iconic sneakers ever? We sat down with Washick to learn more about her career path, one that's injected with colors, style and good design.
I read somewhere that you picked up nail art as a hobby when going through a breakup years ago. Would you say that playing with colors and designs is almost therapeutic?
Absolutely. I meditate now and I came to realize that part of the reason I'm so drawn to doing nails is that there's a lot of concentration involved. You're focusing on such small details on a design, like making a rounded edge of a miniature petal or painting a perfectly straight line. I often hold my breath when I'm trying to be exact. When you're so focused on something it's really easy to block out the rest of the world. Colors play a huge role too because they evoke emotion, and a good color story can take you places.
There's a quote that says "art is the only way to run away without leaving home." I agree with that.
From logo-inspired manicure to pairing your designs with stacked jewelry, fashion plays a significant role in your creations. What could you tell us about your relationship with fashion?
I've always been interested in fashion because growing up it was a world unknown to me. I wanted to understand why things worked or didn't, and what warranted a good or bad review. My curiosity lead me to study it seriously and I ended up going to Parsons for fashion design.
Prior to Nike, I gravitated towards women's accessories, and designed them at Coach and Marc Jacobs. But I view nails as a built-in accessory so it's all a part of the fashion world in my eyes. Whether modest or complex, nails are very much a part of the look.
These days, how does this personal interest influence your work at Nike, and vice versa? What are some things that you find in common between the two?
With both nails and sneakers, you're pushing boundaries within a confined, classic space that's personal to a lot of people. They're both blank canvases but you can't do just anything. It has to be functional to some extent. It's also a delicate balance of standing out but being relatively easy to wear. And I also love that people feel so passionately about both. They're both unifying in that way.
Speaking of Nike, was working for the company always part of the plan? How did your past experience help you land your current position?
I've always wanted to design at Nike, but as I got deeper and deeper into fashion and the nail world, I didn't know how I could contribute since my background was in accessory design and nails. One day, I went onto the Nike career website and saw an opening for a color designer. There's a lot of color obsession in doing nails so I knew I'd be able to leverage those skills, and I believed my background in accessory design could amplify that.
I actually showed my nail art portfolio for part of the interview and they were receptive. That was really cool.

What are some of your career highlights since you have started working at Nike?
The color design work I have done on my first collection of Air Force 1 is just starting to hit stores and it's been great to see consumer reactions.
Probably my favorite so far has been the VELCRO® Swoosh Air Force 1. I loved seeing how creative people got with their Swoosh expression, and I was happy
that the design worked. Matt Kilgore (Air Force 1 designer Bruce Kilgore's son) helped me create the first mock-up, so that felt special.
I also love the the Air Force 1 LV8 Utility.

Talk us through your essentials. What are some objects that best represent you as a footwear designer and a nail artist?
Chanel nail files:  I've carried a nail file with me since I started doing nails. This is a staple in my kit and my everyday life.
False nails: When I'm playing around with new nail looks, I like practising on false nails.
Shea butter: Such a staple! It helps keep hands and cuticles moisturized.
Floss Gloss nail polish: Color plays such a big role in my work. I love these polishes specifically because they're really saturated and perfect for nail art.
Jawbone Mini Jambox: Music is a an essential for me while creating. My Mini Jambox is compact, loud and portable.
Jewelry: I love accessorizing with jewelry. The necklace with pendants was given to me by my sister so I always have it on. I've been wearing my sunglass ring since the very beginning. I used to wear it in nail photos so people could identify my work.
Golden bird: The bird represents nature, a major source of inspiration.
Nail magazines: I've always loved looking at Japanese nail magazines because the expression is so extreme. These offer great inspiration for me — both technically and conceptually.
Two phones: I'm always carrying both my work and personal phones.
As a creative, how do you stay constantly inspired?
Of course travel, art, music and literature are thought provoking and inspire newness, but being in nature spawns inspiration for me. I'm very inspired by color stories that happen organically in nature among both plants and wildlife — I'm especially drawn to birds.
The 10-year challenge is all over social media recently. Could you recall any nail art you created a decade ago, when you first discovered the hobby? Looking back, how have you grown professionally and creatively over these years?
When I started out, I just wanted to have fun and create colorful nails. As I've grown professionally, I've improved my artistic skillset and became much more educated in nail care — how to properly file the nail and ways to care for the cuticle. That was crucial because nail care is a major part of a lasting manicure.
What's one piece of advice you'd give to your younger self?
If I could give my younger self advice, I'd say stop doubting yourself. In the beginning, I'd be nervous or anxious on jobs but there was no reason for it — it was all in my head. I've come to realize that even if you're a perfectionist and things don't go exactly the way you imagine, you'll learn from it and it will make you that much better.
Image Credit

Grace Rivera/@__gracerivera
---
Share this article