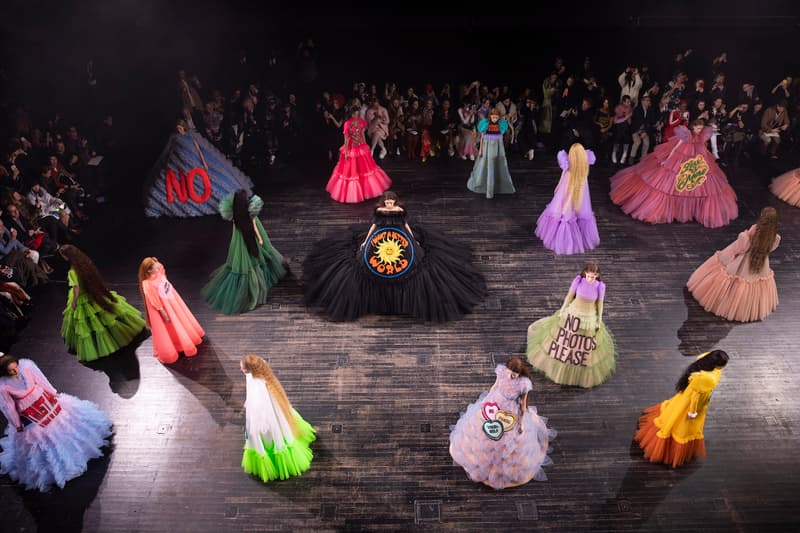 Fashion
Here Are All the Shows You Missed at Haute Couture Week in Paris
Take a look at the Spring/Summer 2019 collections.
Here Are All the Shows You Missed at Haute Couture Week in Paris
Take a look at the Spring/Summer 2019 collections.
Fashion month is in full swing, and we're soon wrapping up Haute Couture week in Paris. All the biggest luxury labels have been showcasing their Spring/Summer 2019 couture ranges, including Chanel, Dior and other iconic fashion houses.
Keeping up with the hectic schedule can be difficult, so we've compiled all the best shows from the week, summarizing the anticipated Haute Couture week. Take a look below, and for more from fashion week, peep all the best show's from Paris Fashion Week Men's.
Valentino's Haute Couture show received an astounding amount of praise, after creative director Pierpaolo Piccoli brought out a series of astonishing gowns in colors of the rainbow, complete with extravagant makeup. In addition, models like Kaia Gerber, Adut Akech and more paraded down the runway, and legendary icon Naomi Campbell closed the show in a sheer, black gown. The collection merged "fantasy and reality," and created a dreamy landscape that showcased Piccoli's extravagant creations.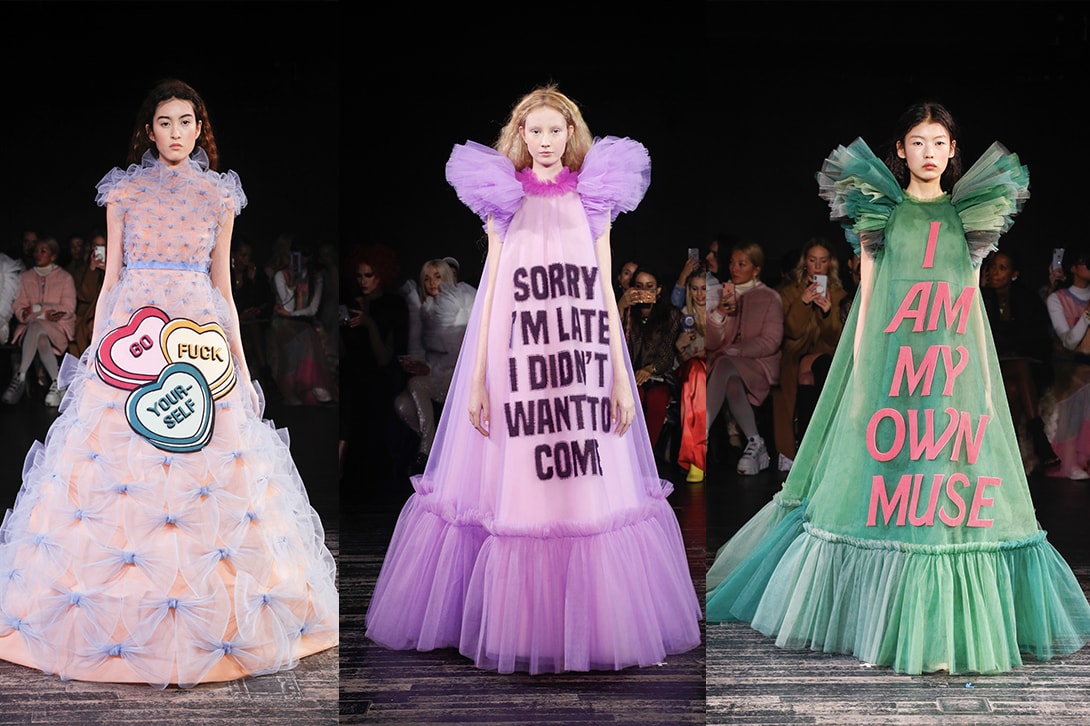 Viktor & Rolf brought a series of fashion statements down the Haute Couture runway, ranging from big tulle get-ups to long gowns – all emblazoned with cheeky quotes. Graphics read "Sorry I'm Late I didn't Want to Come," "I Am My Own Muse" and "Go Fuck Yourself," to name a few, and the label described them as, "these texts are mainly one-liners: slogans with the kind of simplification typical of social media captions or souvenir t-shirts. The juxtaposition of these seemingly unrelated elements results in a typical Viktor&Rolf expression of surreal beauty." The full range was executed using 8 kilometres of tulle.
Inspired by Paris' 18-century gardens, Karl Lagerfeld takes inspiration from flowers in his latest collection. Crafted through embroidery, painting and more, floral patterns and prints are made with materials like feathers, lace, resin and even ceramic. Aligned with what Karl Lagerfeld calls "the new Chanel," silhouettes take on a modern shape with classic influences, such as the two-piece sets, suits and quilted pieces. The last look wrapped up the show with a twist, with the model wearing a long veil accompanied with a swimsuit. "The bride breaks all the rules. Beneath a silver sequinned white veil, she steps out in an embroidered bathing suit and swimming hat," explained Chanel, closing the show.
Maria Grazia Chiuri brought back Christian Dior's love for the circus in her Spring/Summer 2019 Haute Couture collection. The theme previously surfaced during John Galliano's reign at the luxury label, and has now once again been reinterpreted. Not only were the pieces inspired by classic circus costumes, but the show was also set in a tent-like structure, with performers gracing the runway whilst models showcased the pieces from the collection. In true Grazia fashion, the designer stuck to a muted color palette with hints of color, and put an emphasis on detail and craftsmanship throughout the collection.
"I tried to take the most modern approach possible with everything," Clare Waight Keller told Vogue about her third Haute Couture collection for Givency. Kicking off with simple, yet elegant suit pieces, and unfolding into lace gowns, fringe dresses and colorful get-ups, proving the designer's impeccable eye for detail. Having designed Meghan Markle's wedding gown, Keller has already gained lots of attention for her beautiful dresses and unique craftsmanship, which shone through in the Spring/Summer 2019 Haute Couture collection.
John Galliano's Haute Couture collection for Maison Margiela is a love letter to color. Titled 'Artisanal,' the collection showcased layering, graphic prints and patterns at a whole new level. It's safe to say that "more is more" when it comes to Galliano's approach to Haute Couture. Models sported layered outfits, deconstructed pieces and sandal-inspired shoes, creating a unique silhouette unlike anything we've seen from the house in the past. Of course, the colors of the rainbow were present, as the collection paraded down an even more colorful runway.
---
Share this article