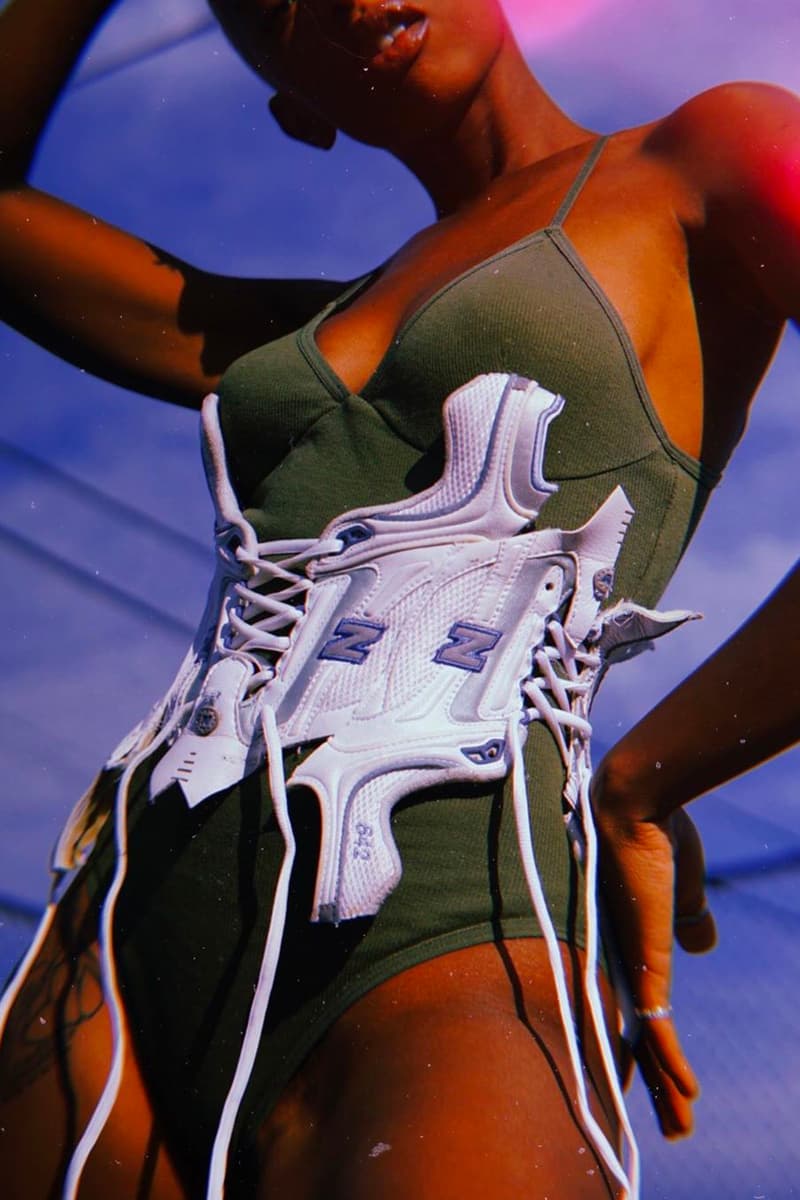 Would You Wear These Upcycled, Custom Sneaker Corsets?
Find out where you can shop these one-of-a-kind creations.
Fashion
Would You Wear These Upcycled, Custom Sneaker Corsets?
Find out where you can shop these one-of-a-kind creations.
As an expression of creativity and a response to the climate crisis, many designers have begun reworking old garments to create custom pieces that are both uniquely stylish and sustainable. If you love DIY designs like those upcycled vests by artist Nicole McLaughlin or the handmade Nike kitten heels by Ancuta Sarca, here's another designer you need on your radar.
Hailing from Cleveland, Ohio, Cierra Boyd is the designer behind these statement-making corsets we've recently discovered on Depop. Made from thrifted Nike and New Balance sneakers, the figure-hugging design is unlike anything we've seen on the Internet.
We spoke to Boyd to learn more about how she came up with the concept, and why sustainability is important to her craft. Read our conversation below, and head to Boyd's Depop store to purchase the one-of-one corsets.
Can you tell us a little bit about yourself?
My name is Cierra Boyd and I am a 24-year-old, self-taught fashion designer born and raised in Cleveland, Ohio. Growing up, style was always very important to me, so I began my fashion journey in high school working in retail. That lead me to Ohio University to pursue a degree in retail merchandising and fashion product development.
My school didn't have a design program so I never received any formal design training, but my dad taught me the basics of sewing when I was a kid. When I got older, I taught myself everything I know about fashion design from studying YouTube videos. After graduating in 2017, I was so overwhelmed with the post-grad blues because I had such a hard time finding employment. I desperately needed a creative outlet with purpose to express myself. My dream was to become a fashion designer and own my own clothing line. The only thing that was holding me back was figuring out a name for my business.
Then it hit me, FRISKMEGOOD. I had already been using FMG as my social media tag since starting my Instagram. I got the name from listening to a Rihanna song called "Rockstar 101." The lyrics say, "Make sure you frisk me good, check my panties and my bra." When I realized my brand identity had been right under my nose the entire time, that's when FRISKMEGOOD™ was born.
My mission was to express my personal style while staying true to goal of sustainability. With limited funds and resources, I had no choice but to work with things that already existed to create something new. This challenged me to be more innovative, which helped me create one-of-a-kind pieces that were more valuable because they were unique in themselves.
How did you discover your love for fashion design?
I discovered my true passion for fashion design on my 21st birthday during my senior year of college. At that point, I had only learned the basics of sewing from my dad when I was about 10 years old. After abandoning my old sewing machine for years, my dad surprised me with a new machine for Christmas that year. When it hit September, I ordered an outfit but soon realized it wouldn't be there on time for my birthday party. Living in a small college town, there weren't many options to shop for an outfit. We had Rue 21, Catos and other miscellaneous stores that didn't fit my style at all.
Although my options were limited, one store we did have was Joann fabrics. Me and my roommate realized we could just make our outfits, so the night before my party, I made a red spandex dress that came out perfect. Everyone really liked it and it gave me a sense of pride to create exactly what I wanted. That was the day I told myself that my gift was the eye of style and I couldn't just give up on that. Every day from that point on, I started to practise sewing every day. I studied countless videos on YouTube to teach me the ins and outs of fashion design.
Before graduating, I had the opportunity to present some of my pieces in the annual Mom's weekend fashion show at my school. The positive feedback I received when people saw my designs for the first time was overwhelming. It was like my flamboyant style finally made sense to people. I always knew my dream was to express my style, but fashion design created an avenue that helped me take my creativity to a new level. When I realized the happiness I felt when I made something that was uniquely my own, I absolutely fell in love.
Since when have you been selling your custom creations on Depop? How did you get started?
I've been selling my custom designs on Depop since the summer of 2017. I came across Depop on an Instagram ad and I thought it looked cool, so I started a profile. I was immensely unimpressed with the vibes, aesthetics or fees that came with other clothing resell apps, but I could tell Depop was different. I loved that their slogan was "start an empire from your bedroom," which was essentially what I was trying to do. I was also into photographing editorial scenes with my clothing, so when I started my profile, it seemed to only take a few weeks for people to notice my page. A
month after starting my Depop, I made my first sell. Shortly after one of my items was featured on the Explore page and that's when I slowly started to gain a following. Now, I am up to 7,500 followers and counting. Depop has completely been a blessing in disguise for my business. It has turned my market from solely being in my hometown to people shopping with me worldwide. They have given me countless opportunities to share my creativity with the world.
I sell my merchandise exclusively on Depop now because they've given me a platform to connect with people who genuinely love my art. Starting my Depop is one of the best things I've ever done for my business, because they have created a supportive space where I can grow and thrive as an artist.
How did you initially come up with the idea of your sneaker corsets? What's the inspiration behind the design?
I actually came up with this idea in February for a fashion design competition in my hometown called FashionMania 2K19. The theme they gave me for my mini collection was heavy metal, and one of my challenges was to create a piece without using any fabric. That night while brainstorming ideas, I was watching an episode on VICE about a guy who made gas masks out of shoes. That really inspired me, so I decided to put my own twist on the concept by creating a corset.
First, I drafted a prototype with some old shoes I had in my attic before I decided to create the final product. When I finished, I loved how futuristic it seemed, but at that time I still had no idea how innovative my design really was. For the competition I went to the thrift store and bought some black Nikes. I added chains and spikes to give it that heavy metal feel. I ended up winning second place in the competition, then put the winning corset on Depop and it was sold immediately. My customer loved it so much and told me I should make more.
A few months later, I did a photoshoot with the one I drafted before the competition and that's when I came to the realization that I had something special. After I dropped that piece on Depop, I started to receive tons of inquiries about when I would make more. So from that point on, I never stopped making them.
Why do you choose to upcycle garments and footwear when creating your pieces?
I choose to upcycle my garments and footwear because I believe sustainability is the future of fashion. As a young designer, I have a responsibility to reduce the carbon footprint I will leave on the Earth. When I started to understand the effect fast fashion was having on the environment and how much material is wasted in the process, I was compelled to stay true to my mission of sustainability. Taking resources that already exist and upcycling is way less wasteful and more cost-effective. Textiles make up five percent of landfill waste and by upcycling, we can reduce the amount of clothing that is disposed by turning it into something new. Upcycling fashion is my passion because it gives me the opportunity to create art that is truly one-of-a-kind. Although I am just one person, I hope my contribution to create a more sustainable world will make a difference one day.
---
Share this article