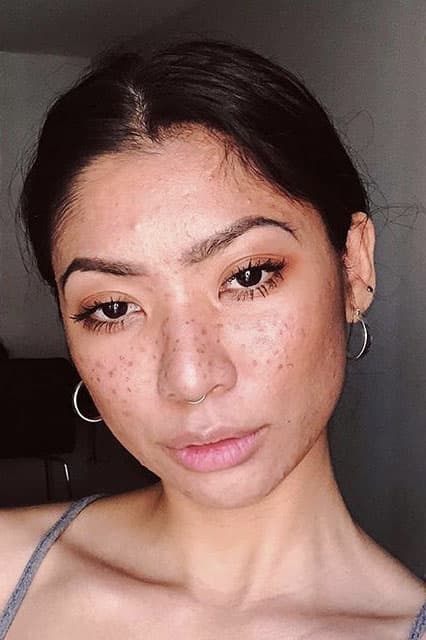 Here's the Easiest Way to Create the "Fake Freckles" Look
3 easy ways to achieve the trendy look.
Beauty
Here's the Easiest Way to Create the "Fake Freckles" Look
3 easy ways to achieve the trendy look.
Faux freckles has become one of the biggest trends in makeup, and we've seen everyone from Hailey Baldwin to James Charles try out the popular look, which is why we're taking a look at four ways to create the fake freckles look. Whether you're looking for a quick and cheap method that requires little to no precision, or an advanced and time-consuming method, we've got you covered.
Keep reading below to learn four ways you can create the trendy "faux freckles" makeup look, and let us know in the comments if you'll be trying it out.
1. Brown Eyeliner
Using brown eyeliner, make small marks across the area you want to cover. For a natural look, make sure that the spots are all different sizes and shapes to replicate the appearance of real freckles. If you're feeling up for it, you can also use more than one color to achieve a tonal look that appears realistic.
2. Eyeshadow
Mix a tiny bit of water with your eyeshadow to create a water-like formula and use a brush to apply it to your face. The easiest way is to quickly apply it is by using a small sponge and using it across the face. It will result in uneven and natural looking spots that give the perfect faux freckle look.
3. Oil
Brands like
Freck
have created products just to create fake freckles. Freck is buildable and long-wearing, and creates realistic and natural looking freckles that you put on by using the brush applicator. You can also blot the "freckles" to create a more subtle look.
4. Henna
If you're looking for something that is a bit more permanent and will last a couple of days, henna is the way to go. It is time consuming, but will leave you with a freckled appearance for a few days. Using a brush you can apply the formula across your face and let dry, and once washed off it will leave a natural look.