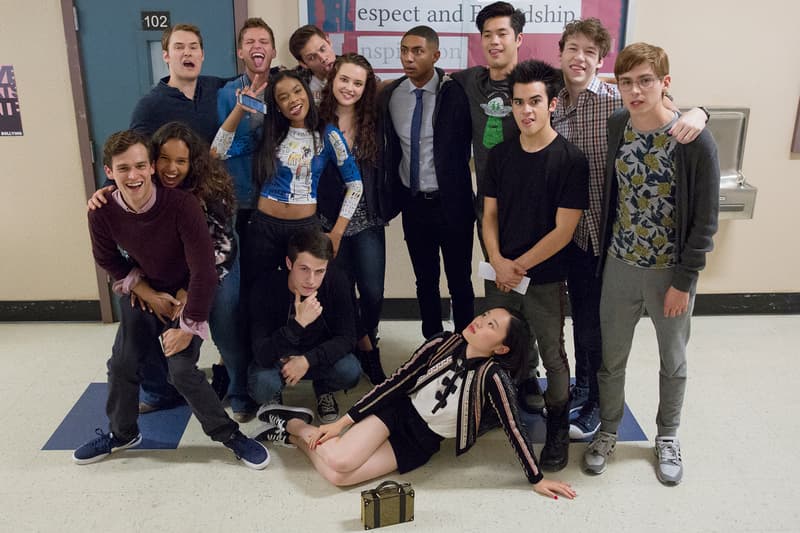 Film & TV
The Cast of Netflix's '13 Reasons Why' Say Goodbye to Their Characters
"It's been a life-changing 4 years."
The Cast of Netflix's '13 Reasons Why' Say Goodbye to Their Characters
"It's been a life-changing 4 years."
Following the release of Netflix's 13 Reasons Why Season 3 back in August, the TV show has officially wrapped filming for the fourth and final season. This week, the cast took to social media to say their final goodbyes to the characters they played over the years.
Dylan Minnette, who plays the show's protagonist Clay Jensen, said that it has been a "life-changing four years" and a chapter in his life he will never forget. Alisha Boe, who plays Jessica Davis, posted a series of photos on her Instagram Story with broken heart emojis. Co-stars Justin Prentice (Bryce Walker) and Brandon Flynn (Justin Foley) also shared group photos on their social accounts, while Devin Druid (Tyler Down) said goodbye to his character's camera equipment.
Ross Butler (Zach Dempsey) posted a heartfelt video on Instagram saying: "The first thing I want to say is thank you for the last four years of support. You guys have made this process so amazing, and all the fans that have reached out and… told us your stories, how you opened up to your families and friends, that has meant to the world to us. I think I speak for everyone on the cast when I say: That's why we do this." He ended his emotional clip with a huge thank you, adding: "This has been something that I don't think I'll ever feel again… So, until next time, until Season 4 when you guys get to see all of us one more time: I'll see you guys on the next one."
Christian Navarro, who portrays Clay's best friend Tony Padilla, wrote a moving goodbye letter to his character: "Playing this character has made me a better man. It's allowed me the great honor of representing people who may feel unheard, unwanted, and unloved. You are heard. You are wanted. You are loved. Whoever you are, whatever your story, your integrity will guide you through the darkest nights. Be kind, and be brave."
Scroll through the posts below for the full farewell videos and messages. 13 Reasons Why Season 4 has yet to receive a release date, so stay tuned while we wait for more details.
In related news, Netflix has finally released the trailer for To All the Boys: P.S. I Still Love You.
we officially wrapped 13 reasons why the other night. it's been a life-changing 4 years making the show, and an era/chapter i won't forget. super thankful to everyone involved. excited for you all to see the final season next year. it's emo.✌️

— Dylan Minnette (@dylanminnette) December 22, 2019
---
If you or someone you know may be struggling with suicidal thoughts, call the suicide prevention hotline available in your region.
U.S.: 800-273-8255
UK: 8457 90 90 90
---
Share this article