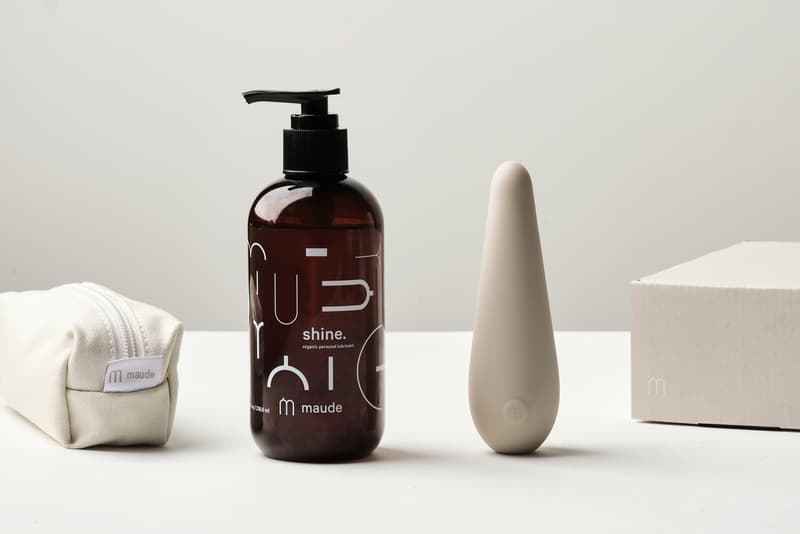 Health
Meet the Founders of Maude, a Modern Sex Wellness Company Worth Knowing
Providing an inclusive, direct-to-consumer line of products.
Meet the Founders of Maude, a Modern Sex Wellness Company Worth Knowing
Providing an inclusive, direct-to-consumer line of products.
The sex toy industry is having a wildly successful moment. Currently, Instagram-friendly vibrators and products are raking in social media followers and avid IRL fans. Leading the pack are women-led companies Unbound and Dame Products. Recently joining the conversation is Maude, an emerging, sex-centric company coined the "Everlane" of vibrators, founded by Éva Goicochea, one of Everlane's first employees back in 2012, and Dina Epstein, a former industrial designer at sex toy titan Doc Johnson.
Women often are presented with raunchy, problematic imagery when seeking out vibrators and related products. The direct-to-consumer, sex wellness brand was launched to dismantle, and redefine, the outdated messages surrounding the promotions and advertisements for sex-essentials. At the moment, Maude offers body-safe products: rise condoms, shine lubricants (silicone-based and organic), the vibe personal massager and the burn massage candle.
In our latest feature, we caught up with the co-founders of Maude. The two broke down their creative backgrounds, what led to the creation of the company and more. Keep reading below for an exploration of how they're modernizing the sexual wellness industry.
Where did the idea come from to create the sex-focused company Maude?
Eva: I was a legislative aide in healthcare early in my career and coming from a product background as a brand and social media strategist later on for mission-driven companies like Everlane, I always aspired to create a consumer goods company that solved for everyday wellness, specifically in sexual health.
Realizing that the industry was outdated and with no sign of it changing, I decided to create Maude. I approached Dina, my friend, and an industrial designer who worked in the industry for big names like Doc Johnson, and we started the research and development process of building our products and brand. After three years, we finally launched in April.
Why was it important to be coined as a gender non-specific sex essentials line and build Maude on the following pillars: inclusivity, simplicity and quality?
Dina: For us, it's about solving a human problem with a human solution. We think less about gender, even though when you think about sex, of course it seems to intertwine so much with gender identity.
We've actually taken that out of the equation for a second to say, "What are the friction points for people when they purchase these products?" and then "What are the friction points when they talk about it?" Those are human experiences. They're not just about one gender.
What sets Maude apart from the plethora of popular wellness companies of-the-moment?
Eva: The main difference is that we're gender and age-inclusive. Our brand is friendly, timeless, and never explicit. We believe that since sex is an everyday human, the brand should reflect that: everyday people. Real people.
Dina: Also, we're not a retailer. We work directly with some of the world's best factories to create our edited line of sex essentials. Then, we re-imagined the experience of buying these products through a modern site that focuses both on product and friendly content. In short, we put the customer experience first.
Can you both share details on your creative backgrounds?
Eva: I studied advertising and communications, did a few years as a legislative aide in healthcare and then went on to spend 10 years in brand strategy and digital design. I was one of the first employees at Everlane, as head of social media, culture and hiring, then went on to create Tinker Watches.
Dina: I studied Industrial Design at the Rhode Island School of Design and then spent 10 years as a product developer and designer in the fashion-industry and sex essentials industry at Kiki de Montparnasse and Doc Johnson. I founded my travel essentials company, Clark & Madison, in 2012.
What has it been like helming the company as women?
Eva: The legacy brands are helmed by men, but more than that, they're helmed by older men. As younger founders, we are used to speaking directly to our consumers and we value tech-enabled conversation to make decisions. We think by being both women in the industry and of this generation, we are able to bring diversity and much-needed change to sexual health.
What's your favorite product from the line and why?
Dina: The vibe is by far our best seller and we can't tell you how many people have come forth to give us reviews or feedback saying that it has changed their lives, whether they're now more communicative with their partners or that they simply know their bodies better. We've heard from customers of all ages, which is fantastic.
What changes do you want to continue seeing in the wellness industry over the next 3-5 years?
Eva: We want to see the industry, especially the sexual wellness industry, reflect real life and real people — diversity of age, gender, preference.