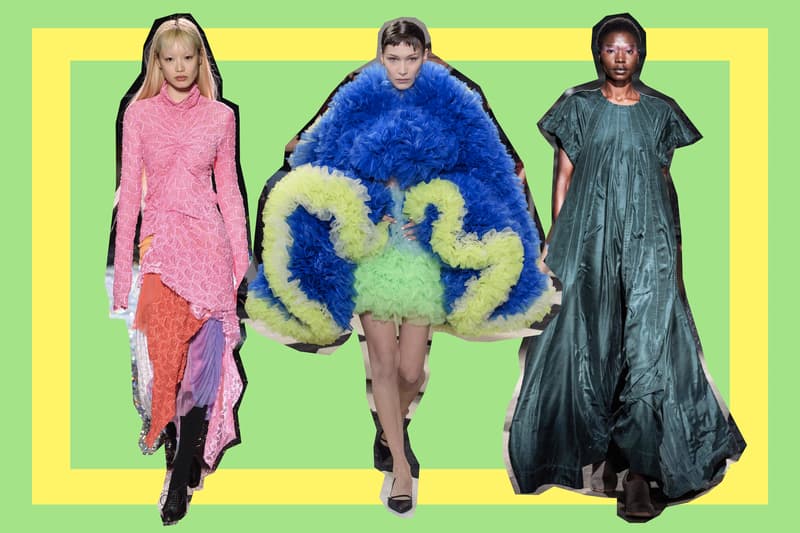 Fashion
Here Are All the Shows You Missed at New York Fashion Week
All the best Fall/Winter 2019 runway shows featuring Coach, Proenza Schouler, Anna Sui and more.
Here Are All the Shows You Missed at New York Fashion Week
All the best Fall/Winter 2019 runway shows featuring Coach, Proenza Schouler, Anna Sui and more.
New York Fashion Week has almost come to an end. This season we saw strong collections from labels like R13 and Palm Angels, some of the best streetstyle to date, as well as must-see beauty looks.
We've rounded up some of the best Fall/Winter 2019 shows from New York Fashion Week ranging from Sies Marjan to the buzzy Tomo Koizumi, to make sure you don't miss all the must-see shows from this season.
Stuart Vevers created a dreamy balance of organza, shiffon and other delicate materials combined with leathers and heavy knits, putting together a collection in true Coach fashion. Looks were heavily based on layering, pairing edgy bomber jackets and vests with simple tops, structured skirts and chich boots. Of course, the show's front row was packed with celebrities like Joan Smalls and Michael B. Jordan.
Helmut Lang returned to tailored basics, all following a monochrome color palette consisting of grey, black and red hues. The collection showcased the classic Helmut Lang aesthetic, taking everyday pieces and giving them a contemporary look. Filled with suits and business chic garments, Helmut Lang proved that the power suit is here to stay.
Gypsy Sport has always been at the forefront of using a diverse cast, and Rio Uribe has always wanted to make a statement. "I wanted to prove that truly every body can wear lingerie," said the designer. The collection showcased lingerie-inspired garments made from re-purposed adidas tracksuits, combined with classic lace and satin materials.
Last season, Proenza Schouler returned to New York Fashion Week after previously showing in Paris. This time around, the collection included oversized silhouettes and intricate knits, as well as deconstructed pieces mixed and matched to achieve the classic Proenza Schouler aesthetic.
LaQuan Smith has become a favorite for celebrities like Cardi B and Kylie Jenner, and this season the designer focused on glamorous mini-dresses and edgy bodysuits. Using graphics like leopard, tartan and more, the collection had a lot of eye-catching details and unconventional silhouettes. Familiar faces like Luka Sabbat also walked the show, displaying one of the few menswear looks from the Fall/Winter 2019 collection.
Anna Sui called her FW19 collection "Poptimism," and the inspiration showed. Bright and bold colors were on full display with models wearing vibrant tights and colorful wigs, parading down the runway with patterned pieces and eccentric graphics. Layering has always been an Anna Sui signature, and this season was no exception. With models like Bella Hadid, Taylor Hill and Kaia Gerber walking the show, Sui put on an exciting show that brightened the dull February winter.
Telfar debuted his Fall/Winter 2019 collection at Irving Plaza in Union Square, celebrating Black Future Month. Titled "COUNTRY," the collection combined theatre, music and fashion and included both presentations of the apparel as well as performances. Pieces followed a minimal color palette of brown, tan and navy, and also included a wide range of textures and materials. Following the theme, models also sported cowboy boots, country-inspired pieces like blazers with detachable sleeves and slacks.
Marking his first runway show, Tomi Koizumi kicked off with a bang, setting up his show at Marc Jacobs' Madison Avenue store. The designer tapped a list of A-list models and names to walk in the show, including Emily Ratajkowski, Bella Hadid, Rowan Blanchard, Gwendoline Christine and more, all sporting huge colorful gowns. Take a look at the huge creations above, and you'll understand why the Japanese designer put on one of the most talked about shows at New York Fashion Week this season.
Sander Lak's label Sies Marjan brought love to NYFW. "This show was about love and falling in love," said the designer, referring to the bold and vibrant colors, as well as the sparkling runway. Using neon, lace and a handful of new materials, the designer challenged himself to experiment with new techniques and methods, creating a beautiful collection that merged impeccable tailoring with modern silhouettes.
"The shapes are really timeless, but the fabrications are what make them special. My background is in textiles, so I'm always looking for materials that feel new and are hard to find," said Zadeh to Vogue, referring to her FW19 collection. Boasting a selection of timeless silhouettes like blazers and culottes, as well as leather boots and eye-catching shoes, the collection set out to mix and match simple garments to create an interesting look. The muted color palette travelled through the whole collection, emphasizing dark grey, green and brown tones throughout.
For its Fall/Winter 2019 collection, Eckhaus Latta took a stronger focus towards tailoring. This season, the design duo experimented with new silhouettes, materials, shapes and spaces. The collection also showcased a selection of vibrant pastel hues ranging from pink to yellow, and also boasted a range of textures and materials throughout. Balancing masculine and feminine influences, the collection proved Eckhaus Latta has evolved its brand and is on the road to becoming huge.