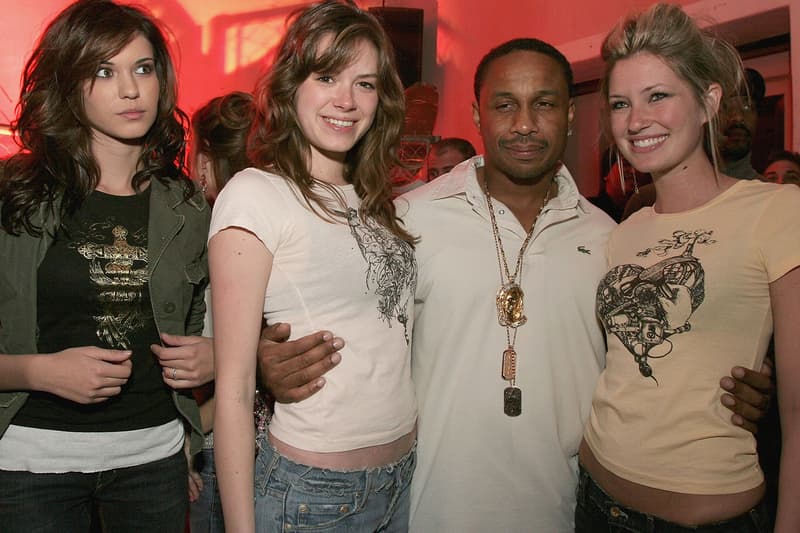 Fashion
Here Are 8 '90s Brands That Deserve a Legit Revival in 2019
Get a healthy dose of fashion nostalgia right here.
Here Are 8 '90s Brands That Deserve a Legit Revival in 2019
Get a healthy dose of fashion nostalgia right here.
You can't even be on social media for five minutes without coming across a picture of someone wearing a throwback 'fit that has you reminiscing and DM'ing your BFF group like, "Dayuuum, I forgot about Mecca!". In the past few years it's almost become a contest to see who can revive a brand before someone else else. Some of the best '90s names, like Champion, FILA and X-Girl have already made their comeback, thanks to  the likes of Urban Outfitters, Dover Street Market and Opening Ceremony.
Following on from the news that Kimora Lee Simmons is planning a Baby Phat comeback, we've conjured up a few special requests for other brands from years past that deserve to be granted a proper return this year too. Read on for our roundup of the best gone but never forgotten labels and prepare to get nostalgic.
Rocawear
In 1999, Jay Z and Damon Dash founded Rocawear, an NYC brand that went beyond streetwear. Rocawear was a hip hop clothing label that literally felt like the way you'd imagine someone popping bottles at the city's hottest nightclub would feel. Industry royalty like Aaliyah, Beyoncé, Naomi Campbell, and Victoria Beckham rocked the brand just as well as they did any high-end designer names.
Once Rocawear introduced womenswear, it became a true Bonnie and Clyde brand, because back then it was cute for couples to match. Re-release that satin logo baseball jacket, please, so we can wear it with our skewed NY Yankees cap.
L.A.M.B.
When it comes to early '00s celeb-lead fashion brands, Gwen Stefani's L.A.M.B. was one that made total sense. The Orange County girl was a massive style icon in the '90s, and hella hype came when Stefani launched her own clothing brand L.A.M.B. in 2004. Women's ready-to-wear collections were eventually followed by luxury handbags, footwear, watches, and perfume.
We get that relaunching the entire brand may be a headache, so we'd be happy with a limited capsule of L.A.M.B. embroidered tanks and mini hobo bags from Stefani's 2003 LeSportsac collab. Need to refresh your memory? Hit up eBay right now.
Baby Phat
It's been eight years since Baby Phat called it a wrap, and out of all the brands that have closed their doors, Kimora Lee's fabulous fashion house is one we're craving the most. The brand's entire image hollered "girlboss" as it dripped in jewels, standing strong with self-confidence. Launching in 1998, Baby Phat was an extension of Phat Farm (the epic streetwear brand owned by Kimora Lee's then husband, Russell Simmons).
Luckily, Kimora just announced the brand's relaunch but we can only hope she'll keep it true to its early years. We're talking that sexy cat logo sprawled across a baby tee, with maybe even Kali Uchis and Jorja Smith leading the campaigns. But what we undoubtedly want to cop most of all is an updated version of Baby Phat's quilted pink, diamond-detailed flip phone!
We have to give respect where it's due, and FUBU was one of the first (and most successful) hip-hop streetwear brands of the '90s. Daymond John founded the label with multiple partners in 1992, debuting FUBU with hats made in his own home. Eventually the brand expanded into tees, sports-inspired styles, denim, and footwear. In 2015, John burst all our bubbles when he said that FUBU does not stand for "For Us By Us". Since John's too distracted being a mogul to reintroduce this legacy label, let's keep the thought alive and bust out old XXL FUBU football jerseys like LL Cool J would want us to do.
Ed Hardy
Don't @ us – you know you want to be the one to bring Ed Hardy trucker hats back and make them fly again. It's been over a decade since Britney Spears and Paris Hilton wore the brand into the ground in 2004, and the tattoo-designed tees eventually earned a slimey stigma. That's enough of a gap for us to bring the label back in honor of the late Christian Audigier, Ed Hardy's French designer who passed in 2015. While we're on an ironic fashion kick, let's go full The Simple Life era and wear the embellished pieces with super low-rise jeans.
Russell Athletic is a true OG. Founded in 1902, the brand became a hot commodity as baggy sportswear took over the '90s. It was all about that label on the bottom left side. It could make or break your cool factor, because you wouldn't even try to show up with a generic, no-label sweatshirt. Russell Athletic is pretty accessible since you can jump on its website anytime you want, but the real revival would be slipping on its vintage baseball jerseys with biker shorts – Poshmark has got you covered in that area.
Let's get this out of the way before we all fight about the proper way to pronounce Saucony – the correct way to say it is, "sock-a-knee." Although its popularity may have dwindled, the sneaker brand never really folded, however there's definitely room for it to come back into the limelight. The three-punch hole wave would be a sight for sore eyes (checks and stripes can share the space for a minute), and the Saucony Original is at price point anyone's bank account can give the go-ahead on.
Karl Kani
Last year, e-tailer PrettyLittleThing teamed with NYC-native Teyana Taylor to revive this originally male-focused label and so far it's kept the styles authentic and true to Karl Kani's roots. There is so much richness to the backstory of the company's creator Carl Williams, like how he started making sales just from people vibing off custom-made styles he wore himself, and his innovative idea to tailor the waist of baggy jeans so men could still have that oversized look without the drag of a bunched-up waistband.
Not only are the designs legendary, Williams' spirit was impervious and it shines through the vintage designs. Everyone and their mom had a colorblocked stripe tee and bright denim set, and since "This is How We Do It" is a certified summertime classic, those lyrics alone will keep the energy of the brand alive forever.
Share this article