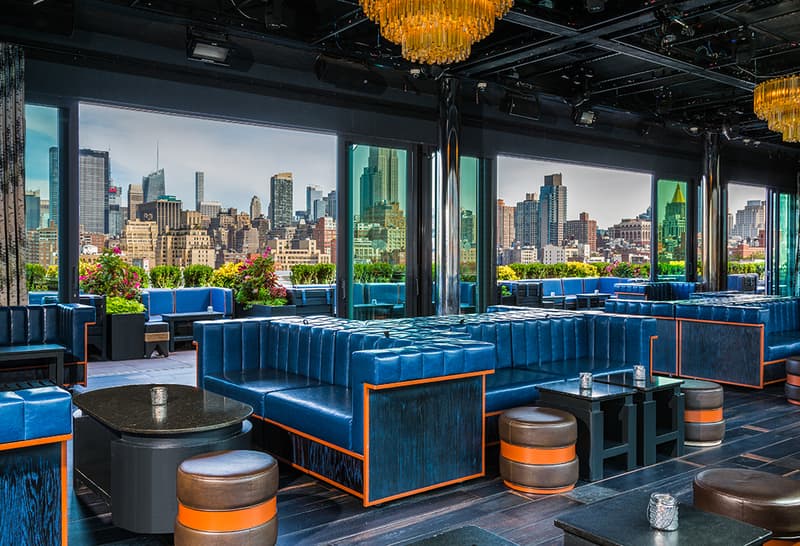 The Most Instagrammable Hotels in New York City, For All Budgets
Plan your next trip.
To some, New York City has it all. If you've ever been there, you're well aware that it's packed with stores, bars and top tier shopping experiences. If you're one of those ultra-busy people that finds it hard to get away from the daily grind, our latest roundup is for you. As we prepare to head into vacation season, we thought it would be a great idea to highlight a list of editor-approved NYC hotels.
Since we've been crossing our fingers for the first glimpse of warm sunlight, we, of course, were sure to select options that are Instagram-ready and aesthetically pleasing. Two picks worth mentioning are The Roxy Hotel Tribeca and Dream Downtown. The former is a city staple complete with a picturesque vintage film cinema, while the latter features a beach-inspired pool area and amazing in-room views.
Continue reading to check out the rest of our top hotel picks.
Known for its sprawling spaces, Le Bain and Top of The Standard where events and parties of-the-moment are typically hosted, The Standard is one of the most popular hotels in the city. Located in the Meatpacking District, this pick is packed with rooms which have floor-to-ceiling windows with superb views of Manhattan. Amenities include a German beer garden, an outdoor public plaza, a winter ice rink and more.
Pricing: From $195 USD
848 Washington St
New York, NY 10014
Located in the heart of Times Square, The Row houses 1,331 rooms which feature bright walls and also has an array of ergonomic-friendly workplaces throughout the hotel. A few staples within the space include the gourmet food market, the blow-dry bar Glam & Glow, and the fitness studio which has everything you need to recharge while away from your daily routine.
Pricing: From $180 USD
700 Eighth Ave
New York, NY 10036
Originally opening its doors in 2012, Wythe Hotel is located on the Williamsburg waterfront. The 70-room destination is also a 117-year-old factory which houses stunning fixtures. If you're into picture-perfect views, this space has an array of rooms that offer skyline views. Amenities include a sixth-floor rooftop bar, custom beds made from the building's reclaimed pine, locally made furniture and more.
Pricing: From $200 USD
80 Wythe Ave
Brooklyn, NY 11249
The newly designed Redbury hotel features a total of 265 guest rooms which are outfitted with velvet and fringe detailing. Marta, the in-house pizza restaurant is a vibrant Italian-themed space that offers up creations by Chef Lena Ciardullo. Since this hotel is located in NoMad near Times Square, opportunities for shopping for are within walking distance. You can walk over to Sephora, M.A.C. Cosmetics, Line Friends and more.
Pricing: $239 USD
29 E 29th St
New York, NY 10016
The Roxy Hotel Tribeca is a hotel with a legendary background story. It was once the first major hotel to home celebrities and a mashup of creative ventures. After being given its new name, the owner's breathed new life into its charming '20s movie theater (Roxy Cinema) and '90s dance club, The Roxy. Each guest room features a modern touch and if you've ever stepped into the lobby, you'll feel as though you've entered a time machine. For those who enjoy a great drink paired with stunning aesthetics, tell your friends to meet you at Paul's Cocktail Lounge.
Pricing: From $313 USD
2 6th Avenue
New York, NY 10013
If there's one thing people know about 11 Howard located in NYC's SoHo neighborhood, it's that their striking bar The Blond emits supreme vibes. Outside of this cozy, head-turning bar situation, this 207-room hotel is known for its Danish meets New York City design. The immense attention to detail is seen in the lush lobby and carries well into the rooms which include minimalistic detailing throughout. This artsy pick also features a co-working space, the restaurant Le Coucou by Stephen Starr and Bar in addition to fitness facilities and more.
Pricing: From $339 USD
11 Howard St
New York, NY 10013
If you ever need a staycation, Dream Downtown, a 314-room tech-heavy paradise has you completely covered. This dreamy pick features stunning architecture that is refreshing amidst the high rise buildings of NYC. What makes it unique is its breezy lounge area near its outdoor pool, which is absolutely perfect for summertime. Each loft-style room comes with unforgettable detailing paired with luxurious accents. PHD Rooftop Lounge, a cocktail lounge and bar which is located on the top floor is a chic option for drinking or just enjoying the company of your friends and family.
Pricing: From $379 USD
355 W 16th St
New York City, NY 10011
The Ritz-Carlton New York, Central Park takes the cake when it comes to luxury accommodations. This five-star hotel features redesigned amenities including La Prairie Spa and Club Lounge and an array of personalized services. The Star Lounge is a stand-up bar which has a variety of shared plates, specialty cocktails and more. The hotel also offers wine tasting and in-room dining as options for dining experiences.
Pricing: From $695 USD
50 Central Park S
New York, NY 10019
If you're really into views, Four Seasons New York is ideal for you. This modern five-star option is extremely close to NYC's Central Park and Madison Avenue's shopping district. Located in Midtown, this landmark was brought into fruition by famed architect I. M. Pei. Services includes walk-in closets in all guest rooms, 24-hour fitness facilities and more.
Pricing: From $995 USD
57 East 57th Street
New York City, NY 1022
---
Share this article