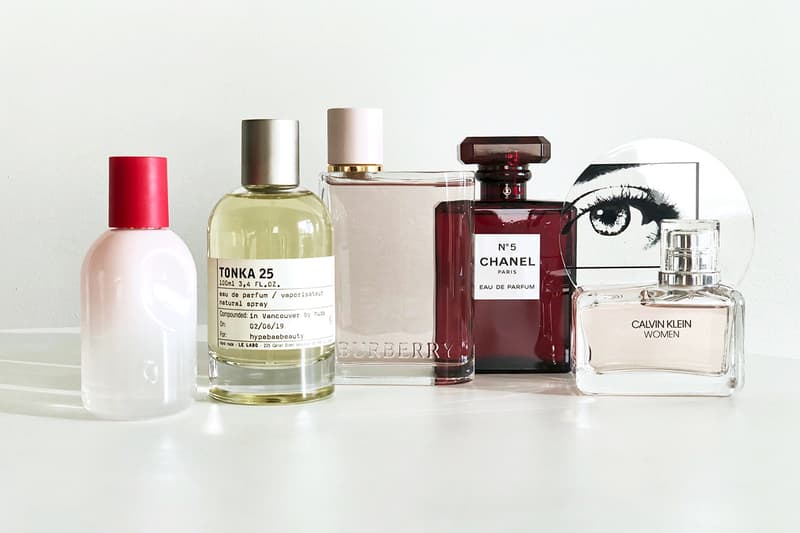 Beauty
Here's What Perfume You Should Be Wearing, According to Your Zodiac Sign
What's your signature scent?
Here's What Perfume You Should Be Wearing, According to Your Zodiac Sign
What's your signature scent?
Spring is in the air and we are kicking off the season right with fresh new scents. With March 21 being National Fragrance Day, it is prime time to reset and reconstruct your beauty routine with perfumes that best represent you. No matter if you're someone who wears the same scent every day or if you rotate between different bottles, our fragrance guide will help you identify your personal signature scent, based on your astrological sign. From luxury brands like Louis Vuitton and Chanel, to Burberry and Miu Miu, check out the full list below to see what perfume you should be wearing according to your key traits.
While you're at it, watch our perfume hack video for five easy ways to make your fragrance last all day.
Aries
Characteristics: Energetic, assertive and loyal.
Your Signature Perfume: Chanel N°5 Eau de Parfum, $135 USD (3.4 oz).
Unapologetically determined and passionate, Aries will always give 100-percent of what they've got, no matter if it's for work, romance or friendships. Such strong personality can only be matched by a fragrance as powerful as Chanel's cult-loved N°5 Eau de Parfum. Composed of bright citrus top notes and a hint of bourbon vanilla, this complex perfume is instantly unforgettable.
Taurus
Characteristics: Trailblazing, ambitious and sensual.
Your Signature Perfume: Calvin Klein WOMEN Eau de Parfum Spray, $84 USD (1.7 0z).
Taurus is a natural when it comes to striking a balance between being assertive and sultry. A perfume that perfectly translates that would have to be Calvin Klein's WOMEN Eau de Parfum spray. The beautifully-bottled fragrance is seductive and feminine at the same time, featuring top notes of eucalyptus acorns, middle notes of orange flower, as well as warm base notes of Alaskan cedarwood.
Gemini
Characteristics: Easygoing, affectionate and curious.
Your Signature Perfume: Glossier You Eau de Parfum, $60 USD (1.7 oz).
Glossier's own perfume Glossier You is just as versatile as any Gemini. Dubbed by the millennial-favorite brand as "the ultimate personal fragrance," the product prides itself on its natural, pleasant scent that melts in with your skin. Made up of strong base notes of musk, ambrette and ambrox as well as refreshing top notes of iris root and pink pepper, this human-y perfume is the ideal match to your generous and kind personality. It even comes in a solid version for those who're always on-the-go.
Cancer
Characteristics: Emotionally intelligent, compassionate and sentimental.
Your Signature Perfume: Burberry Her Eau de Parfum, $121 USD (3.3 oz).
A warm, musky fragrance is just what the kind-hearted Cancer needs. Mixed with notes of black currant, jasmine accord and dry amber, Burberry's Her Eau de Parfum is a sensual perfume that you can easily wear from day to night. Its Instagram-friendly pink packaging is just the icing on the cake.
Leo
Characteristics: Outgoing, self-assured and optimistic.
Your Signature Perfume: Gucci Bloom Eau de Parfum, $128 USD (3.3 oz).
Alessandro Michele has created the perfect fragrance for the Leos who dare to be bold and ambitious. With just one spritz, the Gucci Bloom will transport you to a garden of assorted flowers. Tuberose, jasmine and Rangoon Creeper are combined to form the fresh and stimulating floral scent, which serves as a celebration of the vitality and diversity of women.
Virgo
Characteristics: Sophisticated, organized and practical.
Your Signature Perfume: Black Opium Eau De Parfum Intense, $124 USD (3 oz).
YSL Beauty's abstract Black Opium fragrance is a must-have for Virgos who want to smell good without being over the top. Rich with notes of coffee, orange blossom and blue absinthe, this long-lasting formula will soothe and elevate your mood every time you take a sniff.
Libra
Characteristics: Diplomatic and balanced. Good at making everyone happy.
Your Signature Perfume: Maison Margiela "Under the Lemon Trees" Replica Eau de Toilette, $126 USD (3.4 oz).
If you're a Libra, chances are you often put other people's needs before your own. Consider treating yourself for once by applying Maison Margiela's "Under the Lemon Trees" Replica Eau de Toilette. Inspired by the memory of an excursion to the sunny countryside, the fragrance combines notes of lime accord, coriander essence, green tea and white musk. Evoking a satisfying nap at the park, the perfume will help make you feel calm and relaxed anytime, anywhere.
Scorpio
Characteristics: Passionate, original and authentic.
Your Signature Perfume: Dior Miss Dior Eau de Toilette, $102 USD (3.4 oz).
A nonconformist in every sense of the words, a Scorpio deserves a fragrance that's truly one-of-a-kind. Enter Dior's Miss Dior Eau de Toilette. Not only will the feminine packaging make you fall in love at first sight, but the sensual, floral scent featuring notes of blood orange, mandarin and Grasse rose will also get you addicted to this perfume.
Sagittarius
Characteristics: Great sense of humor. Love having freedom and being outdoors.
Your Signature Perfume: Miu Miu Twist Eau de Parfum, $125 USD (3.4 oz).
It's no secret that Sagittarius has a fun-loving and adventurous personality, so it's only right that you pick a scent that encapsulates that. Featuring notes of vert de bergamot, pink amber and tonka bean, Miu Miu's latest Twist Eau de Parfum feels equal parts glamorous and irreverent. Inspired by a vintage perfume flacon, the packaging is another reason why you'll fall in love with this unique fragrance.
Capricorn
Characteristics: Responsible, disciplined and appreciates craftsmanship.
Your Signature Perfume: Le Labo Tonka 25 Eau de Parfum, $270 USD (3.4 oz).
Mature and levelheaded, Capricorns often play the role of leaders in professional settings. To highlight your charismatic traits, you need to ditch the floral, citrusy scents for darker, smokier perfumes like Le Labo's Tonka 25. The unisex fragrance fuses notes of orange flower absolute, absolute tonka as well as musks to create a memorable scent that is truly timeless.
Aquarius
Characteristics: Imaginative, progressive and deep.
Your Signature Perfume: BYREDO Rose of No Man's Land Eau de Parfum, $250 USD (3.4 oz).
There's a unique story behind every perfume, but nothing quite compares to that of BYREDO's Rose of No Man's Land. Inspired by a journey to a mysterious, far away place where a single rose unexpectedly appears, the scent is intoxicating and comforting at the same time. An ideal perfume for creative souls like Aquarius, this BYREDO option features notes of spicy pink pepper, fresh rose petals and white amber.
Pisces
Characteristics: Intuitive, artistic and gentle.
Your Signature Perfume: Louis Vuitton Rose des Vents, $250 USD (3.4 oz).
A romantic at heart, Pisces needs a perfume that is simultaneously approachable and strong. To achieve that sensuous scent, look no further than Louis Vuitton's Rose des Vents. Characterized by its gorgeous pink color, the fragrance is made up of hints of roses, Italian iris and Virginia cedar. The floral perfume is encased in a luxurious bottle, which you can personalize with custom engravings upon purchase, making it the perfect gift for someone special.
Share this article