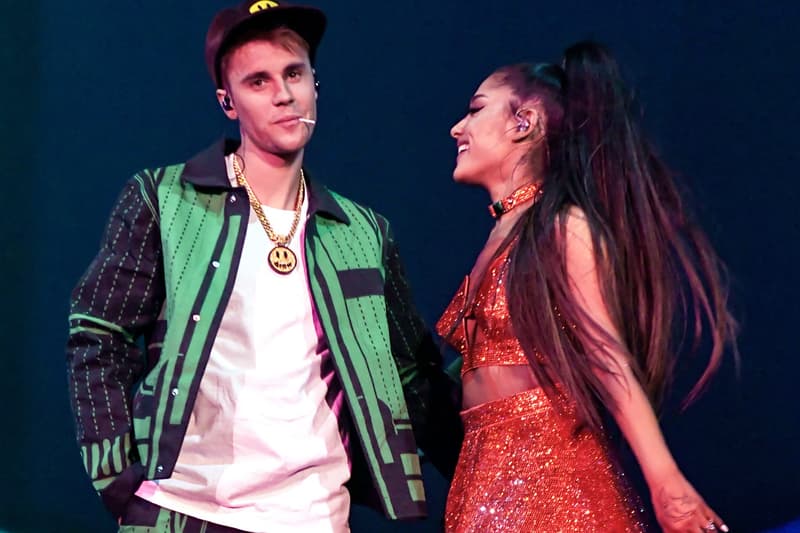 Culture
Justin Bieber Just Revealed A New Album at Coachella
During his performance with Ariana Grande.
Justin Bieber Just Revealed A New Album at Coachella
During his performance with Ariana Grande.
Following last weekend's performance at Coachella, where Ariana Grande brought out *NSYNC, Nicki Minaj and Diddy on stage, the singer just invited Justin Bieber to join her for her Weekend Two performance.
Since the release of his album Purpose, Bieber has been quiet when it comes to releasing music. He's recently gotten married to Hailey Bieber (formerly Baldwin), and has been low-key in both media and music since his album released in 2015. During Ariana Grande's performance, the singer took a moment to speak to her fans, saying, "I wasn't going to bring out any guests tonight, but my friend Justin Bieber came all the way out."
Justin came out and performed "Sorry," surprising the crowd and also taking a minute to note his absence, giving it up for Ariana Grande by revealing that there's a "new album coming soon." It remains to see when to expect new music from the Canadian singer, but make sure to catch the clip of Bieber's surprise appearance below.
Thank you @ArianaGrande . Thank you @coachella. That felt right. Love you.

— Justin Bieber (@justinbieber) April 22, 2019
JUSTIN BIEBER AND ARIANA GRANDE WERE SINGING SORRY TOGETHER ON ONE STAGE AT COACHELLA #ARICHELLA pic.twitter.com/WfwgrAAZJa

— jeska (@bieberjimin) April 22, 2019
Thank you @AlfredoFlores for capturing this iconic moment of Justin Bieber onstage tonight at Coachella! pic.twitter.com/DKGfE6wu86

— Justin Bieber Crew (@JBCrewdotcom) April 22, 2019
Share this article