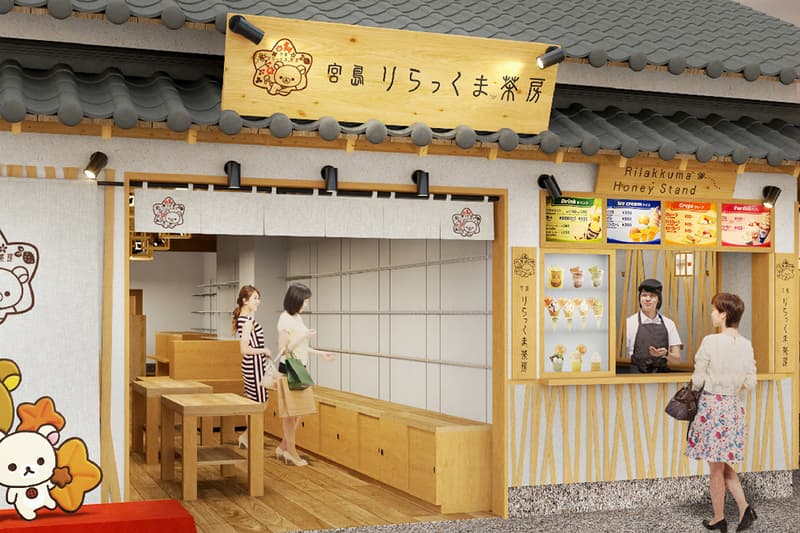 Rilakkuma Fans Can Now Visit This Adorable Themed Cafe in Japan
Dine with your favorite bear.
Following on from the release of Netflix's adorable stop-motion show, Rilakkuma and Kaoru, fans visiting Japan will be able to visit a themed cafe and experience Rilakkuma's world in real life.
Arriving in Miyajima, Hiroshima, the cafe's design is inspired by traditional wooden Japanese architecture with every bear's favorite snack, honey, being a key component. Visitors can settle in for a bite to eat or opt for a takeaway; the varied menu offers something for every taste and all of it is equally as cute. Choose from main meals like Rilakkuma conger eel and oyster tempura gyoza or oyster curry featuring a mound of yellow rice shaped like the little bird, Kiirotiori. There's also a yummy chocolate banana parfait, honey lemonade, Rilakkuma-shaped ice cream sandwiches for those with a sweet tooth. Additionally, there's a range of merch you can shop to take home as a treat for loved ones, including branded makeup brushes, tasty cookies, graphic plates and more.
Take a look at selected items from the cafe menu in the gallery above and be sure to stop by if you're in the area. In related news, if you haven't already seen the series then check out the full trailer for Rilakkuma and Kaoru.
Rilakkuma Cafe
739-0500 Hatsukaichi,
Hiroshima Prefecture 537 Nakanocho,
Miyajima-cho, Hatsukaichi-shi,
Hiroshima