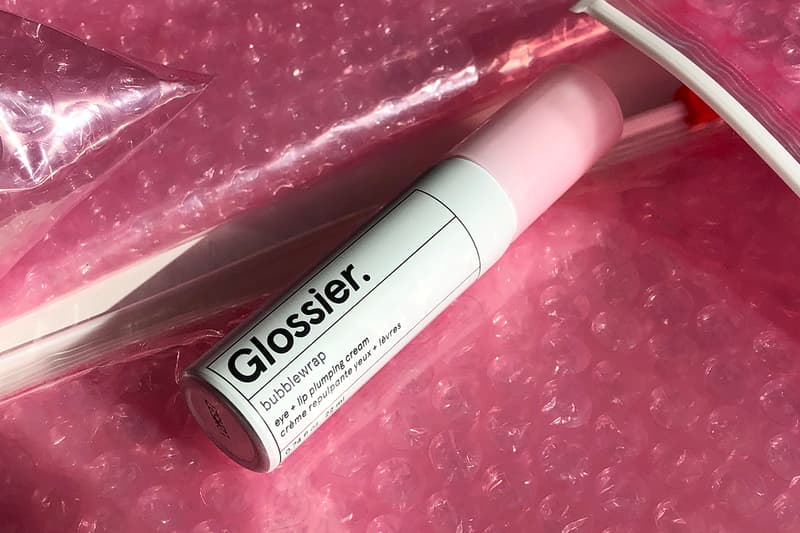 Beauty
Our Editor Reviews Glossier's New Eye and Lip Plumping Cream, Bubblewrap
The brand finally launches skincare for the eye area, and it's more affordable than you'd think.
Our Editor Reviews Glossier's New Eye and Lip Plumping Cream, Bubblewrap
The brand finally launches skincare for the eye area, and it's more affordable than you'd think.
With its "Skin first, makeup second" philosophy, Glossier is home to a range of cult-loved skincare gems including the Milky Jelly Cleanser, the Priming Moisturizer and of course, the many different scented Balm Dotcom lip balms. It wasn't until 2019, however, that the Emily Weiss-founded beauty brand launched its first eye cream. Formulated with Hydrolyzed Hyaluronic Acid, Blueberry Fruit Extract and a blend of Avocado Oil and Squalane, the new product named Bubblewrap promises not only to nourish the delicate eye area, but also to hydrate and smoothen skin on the lips.
Normally someone who uses the Kiehl's Avocado Creamy Eye Treatment twice a day, I swapped my go-to cream for Glossier's Bubblewrap when I received a sample about a week ago. Here are my thoughts on the product after using it every morning and evening for the last five days.
Texture
The first thing you'll notice about Bubblewrap is how impressively lightweight it feels on the skin — the brand even describes its texture as "featherweight," and that's pretty accurate. Unlike most eye creams I've tried, Glossier's version is fast-absorbing, not sticky nor heavy, making it a great product to use right before makeup application.
This is also what makes it appealing as a lip cream. While most lip balms tend to leave a greasy finish on the lips, Bubblewrap is able to offer an instant boost of hydration, creating a smooth, satiny base for applying lipstick on top without covering your pout in a glossy or oily texture.
Overall speaking, Bubblewrap works as an amazing under eye and lip cream if you're looking for something that helps swiftly prep your skin for makeup. However, I'd still opt for more heavy-duty products for my nightly skincare regimen for deeper hydration.
Packaging
The packaging of Bubblewrap may not be the most photogenic of all Glossier products, but it is certainly practical. Coming in a travel-friendly 22 ml bottle, the cream comes out of a well-designed pump that dispenses just the right amount of product. I've been using one and a half pumps each time to care for both my eye area and my lips.
Pricing
When it comes to skincare products, eye creams are typically placed on the pricier end of the spectrum. Some of the most popular options on the market like Aesop's Parsley Seed Anti-Oxidant Eye Cream (10 ml) retails for $87 USD, while Tatcha's Ageless Revitalizing Eye Cream (15 ml) comes with a whopping $135 USD price tag. It is a pleasant surprise then, that Glossier's Bubblewrap only costs $26 USD for a 22 ml bottle, and you're sure to get more bang for your buck.
Lip-Plumping Claims
As much as I enjoy using the product, there's one thing I'm not entirely sure about Bubblewrap, and that is its lip-plumping claims. Labeled as an "eye + lip plumping cream," the new Glossier launch is said to be able to make lips look "plush and full" in a press release. Now, if you're thinking that the cream could help you achieve Kylie Jenner-esque lips like the cult-favorite Dior Addict Lip Maximizer does, you'll probably be a bit disappointed. While the product does provide my lips with immediate hydration, it doesn't seem to me that it adds to their fullness visibly. Bubblewrap is probably more of a replenishing cream than a lip-plumping product if you ask me.
Bubblewrap is now available at glossier.com for $26 USD.
Share this article