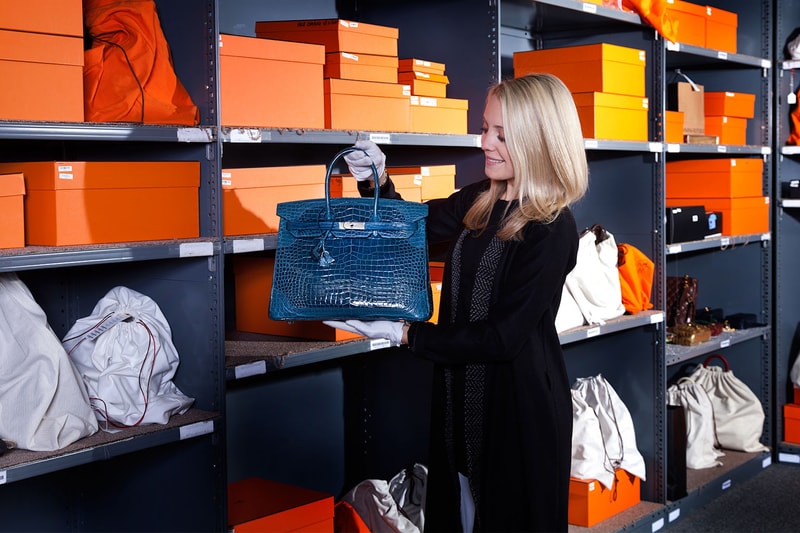 Fashion
The Art of Buying and Selling Luxury Bags Online and the Growing $24 Billion Dollar Market
Expert Caitlin Donovan tells us all about spotting real from fake.
The Art of Buying and Selling Luxury Bags Online and the Growing $24 Billion Dollar Market
Expert Caitlin Donovan tells us all about spotting real from fake.
Luxury bag reselling has grown to become an international phenomenon with people across the world selling Chanel, Céline, Louis Vuitton, Hermès – the list goes on. Luxury bags can be some of the most sought-after items out there, with thousands of people dreaming about owning a piece from the high-end labels, and consignment shopping has made that more possible than ever before.
Online platforms like Christie's sales have made it easier than ever to buy and sell everything from trendy pieces to one-of-a-kind collector's work, but how do you know what you are buying is actually "the real deal?" The counterfeit market is ever-growing, and fakes become harder and harder for us to spot. We tapped expert Caitlin Donovan, the Head of Sales for Christie's Handbags and Accessories department, and authenticates pieces ranging from classic Hermès Birkins to sought-after drops like Supreme x Louis Vuitton, for her to tell us more about the art of consignment.
Keep reading to learn more about the $24 billion dollar market, and learn everything you need to know about authenticating bags and the secondary market below.
What is your role at Christie's and what does your day-to day look like?
As the Head of Sale for the Handbags & Accessories department in the U.S., my role is multi-faceted, depending where we fall in the calendar year. As a bit of an adrenaline junkie, it wasn't a surprise I ended up in the fast-paced auction world where no two days – let alone two hours – look the same. I spend time working with private clients to bring in property and curating the 2-3 auctions we have in the U.S. per year. Once the auction property deadline hits, my team and I catalog each individual item, and work with our marketing, photography and PR teams to put together the final package. Once complete, then comes the time to sell the sale through personalize one-on-one client outreach and property preview tours around the world.
During the Spring and Holiday sale season I travel to our international sales sites before, during and after the New York auctions to assist U.S. based clients participating in our international auctions, as well as preview highlights from the New York sales. In between auctions, I work with other Christie's departments, regional offices and interesting brands and influencers to host private sales events.
How did you end up in your current role?
I wouldn't say it was planned. From my role as the Director of Sales and Marketing at an up and coming handbag brand right out of college, I found my way into the auction world, and was lucky enough to follow a path to Christie's, where I began in 2014 to start the dedicated Handbags and Accessories department with two additional colleagues.
When it comes to identifying handbags, what are some dead giveaways that show a bag is fake?
Every brand has its own standout giveaways. Whether it be the leather, stitching or color, brand stamps, proportions, hardware, interior lining – the list goes on.
How long does it take to learn all the tricks in identifying bags?
It is a unique skill set, one that needs to be learned on the job. As of yet there are no schools or courses where you can train to become a handbag specialist. Although, Christie's Education does offer a 3-hour course on our market, which I have the pleasure of teaching twice a year!
What is your view on the ever-growing counterfeit market? Has it gotten harder to tell real from fake?
While fakes have certainly gotten "better," they are still, fake, and easily identifiable for a specialist. The bags we sell at Christie's are wearable works of art, created by craftsmen and just like a replica painting, while a replica can be close – it is never spot on.
You handle Hèrmes Birkins, Supreme x Louis Vuitton and so much more day-to-day, but do you have a personal favourite when it comes to bags?
I appreciate many different genres of my industry, and as the market keeps evolving, I am finding it harder and
harder to name a favorite. Traditionally I gravitate towards the more classic and streamlined designs, with the Hèrmes Kelly bag being my first love. With that said, on the contrary to the classic, iconic styles, I am the first to express an appreciation for the well-executed collaboration pieces and one-of-a-kind and limited edition bags which are rare, playful and to many deemed "current" or "on trend."
What is the craziest item you've ever authenticated?
I've seen some very special one-of-a-kind bags in my day, and some even overall crazier collections of bags which would excite even the most discerning handbag collector.
The secondary market is growing rapidly. Where do you see this going within the next couple of years?
The secondary market has transformed in the past six years to be far more than a platform to buy "used" or "old" items. There are number of reasons I take pride in being one of the leaders in this industry, particularly as it relates to auction. We are the only female-centric collecting category in the auction world, empowering women for the first time take control of their collection in a way men have been doing for years in categories such as watches, automobiles and wine.
Our clientele are considerably younger than clientele in other collecting categories, enabling young men and women to look at their accessories as valuable and collectible, investment-worthy, items that can be passed down to future generations. Finally, we also appreciate and support sustainability through re-selling collectible pieces which appreciate or hold their value. I think the appetite is only growing as more secondary websites and platforms enter the marketplace around us. Soon I hope women will consider the primary and secondary market as equal platforms to purchase accessories in general.
Why is it a good option to purchase second-hand luxury bags? What are the benefits?
When you purchase a bag from Christie's you know you are purchasing a piece that is collectible, authentic, of the highest levels of craftsmanship, condition, quality, and that will most likely hold or appreciate in value. I encourage clients to purchase collectible bags on the secondary market opposed to falling into trends and "it bags" that are considered in season one month, and "passé" and "last season's bag" the next month. When buying from Christie's you also have the benefit of working with highly knowledgeable specialist, who can work to build your collection with you.
If you could give advice to young girls out there looking to pursue your job, what would it be?
I think it's important to find a job that interests and challenges you, opposed to finding a job or career path you think is the your pre-determined destiny. No "good job" is easy, and often it's the most exciting jobs and new opportunities that challenge you to the brink of exhaustion or stress, but if you find a job that interests you and facilitates growth – you are bound to find yourself working towards something great.
---
Share this article