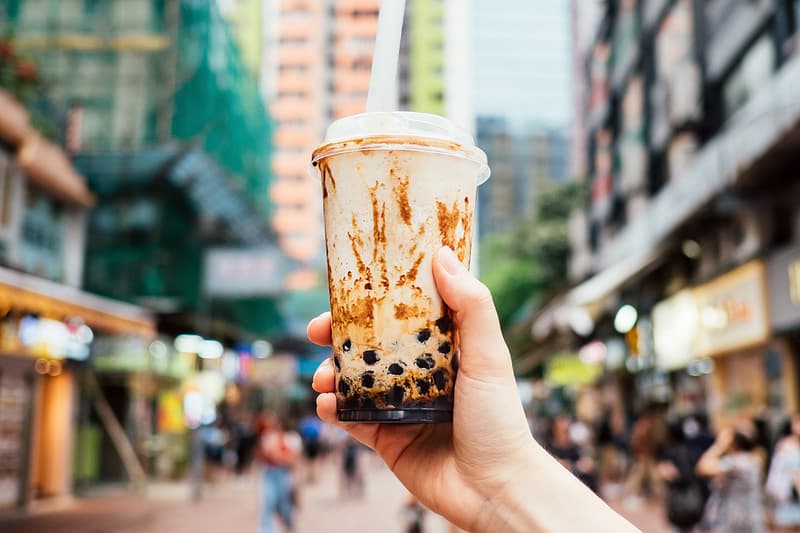 Culture
These Are the Best Bubble Tea Shops Around the World
From popular chains like The Alley and HEYTEA to local hidden gems.
These Are the Best Bubble Tea Shops Around the World
From popular chains like The Alley and HEYTEA to local hidden gems.
Originated from Taiwan in the 1980s, bubble tea (or as some like to call it, boba) is often described as milk tea mixed with tapioca balls, but only true BBT connoisseurs will know that the word "bubble" in the name actually refers to the frothy bubbles produced during the process of making these delectable drinks. Coming in a multitude of flavors and topping combinations, the drink has traveled across the world and has gained popularity beyond Asian communities especially over the last decade.
With April 30 being National Bubble Tea Day (yes, it is a thing apparently), we've compiled a list of all the best bubble tea shops that you need to visit in Taipei, Hong Kong, Tokyo, NYC among other cities. From China's favorite HEYTEA to London's very own Biju, bookmark these locations for any emergency bubble tea craving.
LOCATIONS: China, Hong Kong, Singapore.
First established in the Guangdong province in China, HEYTEA is perhaps the most popular bubble tea chain among millennials in the country. If you've ever visited one of its locations, you'll probably know that the wait time can easily go up to two to three hours on any day. And that just goes to show how appealing its signature cheese teas are. Offering something a little different from your typical tapioca and milk tea combo, HEYTEA is famously known for adding salty, creamy cheese to its fresh fruit teas.
After expanding to Singapore, HEYTEA has also landed in Hong Kong in late 2018.
LOCATIONS: Taiwan, South Korea, Japan, Hong Kong, China, Australia, Malaysia, Thailand, Canada, United States and more.
Hailing from Taiwan, bubble tea chain The Alley (Lu Jiao Xiang) is best known for its brown sugar tapioca lattes as well as its photogenic, ombré Aurora Drinks. Now six years into its inception, the tea brand has invaded different continents, with a network of stores opening in Asia, North America and more. No matter in Tokyo or Hong Kong, you can always find a huge line outside of The Alley's locations.
LOCATION: London, United Kingdom.
If you live in London and ever need to get a bubble tea fix, Biju is the place to go. The local gem boasts three locations, including Soho, South Kensington and Westfield London Shopping Centre. From its Taro Milk drinks to our editor-favorite Roasted Oolong Milk Tea (it tastes divine when topped with tapioca), all Biju beverages are prepared with organic milk and freshly-brewed tea – artificial ingredients be damned.
LOCATIONS:  Taiwan, Hong Kong, Vietnam, Japan, United States, Canada, United Kingdom, Australia and more.
Are you really a bubble tea enthusiast if you haven't tried the refreshing fruit teas by YiFang? Another well-loved Taiwanese chain, YiFang is known not only for its fruity flavors (with some prepared with actual slices of orange, passion fruit and apple), but also for its rich milk tea blended with the brand's famous brown sugar "pearls" that are made in-house daily.
LOCATIONS: China, Japan, Philippines, United States, Canada, United Kingdom and more.
An OG in the bubble tea world, Happy Lemon opened its first store in Shanghai, China in 2006, long before the tea craze has spread across the world. Its salted cheese teas are among the most popular on its menu, but if you're someone with a sweet tooth, then you'll certainly enjoy its Oreo Milk Tea and Milk Tea with Pudding.
LOCATIONS: Taiwan, Hong Kong, Singapore and more.
Taiwanese company Ten Ren is one of the largest tea retailer in the world, but besides selling high quality tea leaves, the brand has also opened To-Go locations in cities like Hong Kong and Singapore where a selection of hot and iced drinks are served. Our favorites would have to be the shop's bestselling Orange Green Tea and Green Tea Latte with Pearls. The former in particular is such a treat on a hot summer day.
LOCATION: Vancouver, Canada.
There's no bubble tea place that's quite like this small business located in Vancouver. Dubbed Bubble Queen, the café offers a distinctly unique take on bubble tea, mixing toppings like tapiocas with chocolaty slush flavors including Kit Kat, Ferrero Rocher, Maltesers and our absolute favorite, Kinder Bueno. There are also mouthwatering, fresh fruit options ranging from its seasonal Mango Cube Slush, as well as honeydew, pineapple and watermelon.
In addition to its Vancouver location, Bubble Queen can also be found in Richmond, BC.
---
Share this article