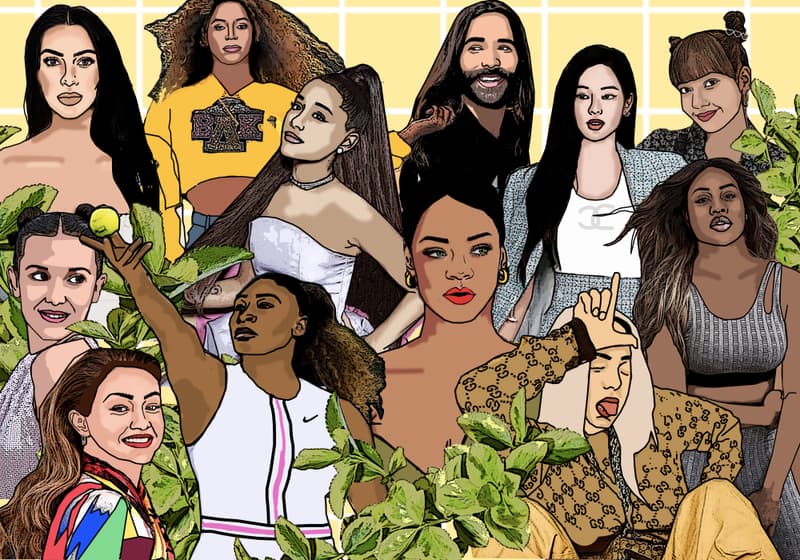 Culture
It's Time to Celebrate – The HYPEBAE Family Just Hit 1 Million
Our editors look back at their highlights along the way.
It's Time to Celebrate – The HYPEBAE Family Just Hit 1 Million
Our editors look back at their highlights along the way.
Since its inception in 2016, HYPEBAE has grown to become the leading platform for all things women's streetwear, beauty, fashion, entertainment and so much more. In only three years, our platform has grown immensely, and we've managed to work with and highlight some of the most incredible women out there, and just this week, our Instagram reached one million followers.
One million HYPEBAE's, and we couldn't be more thankful. To celebrate the ever-growing family, we tapped our editors to discuss their favorite project or piece they've worked on during our journey together, and we've compiled them all below. Keep reading to explore a bit of HYPEBAE history, and join our celebration.
It's no secret that streetwear is an incredibly male-skewed industry; it's something that affects literally every element of the business. Despite that there's an ever-growing proportion of women in the streetwear world on every level. It was incredible to have the opportunity to spotlight just a handful of those women, some of whom shaped the industry as we know it today with very little recognition. Giving their stories and work a platform as well as opening the discourse on the challenges women faced – and still face – navigating the "boy's club" that is streetwear was an eye-opening experience on the realities of how often women and their contributions are dismissed from the narrative entirely. Hearing how these women in particular have overcome systematic oppression and thrived on their own terms inspired me and I hope, our readers, to believe they can do the same.
It was a pleasure working on this feature with Scottie Beam (Deanii Scott) because I feel as though she a bit underlooked in the media industry. Working with an all-black production team was also a highlight of putting together this feature. I think the fact that this also resonated tremendously well across social media (over 24,000 likes on Scottie's Instagram posts alone) proved that black women are always watching and contributing to pop culture and deserve to be celebrated. Scottie to me represents what living, working and walking in your truth looks like and I was proud to highlight her work on such a high level.
Interviewing Megan Thee Stallion and producing her shoot were memorable moments for me. Before she dropped her mixtape Fever, my interview pushed her a bit more into the forefront of the wider hip-hop conversation. While I was interviewing her, I began to understand that her energy and spirit are going to take her very far. During the shoot, it also became clear that her easygoing energy and her ability to command attention in front of the camera, would also prove to be relevant as she continues to move upward in the music industry. She truly has a dynamic personality and I'm grateful I was able to showcase her talent and her personality.
As much as I enjoy conversations with celebrities that I've had the pleasure of interviewing, nothing brings me more joy than when I'm able to tell stories of cool girls doing cool things, many of whom may not necessarily be the biggest stars on social media in quantitative terms. It's refreshing to see Jynwaye doing what she enjoys — painting '90s cartoon characters on canvases that range from the MetroCard to a CdG bag — out of pure passion for art and not (for lack of a better word) clout. A few months after our interview was published, I was thrilled to learn that Jyn's work has gained recognition from Opening Ceremony, with the retailer inviting her to create hand-painted merch for its stores.
The NYC-based artist is just one of the many talented creatives I got to introduce to our readers. From rework queen and designer Tamara Grunberg and hip-hop-loving text artist Mega McGrath, to Nike Brand Designer Claire Kang and Prada collaborator and illustrator Stellar Leuna, I'm forever inspired by women who work so hard to hone their craft. They're a reminder that you should always believe in your creative vision, regardless of what the algorithm wants you to think.
For me, this was one of the most memorable projects I've ever worked on. I set out to do something "different," but I couldn't figure out quite what that was until it hit me in the face like a big, fat brick. I became inspired by Hong Kong, my home, and the people in it, and had the idea to reach out to a friend's ultra-stylish aunts to model Alexander Wang's collection for adidas Originals.
During the shoot, literally everything went wrong. The rain was pouring down, and we had to work on the spot to come up with new ideas and a whole new concept. After a whole day of shooting and approximately one billion mosquito bites along the way, we were finished and I couldn't stop worrying about the final product. Once it was all put together, I felt a sense of pride. Not only did I love the video, but so did Alexander Wang and his team, who posted it on all their social media channels. It's certainly a moment that I'll never forget, and it really set the bar for my upcoming projects, too.
---
Share this article