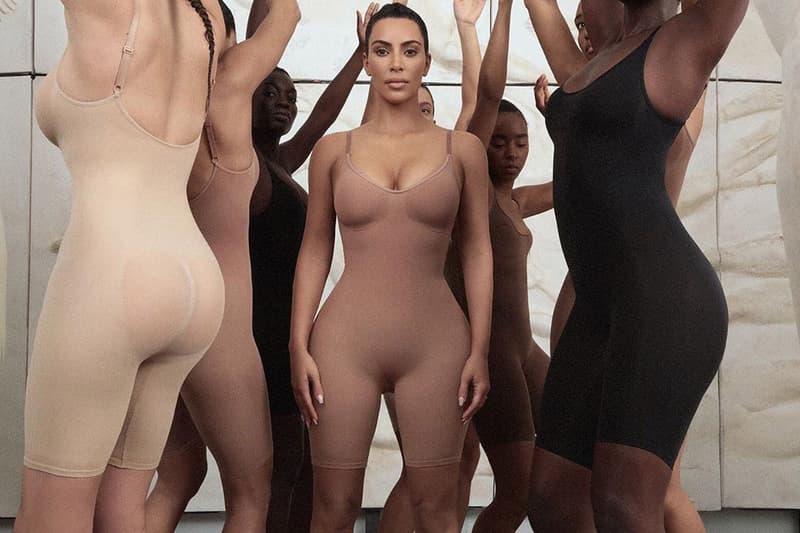 Fashion
Kim Kardashian's New Shapewear Kimono Line Faces Backlash
"She just chose a word that has Kim in it – there's no respect to what the garment actually means in our culture."
Kim Kardashian's New Shapewear Kimono Line Faces Backlash
"She just chose a word that has Kim in it – there's no respect to what the garment actually means in our culture."
Yesterday Kim Kardashian revealed her latest business venture, a new line of shapewear called Kimono, on Instagram. The star announced her new brand by writing that, "There's been so many times I couldn't find a shapewear color that blended with my skin tone so we needed a solution for all of this," announcing that the new garments will be arriving in a total of nine shades as well as sizes XXS through 4XL.
Although many were excited about the upcoming release, Kardashian has faced backlash for naming her brand Kimono. "I feel very sad that the name "Kimono" is being used to something completely different from what we Japanese know about it. Kimono is Japanese traditional clothes and we are very proud of its history and culture. I'm sorry but I feel this name choice is simply ignorant," writes user @bunkaiwa on Twitter, where many others chimed in and expressed their anger about the name. "Thanks for BUTCHERING Japanese culture!!! My culture is not your plaything," added @kasumihrkw.
As of yet, Kim Kardashian has not responded to the negative comments, but she tweeted "Fun Kimono Fact- Kanye drew the Kimono logo," only a few hours after the brand's official reveal. It remains to see whether the star will address the backlash or even change the name, but make sure to watch this space as any updates surface.
I feel very sad that the name "Kimono" is being used to something completely different from what we Japanese know about it. Kimono is Japanese traditional clothes and we are very proud of its history and culture. I'm sorry but I feel this name choice is simply ignorant. #KimOhNo

— ヤス@BUNKAIWA(ブンカイワ) (@bunkaiwa) June 26, 2019
These are my grandmother's kimonos. Some of these are dyed and embroidered by herself. When I was child, I loved watching she embroidered on kimono cloth. My grandmother who makes beautiful embroidery is also beautiful and I always felt it magical. #KimOhNo pic.twitter.com/29v3pzCGDn

— Ginji_GoldFish (@Ginji_GoldFish) June 26, 2019
Don't steal our culture.#KimOhNo pic.twitter.com/GX3p9AyQwT

— さと (@sato_kimono) June 25, 2019
"Enhances the shapes and curves"
This is the exact opposite of what a true kimono (着物) does. Also, to name underwear after traditional garments (often worn in formal situations)… I can only imagine how insulting this is for Japanese people. #KimOhNo #KimonoBody #kimno https://t.co/arc8E12u2H

— ホトトギス (@hototchan) June 26, 2019
Kimono: has a centuries long rich history and is deeply embedded in the traditions and culture of a country.

Kim Kardashian: OMg It hAs mY nAmE iN iT!#Kimohno

— Kyla Hsia (@kylahsia) June 26, 2019