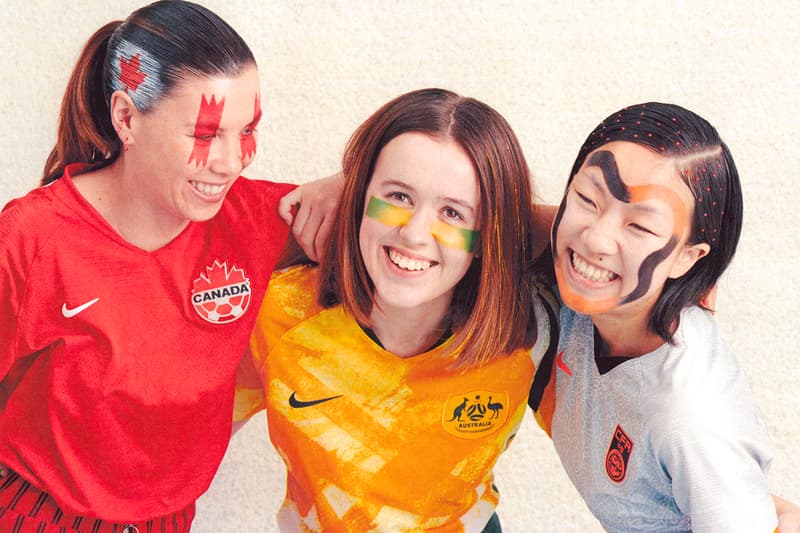 1 of 2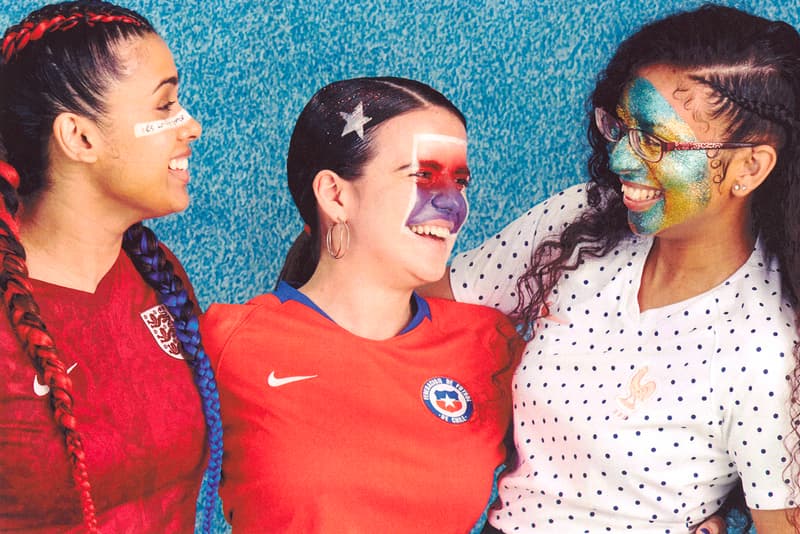 2 of 2
Fashion
The Journey of Nike's Women's World Cup Jerseys: From Production to Pitch
Nike's Cassie Looker tells us all about the historic football kits.
The Journey of Nike's Women's World Cup Jerseys: From Production to Pitch
Nike's Cassie Looker tells us all about the historic football kits.
The 2019 FIFA Women's World Cup in France is officially underway, with 24 teams from across the world battling it out on the pitch for the coveted trophy. It's already making history – the England vs. Scotland match smashed the UK TV viewing record for a women's football match, drawing in 6.1 million excited fans. It's expected many more will tune in throughout the tournament, which culminates with the final in Lyon on July 7.
Alongside exhilarating matches, unparalleled performances from superstar players like Alex Morgan, Fran Kirby and Sam Kerr the balls hitting the back of the net, all eyes will be on the striking kits patriotic players will be sporting. For the first time ever, the women's kits were designed specifically with female athletes and their needs in mind. Revealed in Paris earlier this year, the kits combined technical innovations with unique design sensibilities with each individual country firmly in mind.
Community platform This Fan Girl created a portrait series to celebrate the significance of the kits to football fans. "Each portrait features a fan wearing the jersey of their country, with makeup reflecting either their national identity or personality in whatever form we felt best," shares Emma Townley, head of editorial at This Fan Girl. "It was a collaborative process, we absolutely loved this project and the chance it gave us to show some real fans and their support for their countries."
We also caught up with Cassie Looker, Nike Women's Football Apparel Lead, to talk about just how long these already-iconic women's kits have been in production, the challenges of designing for the female form, what it's like seeing your hard work on the global stage and the fan reaction so far – read on for more.
Could you tell us a bit more about the process of the design of the WWC kits? How long have you been working on it from initial ideas through to sampling, production and final product?

We've been working on the World Cup for about three years, both from a creative standpoint and an innovation standpoint. In terms of innovation, we've been working really closely with our materials innovation team to make sure that we have the best fabric possible; with our kits, our training products and also with lifestyle. Part of that too is sustainability, because sustainability is so important for us. We're using recycled polyester yarns in the kit so it's approximately about 12 water bottles that we use per kit which are recycled. In conjunction with that, we've been really laser-focused on the fit of the jerseys and shorts for these kits.
We've been bringing in professional footballers from all across the globe here to our Nike Research Lab and have the opportunity to do 3D body scanning, which is really cool. What we found when we analyzed all the data is that a woman footballer is shaped differently than our traditional standard sizing. We were able to take that information and work with our design team to really focus on a garment that's going to perform best for our female football athletes.
A lot of that focus too is on shorts, because we know that a footballer generates so much power from their lower body. We need to make sure that we're accommodating for the power they have in their glutes, their hamstrings and their thighs – so making something that's really going to perform at its best but also look amazing as well. It's the same thing for the jersey; making sure it's not too big, not too small, making sure that the armhole and the sleeve is the perfect length so they can really have zero distractions as they take the pitch.
You spent a lot of time working with players as well as countries on what needs to be considered for these kits in terms of practicalities and aesthetics; what were some of the most challenging elements of combining all those needs?
I think that the most challenging part is the deep storytelling and all the amazing stories that we typically find when we start doing the research. The difficult part is narrowing down to what we really want to focus on and what is the essence of that federation; what is the story that we really want to bring across? There's just so much and we want to make sure that we're really sharp and bring something that's really meaningful to the players and also to the federation.
You mentioned that each kit is produced using 12 recycled bottles; how important was incorporating sustainability into the design process?
It's essential to us. It's really one of our key pillars here at Nike for those of us who work on apparel and footwear. It's part of our DNA now, it's what we do – it's really non-negotiable. I think at this point it's just figuring out ways to get better and to continue to push innovation and have that be parallel to sustainability.
The athlete kits are highly-technical garments, made for performance whereas consumer versions are more for lifestyle purposes. Aside from the technical aspects, were there many differences when it came to designing those jerseys?
I think that what we've taken into consideration is fit. We do offer that match jersey for people that that's really important to but then we also have our stadium fit, which is more driven by the fans. That's a little bit of a more democratic fit for the fans and how they want to style that. We also have men's versions as well for our male supporters. I think between the three of those, anyone can put together a look with how they want to express themselves.
There are subtle references to home countries and messaging on all of the jerseys – are there any hidden details that you love the most?

I really do like the inner pride that we're able to provide to the federations; something that inspires the athletes and also the supporters as they head into the World Cup. It's awesome that with Australia it says "Never Say Die" on the inside, I think that's so powerful and inspirational. For France, it says "Our Differences Unite Us." I think that's a powerful message right now, just in terms of who the French federation is and what they mean to the country and all of us. I also love that for the Netherlands that their crest is specific to them; it's a lioness crest that's specific to the women's team. I think that's really special too; you have to really look at the details to see that and I think it's really amazing.
A lot of the jerseys were inspired by nostalgia and the kits of the '90s, how did you combine those aesthetics with a more contemporary twist?
That part was really fun! Right now, the '90s style is very much relevant and so it was great timing and for an anniversary for USA, celebrating the '99ers bringing that to life and bringing some subtle details from Nike from the '90s with the outlined Swoosh is really cool. I think it's something that consumers really appreciate. With Australia and bringing in some of the inspiration from Hosier Lane, from the '90s-style graffiti that's there on the jersey, I think was amazing. Also, just from that perspective, to see how people style these jerseys is really cool because you can really see it's inspired by that era but in such a new, fresh way.
Do you have a personal favourite kit?
There are elements that I love from all of them. For me, I think the USA home [jersey] definitely pulls at my heartstrings, being here in '99, what that team – Mia Hamm, Brandi Chastain – meant to girls all across the U.S., that's definitely a point of pride for sure. I also worked on France specifically, that's been really fun just to see how amazing it looks on pitch but also for the away [jersey], I've seen it styled in amazing ways through Instagram and social media, it's taken on a life of its own and that's exciting and really inspiring.
Of course, the WWC is now well underway. How has the response been from players and fans since and how does it feel seeing those kits finally in action?
It's been more from fans; right now we've been trying to let the team focus on what they're doing so we haven't had as much interaction with them. I think that from a supporter perspective, it's been really amazing just in terms of how excited consumers are.
Art Direction

This Fan Girl
Photographer

Jackson Bowley
Make-Up

Athena Paginton
Hair Stylist

Keash
---
Share this article