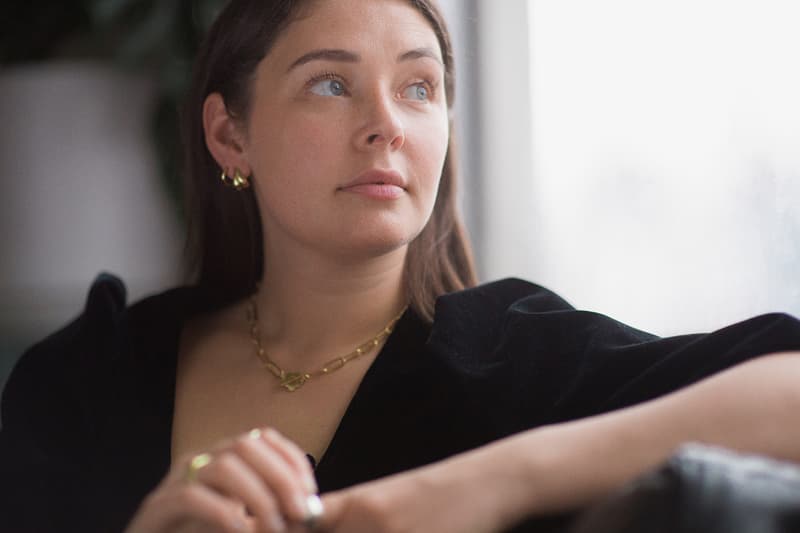 Fashion
How Wolf Circus' Fiona Morrison Built Her Jewelry Brand From the Ground Up
Alongside a team of women, she's created a jewelry line that's equal parts chic and affordable.
How Wolf Circus' Fiona Morrison Built Her Jewelry Brand From the Ground Up
Alongside a team of women, she's created a jewelry line that's equal parts chic and affordable.
Boasting easy access to the wonders of nature, Vancouver is sometimes described as the capital of athleisure as most locals gravitate towards functional wear that complement their interests in outdoor sports. While the Canadian city may be known for its activewear companies, other independent, homegrown brands have also been blossoming in recent years.
Founded by Fiona Morrison, Wolf Circus is a jewelry label that's proudly based in Vancouver, with its designs crafted by an all-women team of jewelers at the brand's tastefully decorated studio. Appealing to both minimalists and fashion enthusiasts who appreciate a whimsical aesthetic in their accessories, the affordable and chic jewelry line has garnered a loyal following of customers not only in its hometown, but also across the globe.
With the launch of Wolf Circus' new sister label Ok Fine — a collection inspired by heirloom jewelry produced sustainably using recycled 14k gold — we sat down with Morrison at her office to talk about how she built her own brand with nothing but motivation and determination, her creative process and how the concept of Ok Fine came about.
Check out our "How Did You Land That Job" series for more stories about inspiring entrepreneurs and creatives.
You became inspired to create a jewelry line when you're still attending university, a time when you noticed that there's a gap in the market for well-made, affordable jewelry. Prior to having this realization, have you always known that you wanted to make jewelry design you career? How much experience and knowledge about it did you have at the time?
Being a jewelry designer was not in my initial career plans but I was always interested in design and creating. One morning I told my mother that I was starting a jewelry line and she jokingly responded: "Please get an education first, sweetie." Everything I learned to begin Wolf Circus was from YouTube — so literally nothing, I just had plenty of motivation.
What are the upsides and challenges of starting your own brand when you're still in school?
Starting a brand while attending school wasn't the easiest task, but I was motivated and had a close group of loyal friends who were my first customers. Starting a brand requires plenty of trial and error. Exploring your brand's identity and who your customers are can be challenging without investors or any start-up capital. Since I was living at home, it provided me with the opportunity to explore the idea of building Wolf Circus without the stress of failure, which is the scariest obstacle for any new designer. Also being in business at school provided me with the confidence to take the next steps after graduating.
As the founder of the brand, what does a typical day at work look like for you?
I usually start my day by trying to accomplish Gmail's infamous line "Woohoo! You've read all your e-mails" — which never seems to happen. Then after a few cups of coffee my day really depends on the season. Sometimes we are traveling for trade shows and sometimes my day is filled with meetings with the Wolf Circus team trying to problem solve every obstacle which comes our way. Currently we are in design period working on Fall/Winter 2019, so plenty of material sourcing, playing with shapes and working on sketches. Like most small brands, the owner gets to do it all to compensate for a small team — logos and packaging, designing, payroll, fulfilling orders. My role changes daily and like a genie, I get to figure everything out with the help of my team.
What would you attribute Wolf Circus' success to in its early days?
My motivation and ability to connect with our customers have been a large part of Wolf Circus's success in our early stages. As a designer, rejection is inevitable along with plenty of obstacles whether that be cash flows, production issues and last-minute deadlines. Additionally, it is incredibly important for brands to develop a strong connection with their customers while still trying to figure everything out. Lastly, it's a lot of work — so being a workaholic and spending late nights at the studio have really paid off.
The market has changed a lot since you first launched Wolf Circus. How has the brand continued to evolve over the years? And how does it differentiate itself from other budget-friendly jewelry labels?
The collection has completely evolved over the past few years — what initially started as wire wrapped crystals and pieces incorporating vintage findings which were made in my basement have formed into collections made by a team of highly trained jewelers. As we have continued to grow, our ethos to why we make jewelry has continued to stay the same — aiming to inspire others to embrace their confidence during their daily hustle. Wolf Circus has evolved by using recycled metals and creating more refined collections. I believe our brand's demi-fine quality and personalized pieces set us apart from other budget-friendly lines. Our customers love how our pieces resonate with them in a unique way, whether it be a woman's silhouette on a signet ring or a pendant inspired by their favorite artist.
How do you and your team go about designing your collections every season? What is your creative process like?
Designing each collection usually starts with plenty of mood boards and sourcing new materials like glass beads and some fun pearls for FW19. Most of our inspiration is drawn from my grandma's old jewelry, street style, friends, confident women, painters, sculptors, architects and mid-century modern chairs. Lately I have been really inspired by artists such as Matisse, Miró and Jean Arp along with oversized flowers from the '80s. I also work with a design consultant and a close friend of mine Rachel Saunders, she has a flawless eye for design and helps all our ideas come to form.
In what ways does having your company based in Vancouver help its growth?
Starting a fashion brand in Vancouver doesn't have the same perks and appeal to those in New York or LA. However, I have always really loved Vancouver for its accessibility to the outdoors and the fun activities that come with it. There is an appreciation in Vancouver to slow down and not get consumed in the same bubbles that other major fashion cities can create. We have also been able to develop an incredibly loyal following here in Vancouver and our customers appreciate seeing local brands grow on a global scale.
What is the most inspiring thing about working alongside an all-women team?
My team has been incredibly amazing, and they are the reason we have been able to keep up with our brand's fast growth in such a short period of time. The girls on the Wolf Circus team are incredibly supportive of each other and our office has a family-like environment. It has been an amazing experience to watch everyone on the team evolve into their roles as the brand grows and continually be willing to help each other out when one department becomes overwhelmed.
You've recently launched your second brand, Ok Fine. What sparked the idea and how is it a natural progression from Wolf Circus?
As a brand I believe it's important to grow with our customer as they begin investing in quality pieces and recognize the importance of slow fashion and sustainability. With the incredible growth we have seen with Wolf Circus over the last few seasons, it seemed like the perfect time to launch our second brand. I also had a few designs in mind that I have been dying to make and including them in this collection seemed like the perfect fit.
---
Share this article