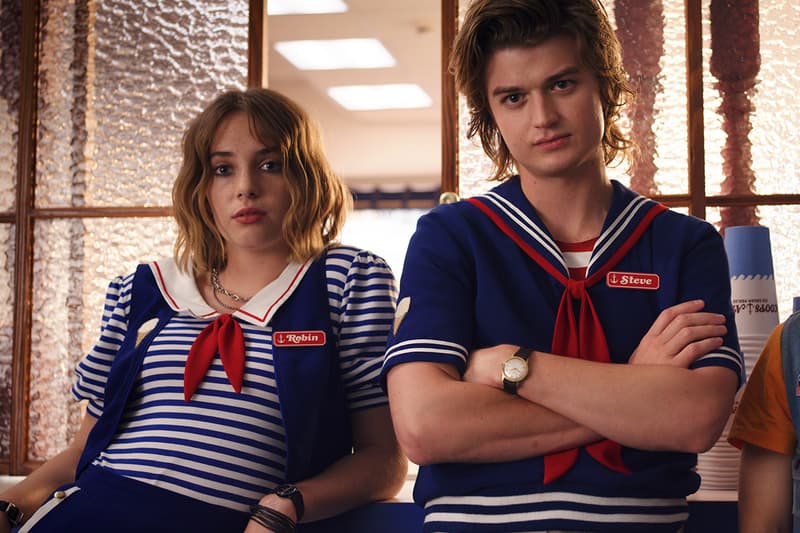 Film & TV
The 'Stranger Things' Scoops Ahoy Pop-Ups Have Opened in a City Near You
Call the Erica in your group chat.
The 'Stranger Things' Scoops Ahoy Pop-Ups Have Opened in a City Near You
Call the Erica in your group chat.
Stranger Things Season 3 takes us to a brand new hotspot in Hawkins, Indiana called the Starcourt Mall, where the characters frequent for movies, shopping and getting ice cream at Scoops Ahoy. For those who've already binged on the entire series, you'll know that the nautical-themed dessert shop is where Erica (Lucas' sister) demands for "free ice cream. for. life." in one of the most comedic scenes this season. And to fans' delight, you too can now visit the store in real life.
To celebrate the release of Stranger Things Season 3, Netflix has opened a few Scoops Ahoy pop-ups in various cities. In North America, the streaming giant has teamed up with Baskin-Robbins to open two temporary Scoops Ahoy stores, located in Burbank, CA and in Toronto, Canada respectively. For a limited-time only, both locations are decked out with '80s motifs inspired by the show, with employees donning sailor-like uniforms just like Steve and Robin's.
In addition to the two pop-ups, all Baskin-Robbins stores will be serving a menu of Stranger Things-inspired ice cream flavors and desserts throughout July. These include the U.S.S. Butterscotch (made up of butterscotch ice cream, butterscotch pieces and a toffee flavored ribbon), the Elevenade Freeze frozen beverage (vanilla ice cream and Minute-Maid Lemonade) and more. Head to Baskin-Robbins' website for more information and find the pop-up addresses below.
Scoops Ahoy Burbank, CA Pop-Up (Opened until July 16)
1201 S Victory Blvd,
Burbank, CA 91502
Scoops Ahoy Toronto Pop-Up (Opened until July 18)
Woodbine Centre and Fantasy Fair,
500 Rexdale Blvd,
Etobicoke, ON M9W 6K5
For those who reside in the U.K., expect to find a 1985-themed Scoops Ahoy van in a city near you. The ice cream truck will be touring until July 17, making stops at cities such as Leeds, Exeter London, Cambridge and Dublin. Its menu includes classic treats like Coke Float, Cherries Jubilee and Banana Boat, according to Metro.
In addition to stopping at city centers, the van will also visit a number of locations with "Hawkins" in its name. In particular, fans will be treated to free ice cream at the Hawkins locations. See the planned route below:
July 3 – Hawkins Terrace, Penicuik
July 4 – Glasgow City Centre, Donald Dewar Statue and Dumfries City Centre, Queensberry Square
July 5 – Hawkins Drive, Leeds
July 6 – Hawkins Place, Bilston, and Hawkins Crescent, Newport
July 7 – Barry Island Pleasure Park
July 8 – Hawkins Close, Plymouth and Hawkins Road, Exeter
July 9 – Hawkins Close, Bognor Regis
July 10 – New Road, Brighton and Hawkins Way, Hailsham
July 11 – Truman Brewery London
July 12 – London
July 13 – Dreamland, Margate
July 14 – Hawkins Road, Cambridge
July 15 – Hawkins Close, Manchester and Hawkins Street, Liverpool
July 17 – Dublin
While you're at it, take a look at the best Stranger Things collaborations you can shop right now.
---
Share this article