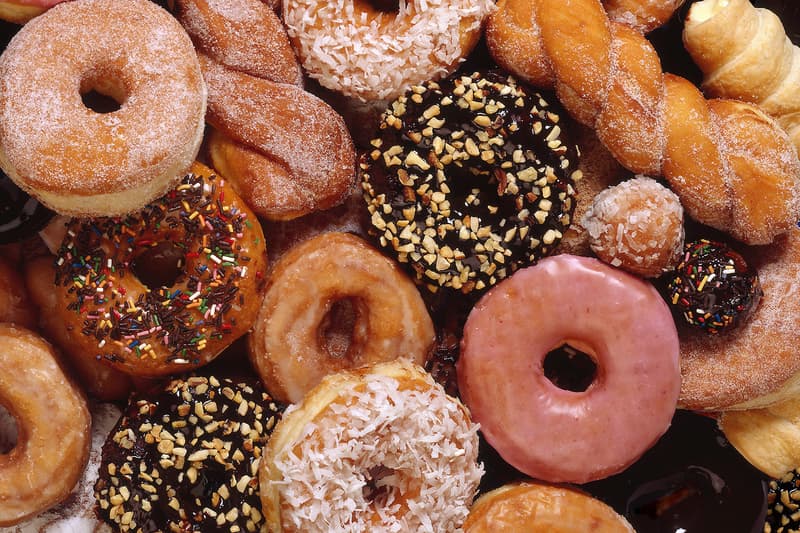 These Are the 10 Best Donuts You Need to Try in NYC
Both delicious and Instagram-friendly.
Donuts are without a doubt one of our favorite guilty pleasures, from big franchises like Krispy Kreme which recently introduced Reese's peanut butter-filled versions, to independent shops across the world with some of the most Instagram-friendly aesthetics. If you've been craving the sweet treat, here's a list of donut spots you need to visit in New York.
From classic old-school style donuts and crullers, to over-the-top and unconventional flavors like "bone marrow chocolate," the city is filled with options for all those with a sweet tooth out there. Some locations also offer other pastries, as well as coffee and tea to complement your treat. They're located all over the city from Manhattan to Brooklyn and Queens, so make sure to save this list for your sudden cravings.
Scroll down below to take a full look. While you're here, check out the best bubble tea spots in the city.
Multiple locations at Grand Central Terminal, Lower East Side, Hotel Chelsea, Brooklyn and Queens.
First opened in the basement of a tenement building in Lower East Side in the 1990s, Doughnut Plant is now one of the most famous donut shops in the city, with outposts in three boroughs: Manhattan, Brooklyn and Queens. It's well known for its chewy yeast donuts filled with house-made jam and cream fillings, as well as little 'doughseeds,' which are miniature filled donuts. Also available in vegan options, pair these desserts with some flat white or cold brew coffee for perfection.
Multiple locations at Flatiron, Times Square and Brooklyn.
Founded by the owners of Choice Market in Brooklyn and first opened in Bed-Stuy, Dough is known for its unconventional flavors like hibiscus, toasted coconut, passionfruit, and salted chocolate caramel, as well as its large sizes. Apart from its stores, the cult-favorite donuts are also available at numerous coffee shops and food halls in the city; if you want to try them in their freshest state, make sure to visit the Bed-Stuy and Flatiron locations.
638 W 47th St.
NYC, NY 10036
(inside The Westside Highway Carwash)
Hidden inside a carwash on 12th Ave, Underwest first started gaining attention for its halva donut, made from the Middle Eastern tahini snack. Selections range from old-school sugared donuts in flavors like espresso bean, to fried cake donuts. Although hard to find at first, Underwest is definitely a must-try if you're looking for donut places in the Hell's Kitchen area.
Two locations at Central Park and West Village
If you're not much of a sweet tooth, the Doughnut Project might be your next favorite spot. Flavors include savory selections like the Bronx, which is a combination of olive oil and black pepper. This spot also creates other unconventional donuts like bacon maple, peanut butter and jelly and bone marrow chocolate.
Two locations at Lower East Side and East Williamsburg
You'll be surprised to know the donuts from Dun-Well are actually vegan. With more than 200 flavors like green tea and ginger, apple pie and more, the stores boast a vintage vibe, with donuts served on wooden slabs and employees wearing plaid and bow ties.
Two locations at West Village and Astor Place
This 24-hour donut shop has been running since 1964. Being a location with a long history, some of the most popular flavors at the Donut Pub are the simple, classic ones like the honey-dipped. The shop is also known for its coconut, red velvet and blueberry donuts which aren't overly sweet.
120 Rivington Street
New York, NY, 10002
Unlike the Donut Pub, Supermoon Bakehouse is known more for its over-the-top creations. With an Instagram-friendly interior, the store experiments with a wide variety of flavors, one of the recent ones being the mint chocolate chip flavor. You can also try other menus like their black sesame soft serve, matcha and blueberry croissant and cannoli cruffins.
107 N 12th St
Brooklyn, NY 11249 
Opened by chef Wylie Dufresne, Du's Donuts is all about flavor combinations you didn't know could exist. Brown butter is mixed with key lime, while oatmeal is paired with chai. The shop also offers classic selections like cinnamon apple and cherry pie.
103 E 19th St
New York, NY 10003
One of the many locations owned by NYC restauranteur Danny Meyer, Daily Provisions' crullers are usually sold out by mid-morning. With irresistible options like cinnamon sugar, they are made from French pâte à choux, which is a lighter and eggier dough. Make sure to be there by 10 a.m. to treat yourself to these old-fashioned crullers.
727 Manhattan Ave
Brooklyn, NY 11222
Located in Greenpoint, Brooklyn, Peter Pan Donut opens at 4:30 a.m. on weekdays for some of the freshest crullers and donuts in the city. Priced only around a dollar each, the donuts and store are simple in design but will never disappoint. Make sure to try their signature red velvet crumb.
---
Share this article