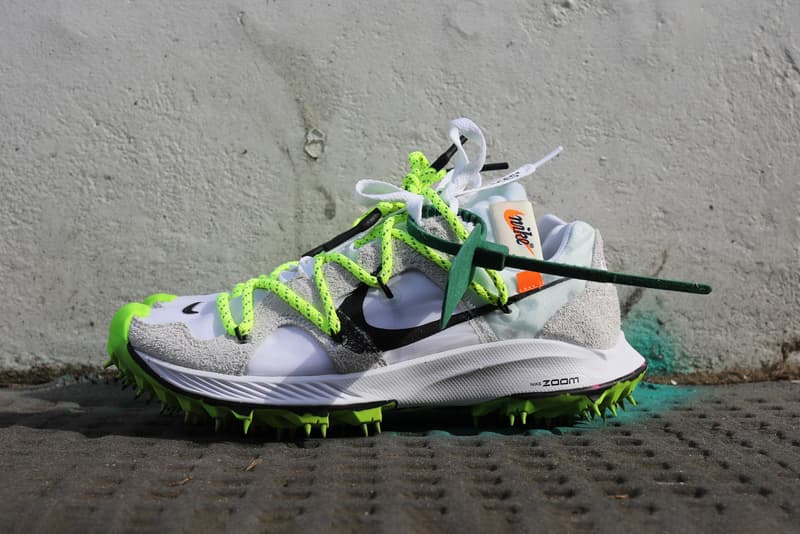 Footwear
#hypebaekicks Review: Off-White™ x Nike Zoom Terra Kiger 5
Our editor's thoughts on this hyped sneaker.
#hypebaekicks Review: Off-White™ x Nike Zoom Terra Kiger 5
Our editor's thoughts on this hyped sneaker.
I am not a sneaker girl, and I don't think I've ever really been. I've always preferred a pair of good boots over a pair of comfortable trainers, but I've never stopped appreciating the stylish and ever-growing trend of sneakers. During the past year I've incorporated a few silhouettes into my weekly rotation, including my 10-year-old Nike Air Force 1's and my latest Air Jordan 1 "Unité Totale," and needless to say they've become invaluable.
When Virgil Abloh revealed another collaboration with Nike earlier this year, I was positively surprised. This time around the release was marketed towards women, and sizes started at a much more inclusive range, going as small as a US 5. I've spent the past couple of years continuously complaining that sportswear brands are only creating hyped sneakers for men (see this piece,) and I think this has contributed to my boots-only mentality. So when Abloh revealed this iteration, I thought, "Finally."
Arriving in three colorways, the track-and-field inspired Zoom Terra Kiger 5 features double lacing as well as Off-White™'s signature zip-tie detailing and branding at the lateral, combining streetwear and sportswear perfectly. When I first got my hands on the sneaker I wasn't sure. Would it really change my mind about wearing sneakers? It may be too early to tell, but read my thoughts on the coveted creps below.
1 of 2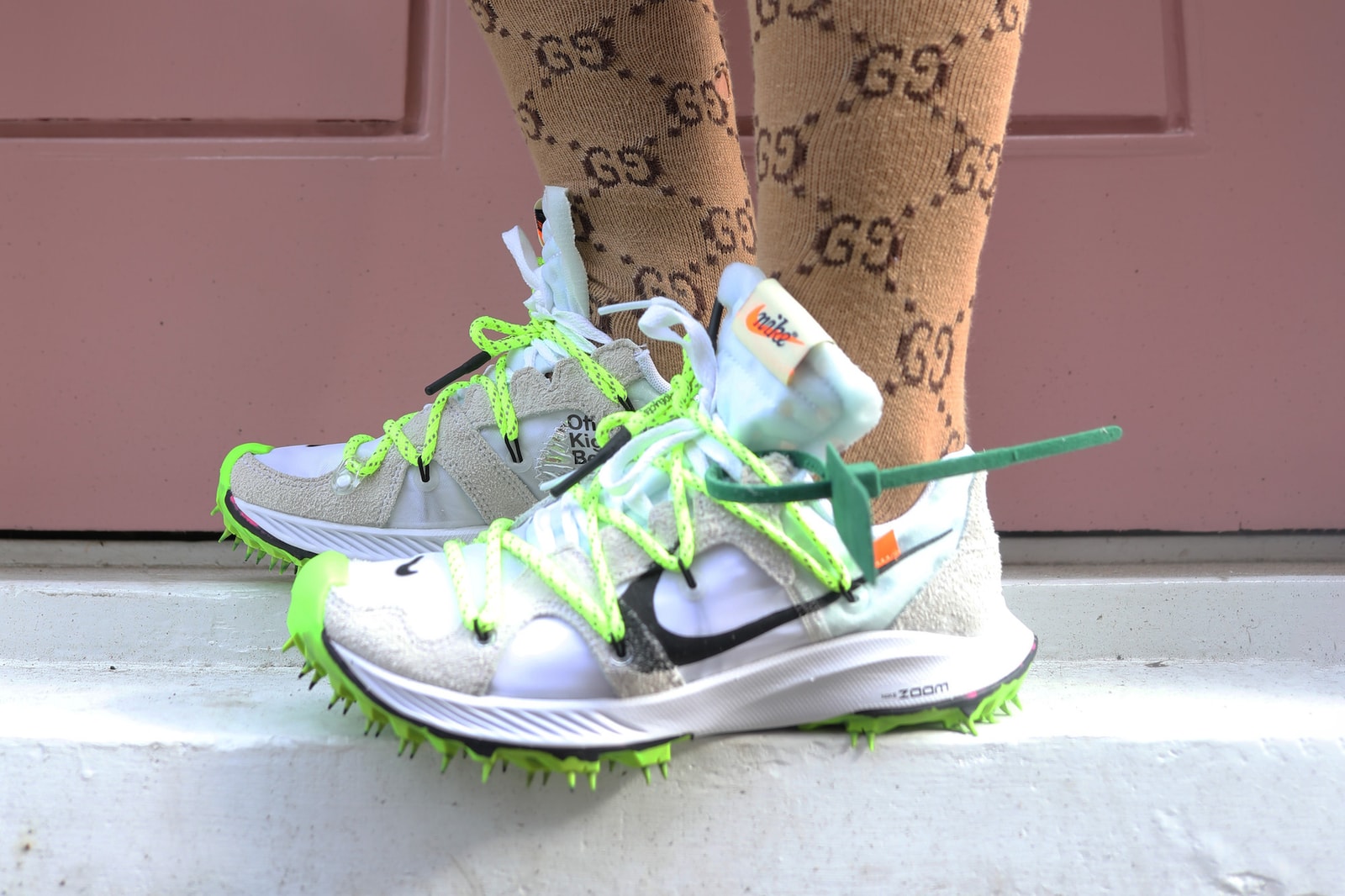 2 of 2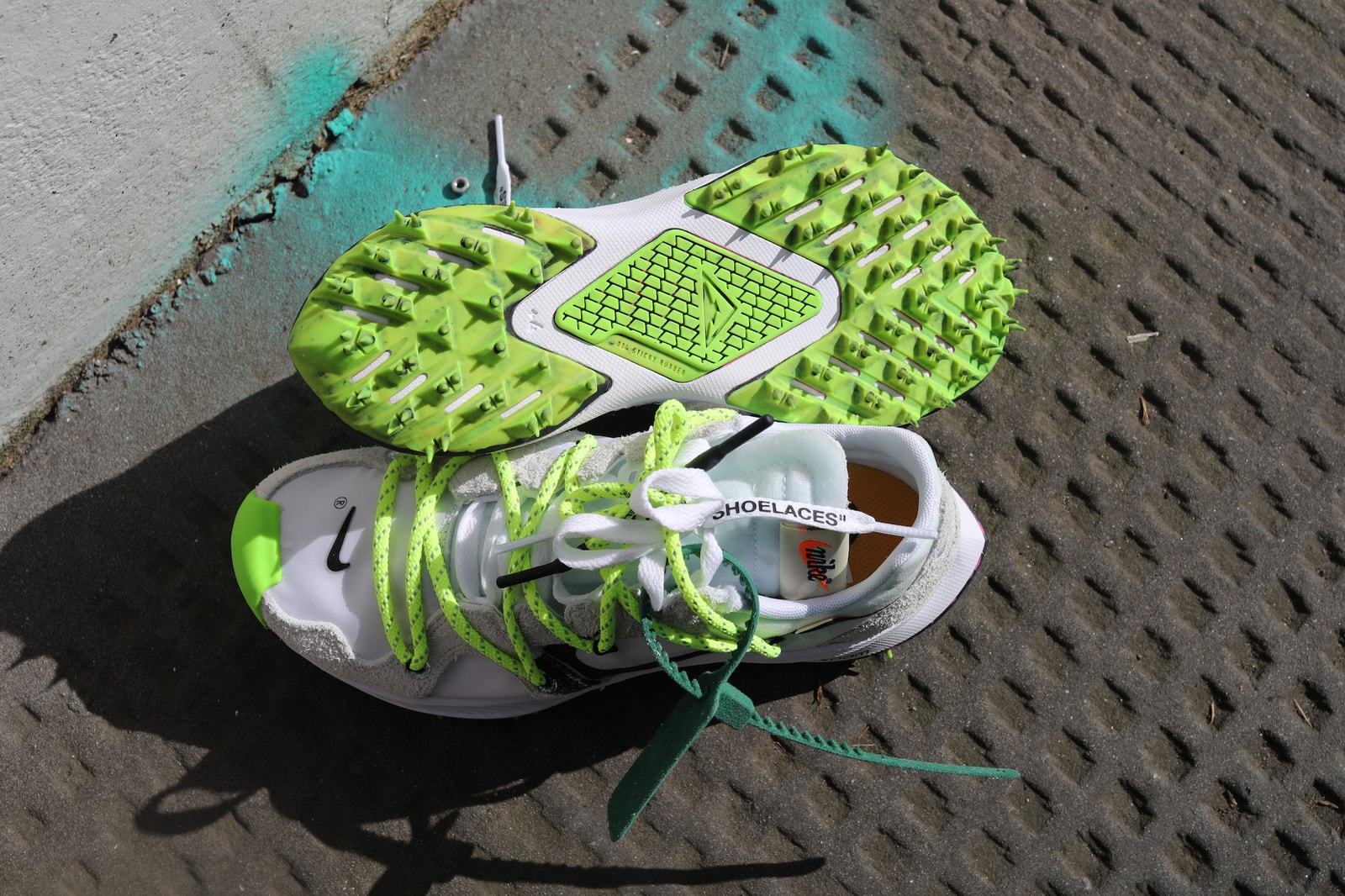 THE SHOE: Off-White™ x Nike Zoom Terra Kiger 5 "White/Metallic Silver"
OUR REVIEW: Having always been a sceptic when it comes to hyped footwear, this shoe might just have changed the game for me. The light design and slim silhouette is unlike anything I've previously owned, and because of its design the shoe is ideal for my daily walk to work and my everyday commutes. I was hesitant because of the spiked sole, but when wearing the shoes you almost feel like you're hoovering above ground. It feels incredibly ergonomic, and even if it is placebo, I feel like these trainers will do wonders for my worn-out feet.
Virgil Abloh has designed a handful of collaborations with Nike now, but this one is probably my favorite. Released as a women's shoe, the Terra Kiger 5 not only proves that women and girls are also into sneakers, but it is finally catering to the wider audience and that is something we've been waiting for for way too long. Although I don't dress in streetwear on the daily, I'll wear this shoe with pride and joy, and I hope that it is the first of many releases that we will get.
VERDICT: COP – if you're looking for a statement piece that combines comfort and style, it's the shoe for you.
BUY: You can get your hands on the Off-White™ x Nike Zoom Terra Kiger 5 over at StockX, where prices vary.
---
Share this article