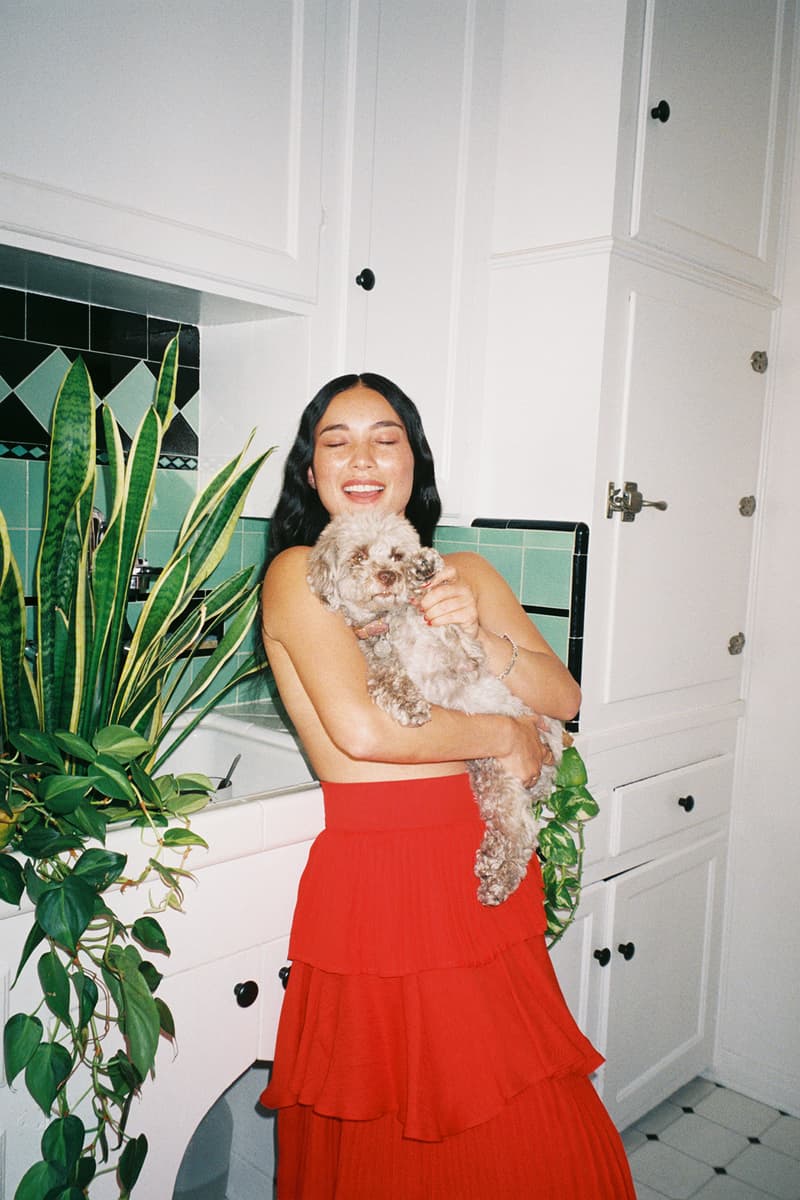 1 of 2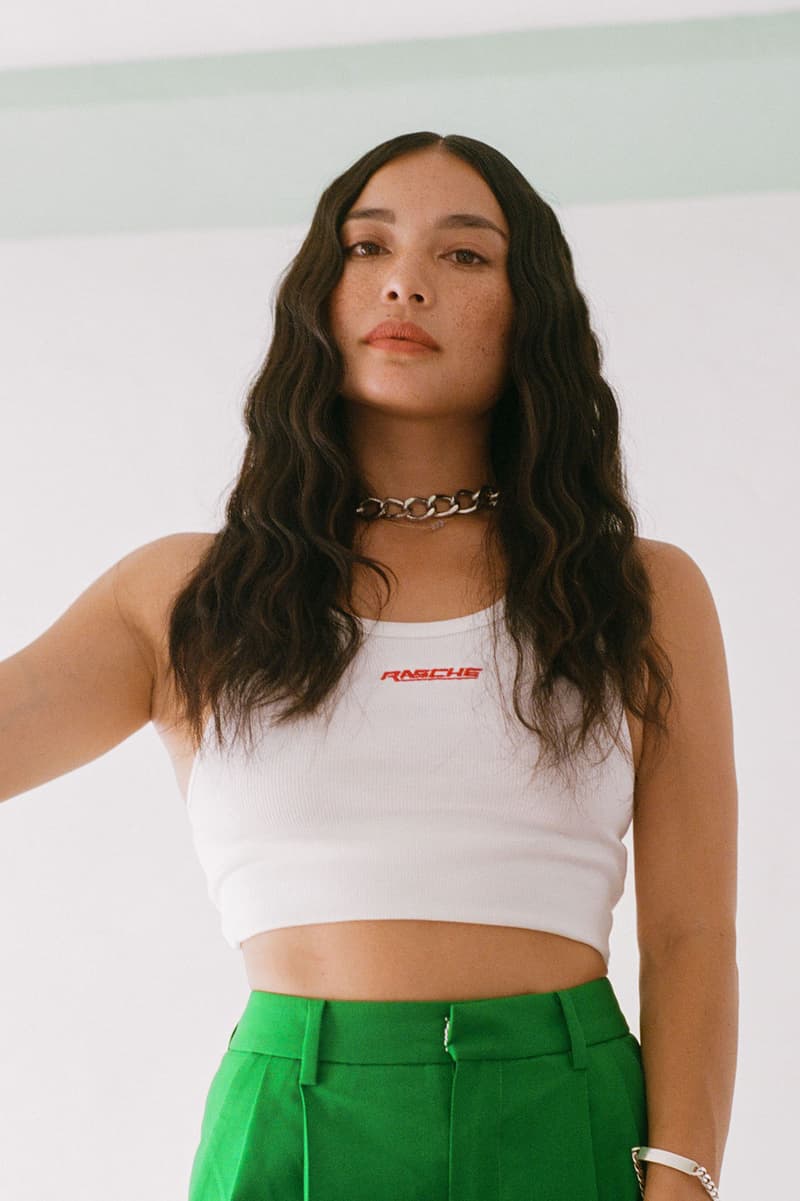 2 of 2
Beauty
SOSUPERSAM Talks About Skincare, Fitness and Her No-Fuss Makeup Routine
The DJ and singer shows us what's inside her beauty cabinet.
SOSUPERSAM Talks About Skincare, Fitness and Her No-Fuss Makeup Routine
The DJ and singer shows us what's inside her beauty cabinet.
When it comes to beauty, SOSUPERSAM is very much a minimalist. Rather than accumulating a stash of products and following a rigorous, 10-step skincare routine, the DJ and singer sticks to tried-and-tested holy grails, while keeping her everyday makeup fairly simple.
At her Los Angeles home, Sam has recently given us a breakdown of her beauty essentials. Scroll down to see some of the products she swears by, and read our interview below where she discusses her relationship with health and fitness, as well as her latest single "Extra Credit."
SOSUPERSAM's Beauty Essentials
Skincare
Tatcha Pure One Step Camellia Oil Cleanser: The perfect, most luxurious makeup remover. All of my eye makeup melts right off without excessive rubbing.
Indie Lee Brightening Cleanser: I've been using this cleanser lately. It has a light and intoxicatingly fresh scent. Once a week, I'll use it with my Clarisonic face brush for a deeper clean.
Indie Lee CoQ-10 Toner: Toner has changed my life, and this Indie Lee one is great too. I've been loving a lot of Indie Lee products. I love that this is a clean, organic brand.
Tatcha Violet-C Brightening Serum: After toning, I'll dab this serum on. Then I'll finish my skincare routine with Tatcha's Dewy Skin Cream and eye cream.
Makeup
Heritage Store Rosewater Spray: I start my makeup routine with a heavy spritz of rosewater to hydrate my skin.
Tatcha Silken Pore Perfecting Sunscreen Broad Spectrum SPF 35 PA+++: I never leave home without sunscreen. Tatcha makes the best one that is thick but not greasy, and it has a neutral scent.
Tatcha The Silk Canvas Protective Primer: I don't use foundation or concealer or anything, but I do use this Tatcha primer to even out my skin texture and minimize my pores.
Sunnies Face Fluffmatte Lipstick "Vacay": I'm fairly new to lipstick, and Sunnies' shades have made it fun for me to incorporate into my every day look. I love how velvety the texture is.
Haircare
OGX Nourishing + Coconut Milk Shampoo: I like this brand for a good wash. It's not fussy and easy to find in any drugstore.
Davines MOMO Moisturizing Conditioner: A glop of this goes a long way. My hair gets really dry but this conditioner seems to keep my mop hydrated and it smells lovely too.
L'Oréal LISS UNLIMITED: After washing my hair, I'll throw in this leave-in conditioner which helps smooth out the frizz as my hair air-dries.
OUAI Matte Pomade: A absolute must for me. The best product to keep my slicked part slick, my baby hairs tucked, and my flyaways securely fastened to my head. The matte finish makes it look effortless.
How did you get into fitness? And how do you see the connection between health and beauty?
I've always been into regular exercise. But when I started touring internationally, I found myself neck deep in a lifestyle that involves erratic eating, late nights drinking and irregular sleep. I found myself extremely fatigued, unhappy and feeling very unhealthy, and decided I wanted to be more mindful and serious about how I was taking care of myself in spite of my career.
I got a personal trainer, Amelia DiDomenico, to help me get on track and find creative strategies to staying in shape and eating right especially when I'm on the road. It's changed my life immensely. A good understanding of fitness and eating right has my immune system resilient, my skin better, and overall I just feel strong and empowered as heck.
What would you say makes a woman beautiful?
A beautiful woman is honest, self-accepting, smart and kind. She is generous about those qualities, which makes everyone around her better for it.
As a DJ, how do you try to maintain healthy skin while playing late-night gigs on a weekly basis and traveling almost monthly?
I don't wear much makeup in general, and definitely refrain from makeup during long flights. I don't drink much alcohol on the job, I'm always chugging water and I think that helps tremendously. No matter how sleepy I am at the end of the night, I follow my nightly skincare routine.
What's your go-to, no-fuss makeup look?
Fill in my brows, a smudgy eyeliner pencil around the eye, a couple swipes of mascara, and a little contour on the cheek, lip gloss to finish. Takes about four minutes!
Do you wear perfumes? What's your signature scent?
Diptyque's L'Ombre dans L'Eau Eau de Toilette.
Do you have any favorite bath and shower products that you like to use in your famous, purple-walled bathroom?
Once or twice a week, I'd take a long bubble bath. It's my favorite way to treat myself and decompress. I use Dr Teal's lavender epsom salts.
Tell us about your new song. What's the inspiration behind it?
My new song is called "Extra Credit" and it's a fun, summery bop about a girl who is confident in her own skin and can hold her own.
Can we expect a new EP from you soon?
I'm writing lots these days but I'm just enjoying the process and seeing what comes of it. So maybe next year.
Share this article