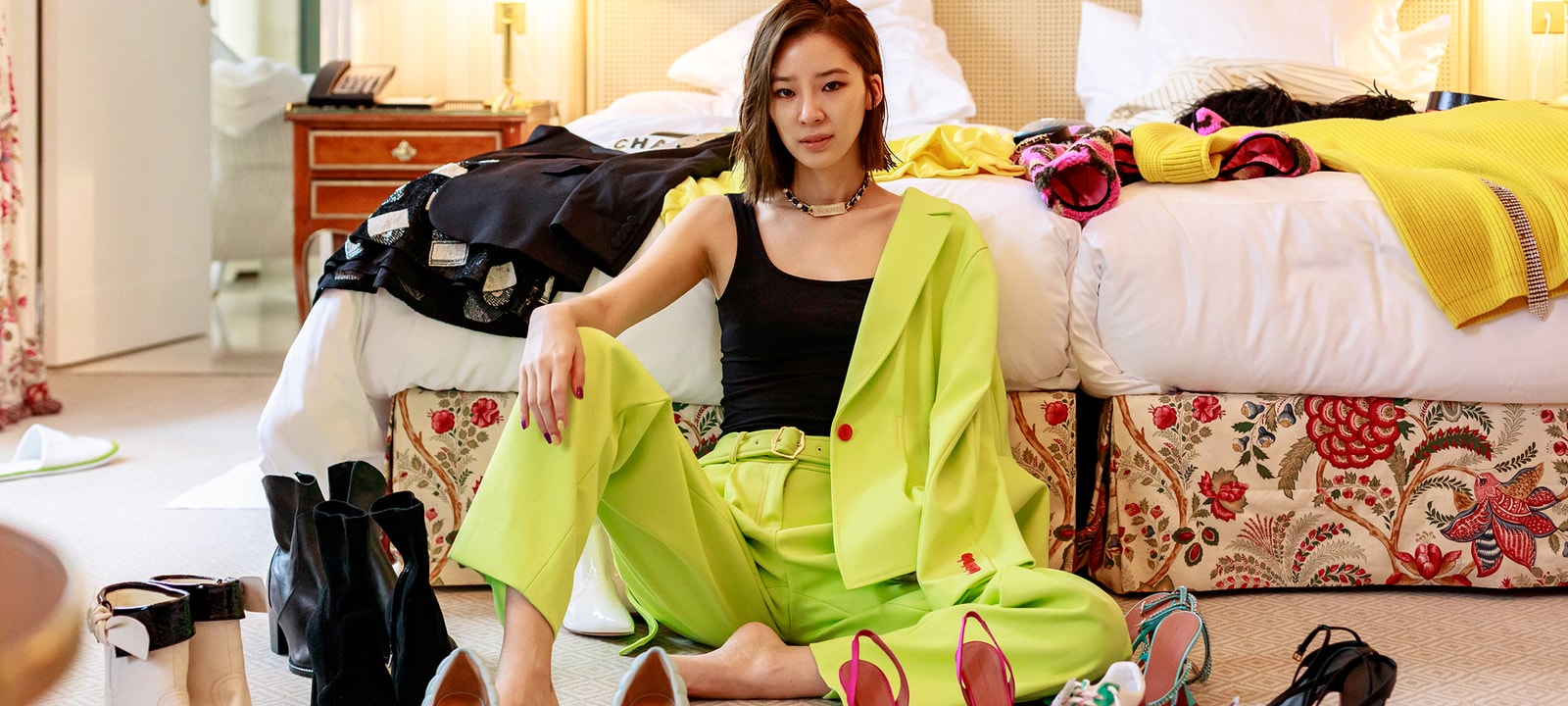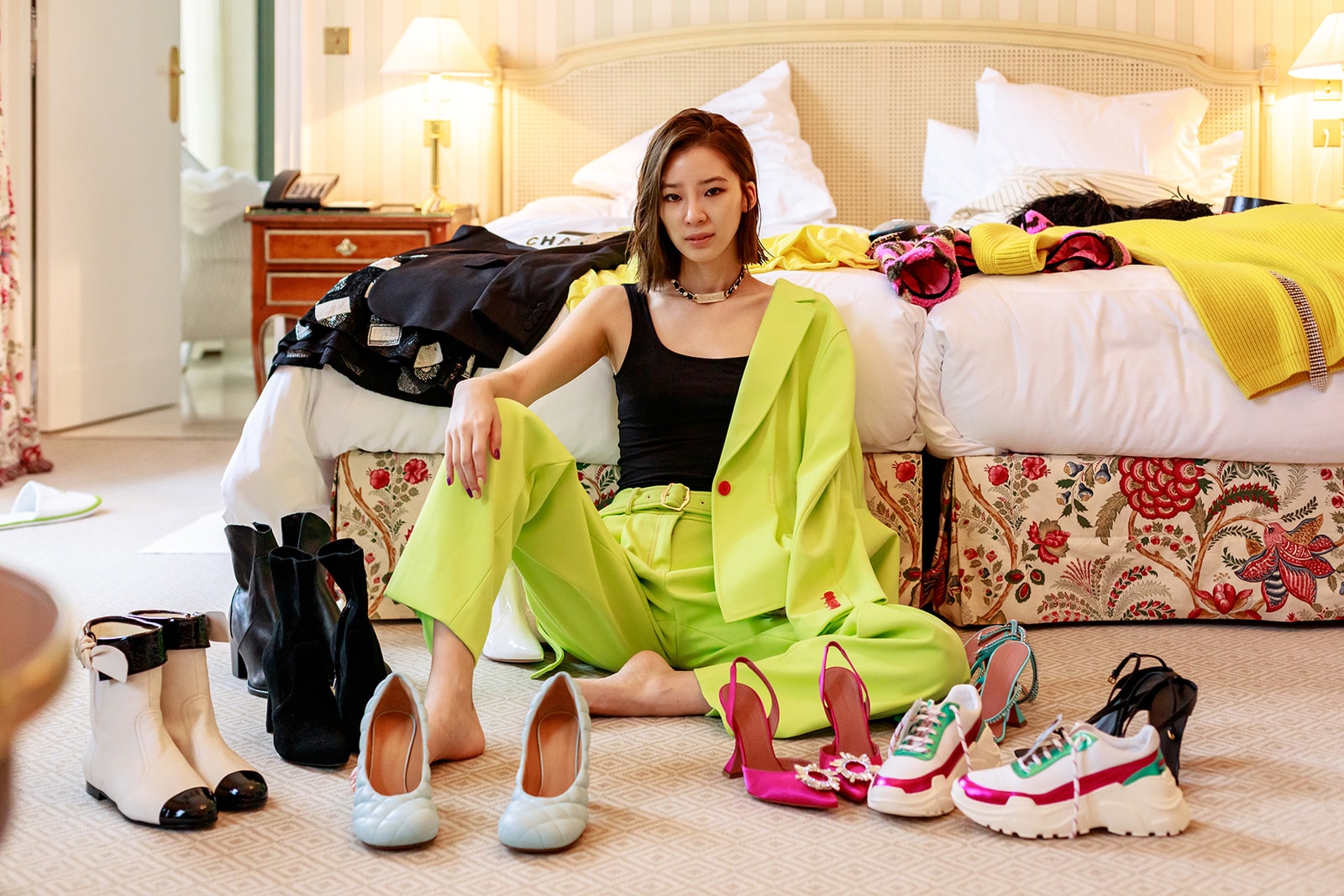 Irene Kim Shows Us What She Packs for Paris Fashion Week
We sat down with the street style star ahead of IRENEISGOOD LABEL's SS20 presentation.
A staple at fashion week front rows and parties, Irene Kim is back in Paris this season with heavy suitcases of not only her envy-inducing selection of street style-ready clothes and footwear, but also her very own designs from IRENEISGOOD LABEL. Launched just last summer, the eponymous brand of the Korean style maven is quickly growing, with its first full collection debuting at its Spring/Summer 2020 showroom in the French capital.
The collection is very much inspired by Irene's eclectic and whimsically chic personal style, with sneakers covered in playful patterns and vibrant-hued denim coming in almost every shade of the rainbow. As the Creative Director put it, the brand is all about spreading "good vibes and fun through clothes."
Despite suffering from a wrist injury, Irene remains to be the real-life unicorn she is, as she excitedly spoke to us about her new range of "goodies" while also showing us the essentials she's packed for Paris Fashion Week. Read on for our full conversation, and while you're here, check out her travel skincare routine.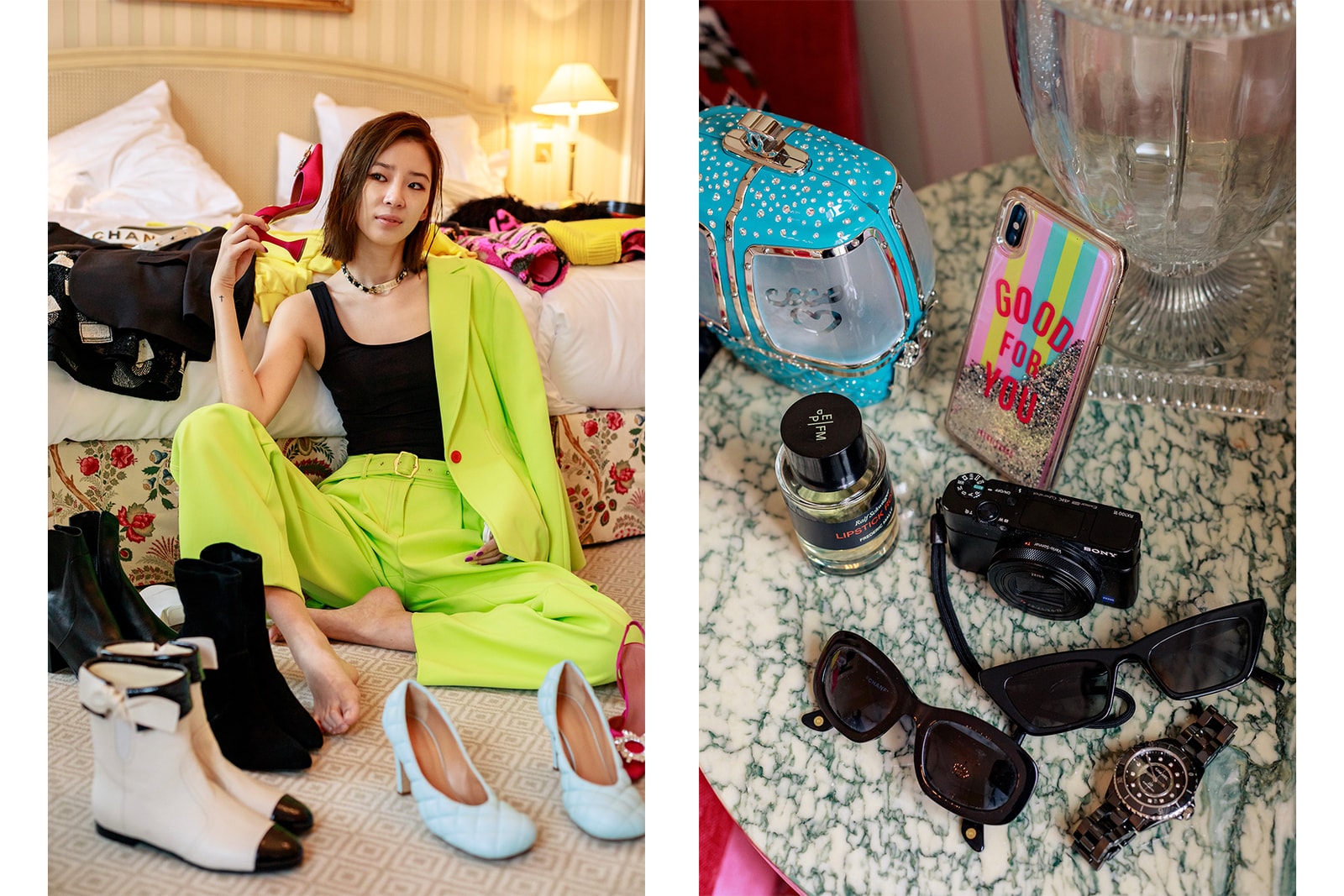 How does it feel to be back in Paris this season to present your first full collection?
I'm terrified, [but also] very, very excited. [I feel] nervous, but also very proud to be back full circle to present another outlet of my creativity. I've been working really hard — my team and I have been working on this new collection for the past year or so, and I'm very excited to show another side of IRENEISGOOD.
The theme of your showroom is "Irene's Closet." Looking back at the beginnings of your career, how has your personal style evolved?
I've always thought that style is an expression or an extension of my personality or how I feel that day, or what kind of character I want to be. It's something that I've always used to express myself, whether it was through my clothes, my hair, my makeup or my content. I've definitely been through so many stages. I went through a tomboy stage — I still think I have the tomboy in me. I love to mix and match. I love to just play, style is about having fun and not taking it too seriously. It's really just expressing who you are through an outfit.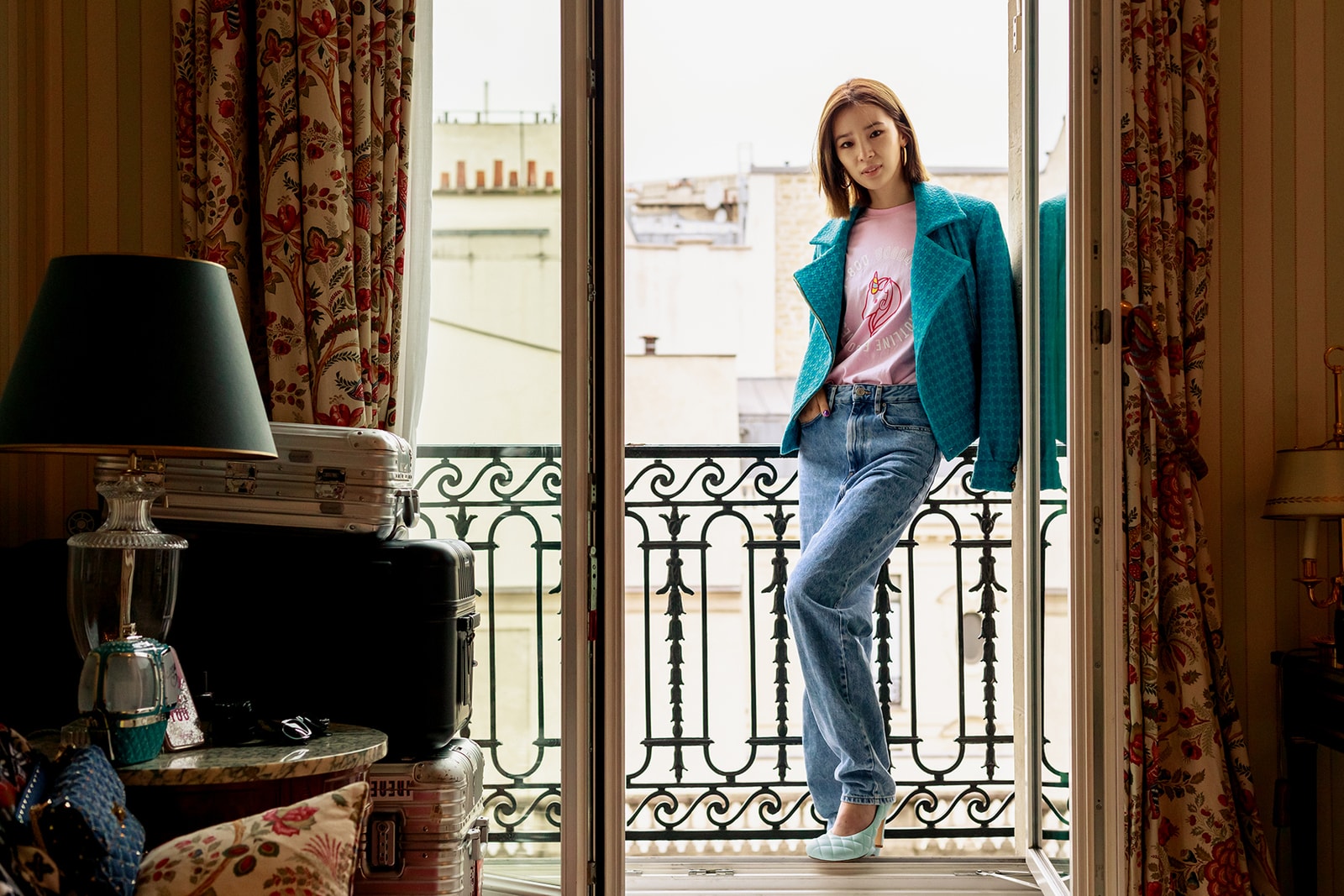 Do you think living in Seoul has shaped your taste in fashion?
I think everywhere I've traveled to has shaped my taste in fashion. It has definitely given me a chance to express myself a little bit more uniquely being here. I've always loved fashion, so I was never afraid to experiment with my style, or be afraid of color, or be afraid of what other people would think of me. Right now, I'm at a stage where I've matured a little bit. Sometimes I'd look back at my outfits, and I'm like, "oh my gosh, why was I wearing that?" I was wearing so many different patterns and colors, and then my hair was rainbow.
Every city I'm in, I'm influenced by their style. People in Seoul, [including] the women and the young millennials there are very stylish. They know exactly what they want. I get especially inspired by my friends around me who are in the industry, like those in K-pop.
In what ways does the new collection reflect the quintessential style of Irene Kim?
It represents elements of my sense of style, which is playful, fun and colorful. Some elements are inspired by my childhood, and the experiences that I've had working as an influencer and as a model, styling myself. [The collection] represents my essentials with a twist, because everything is colorful — we don't have any black in the collection, except for a couple of accessories and the Good For You neon hoodies. Everything is literally rainbow, and we have every color except black and gray.
The collection is fun, and they're pieces that I'd wear off-duty, when I'm traveling or to an event. They're very diverse pieces that people can mix and match with. You won't see timeless, classic pieces, which I love — I respect brands and designers who are very minimal, and who can create essential closet pieces, but these are more fun pieces that you can wear with other pieces to make yourself stand out a little bit with color.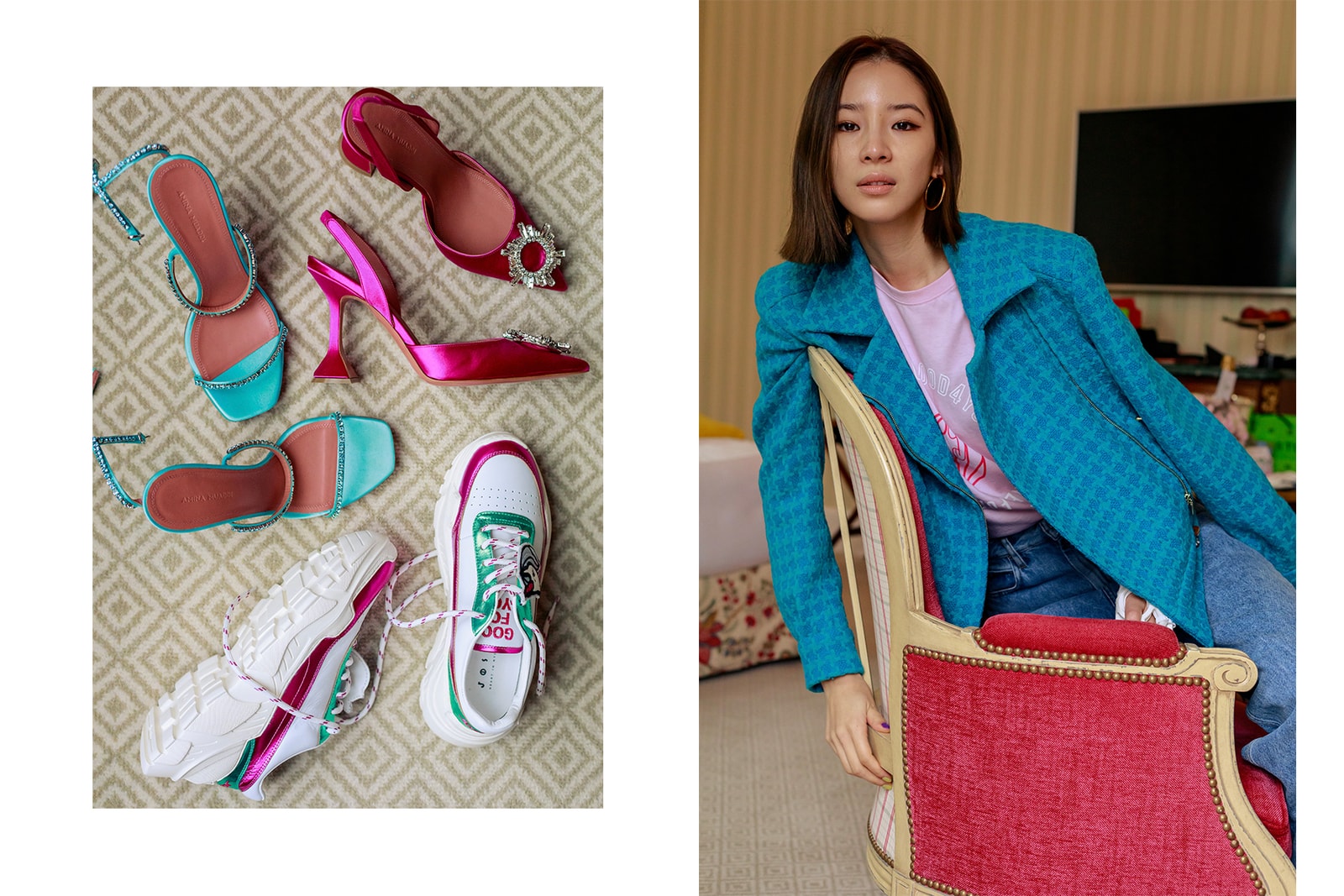 What are some of your favorite items from the range and how would you style them?
I will say we have some amazing colored denim pieces. Denim is essential for my closet. I love denim, I'm always buying denim in different shades and shapes. I'm really into '90s, oversized jeans right now, and I literally bought every style of '90s mom jeans from every brand. But again, we do not have [typical] denim color. It's colored denims. We have a really fun orange, lavender, a pink. One of my favorites is this denim jacket in white, but it is embellished with rainbow crystals, and so are the jeans.
I'm very excited about the shoes. I did the sneakers with Joshua [Sanders], but it's my first time doing something like this. The shoes are really fun, and they are classic shapes. We did a nice high-top sneaker, a low-top sneaker, and they're really cool. We played around with some prints that I was inspired by, that we created. We have a really cool, colorful leopard print, and I really love the cloud print one. We have those elements also on the clothing, like the shirts and boxer shorts. I really love the tracksuit, of course.
I can't pick a favorite, but I'll have to say these are all pieces you'll be able to style with what you have in your wardrobe. I think we have a really wide range of very casual pieces, but also a few fun pieces that can add a little flair to your look.
Speaking of your closet, can you talk us through some key essentials that you've packed for your trip to Paris Fashion Week?
This time, I tried to pack light (laughs). I kept my shoes under 10 pairs — I usually take 15 to 20 pairs. I know, it's crazy. [I also brought] lots of jewelry. I have this really amazing suit set from Sies Marjan, which is one of my favorite designer brands. It's in neon green and I'm really excited to wear it.
Lots of Chanel. I love Chanel, of course. I'm working as their ambassador, so I have some fun Chanel pieces. What else? I have these amazing Valentino polka dot, vintage jacket that I'm very excited about. I love vintage, I think I'll always love vintage. I don't wear it as much as I used to. I just haven't really had time to go vintage-hunting, but I hope to do that while I'm here.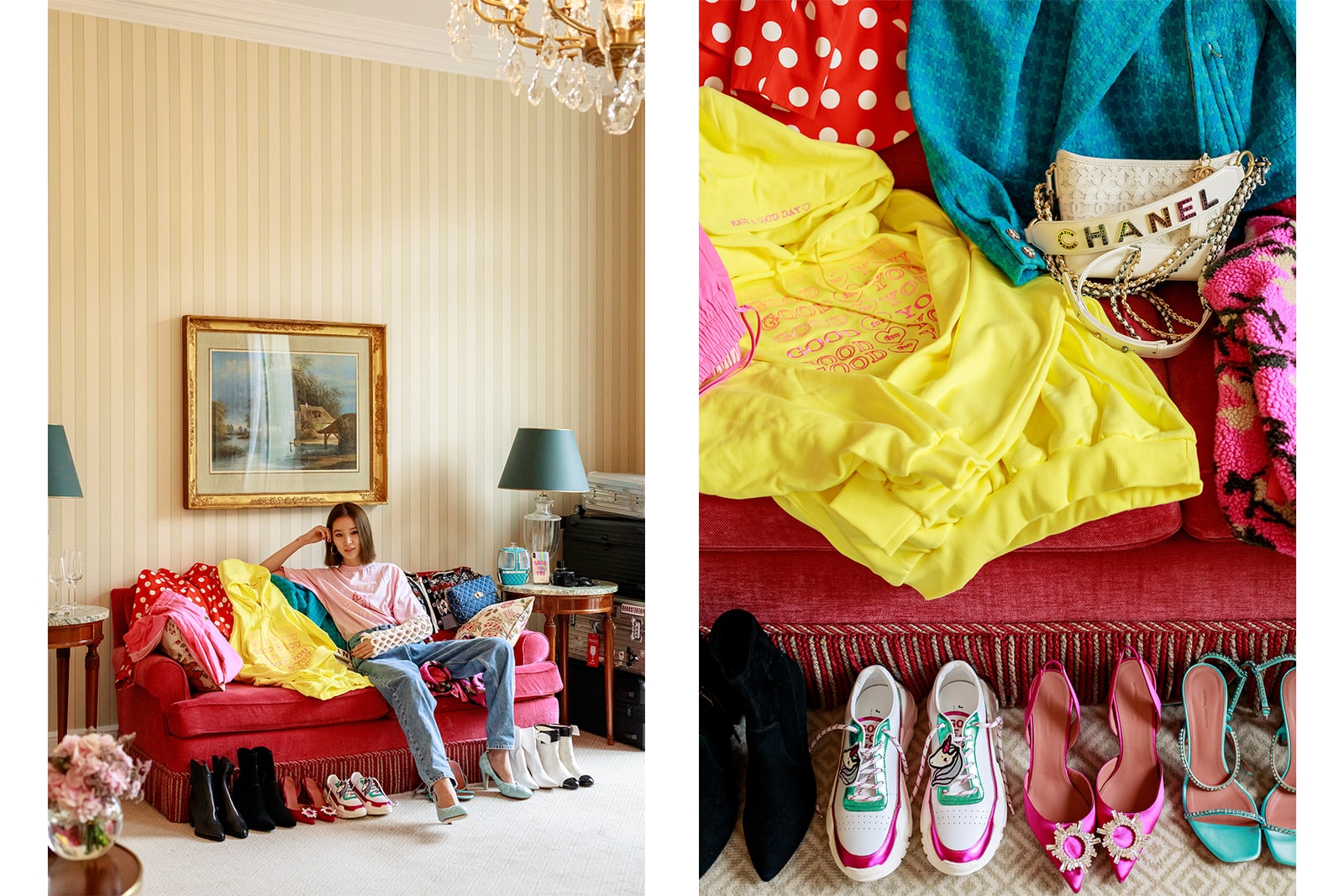 As a street style veteran, what are some fashion trends you're excited to wear this fall and winter?
I've been stocking up for fall and winter. Fall is one of my favorite seasons, and also winter. I think because I'm a winter baby — I was born in November. I love layering. I love puffer jackets. I'm so glad that they're in trend right now, because it gets so cold in Seoul. And I love shearling as well. I got this amazing Isabel Marant ivory shearling jacket. I love big hats and I can't wait to layer up with coats and cozy sweaters.
With the expansion of IRENEISGOOD LABEL, in what direction will the brand be heading in the near future?
Throughout my life, I've never really planned to be where I am today. I've always just done what I love to do. And I think as long as you are passionate about something, and you love something, it'll take you to new places or take you to the next steps, or open a lot of new doors for you.
I was watching the Netflix documentary about Bill Gates, Inside Bill's Brain, and I was really struck by what his mother had said about her success, or one's success. She said, "each one of us has to start out with developing his or her own definition of success. And when we have these specific expectations of ourselves, we're more likely to live up to them. Ultimately, it's not what you get or even what you give. It's what you become."
I'm not really sure what direction that the brand is heading, but I know it's another stage in my life where I'm expressing my creativity, and an extension of what I've been doing until now, which is good vibes through my style or my content. Now, it's expressing good vibes and fun through clothes I've designed. Hopefully the brand will always have a positive influence on my customers, and also on young girls who are going down the path that I'm going down now.
I hope to open some stores and do a lot of pop-ups. I don't want this brand to just be about clothes or selling, I don't want to be a sellout. I definitely want it to be another engaging experience for my followers or my customers, so I want to be present when everything's happening. If we have pop-ups or events, I'm going to make sure that I'm there, and be present, engaging and have fun.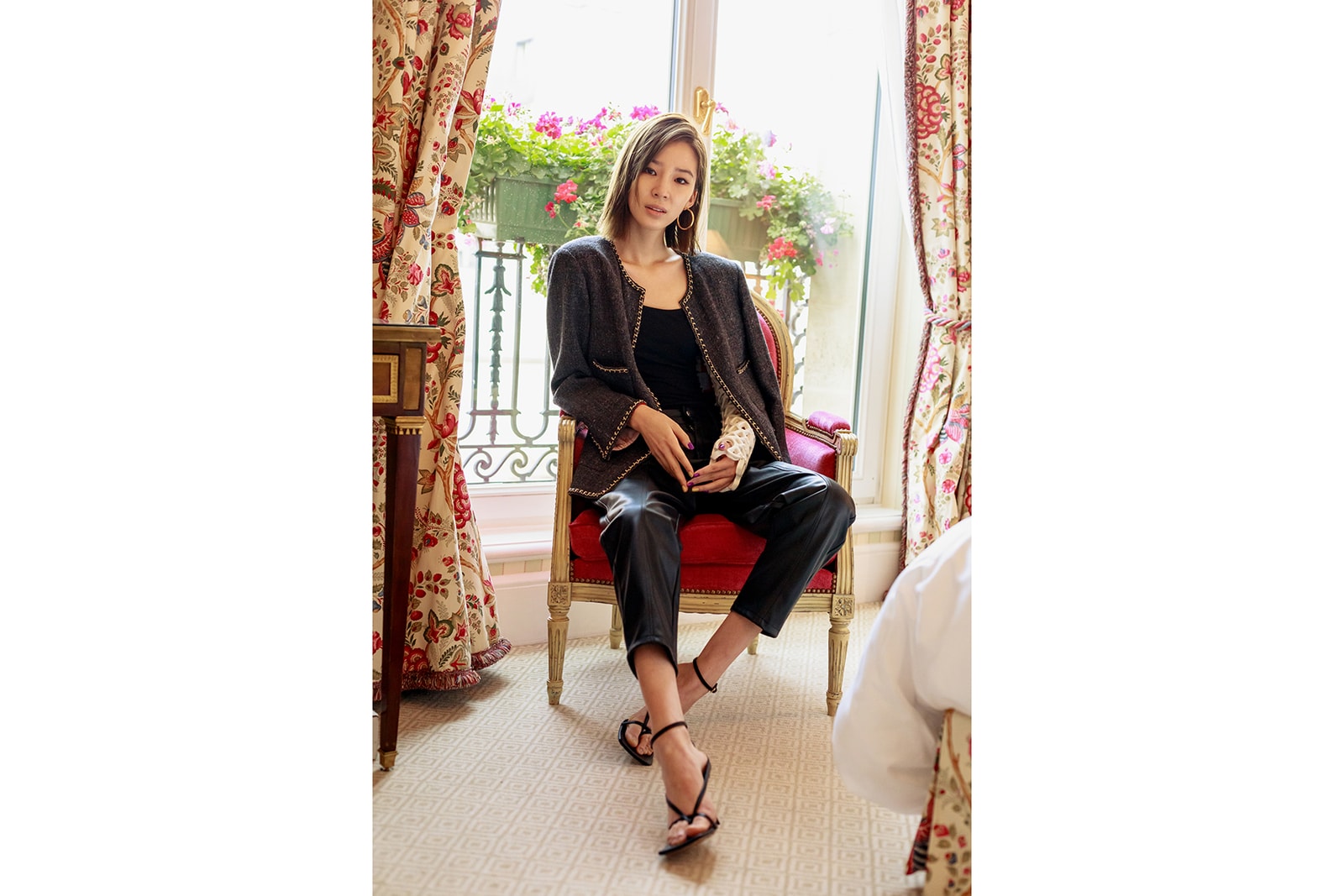 Following a partnership between Joshua Sanders and your label earlier this year, can we expect collaborations between IRENEISGOOD LABEL and other designers?
Of course, I mean it would be a dream to have collaborations with other amazing designers and brands. We have been in talks with other brands (that I cannot name) that have been very interested already. It's all about collaborating, because that just gives off another amazing synergy and energy. To create something from nothing, and have that something put people in a good mood, or make them feel a little bit more excited about fashion and creativity, I'm all for it.
In the past, you've spoken openly about facing challenges in the industry as an Asian-American woman. What changes do you wish to see in fashion in regards to that?
There's already been so many changes and I'm very excited about the direction the industry is going now, because I don't think now it's about just Asian-American women, but about minorities in every industry, and we are changing it. Women like Rihanna, and Sandra Oh, women who are much more influential than I am are changing the game, and are giving the opportunity for women in general to have a voice, and have a space to freely express [themselves]. Hopefully it'll continue. I think I'm really lucky to be in this industry because we do celebrate women. I just hope that the good vibes will keep going, and I hope that we can all celebrate each other.