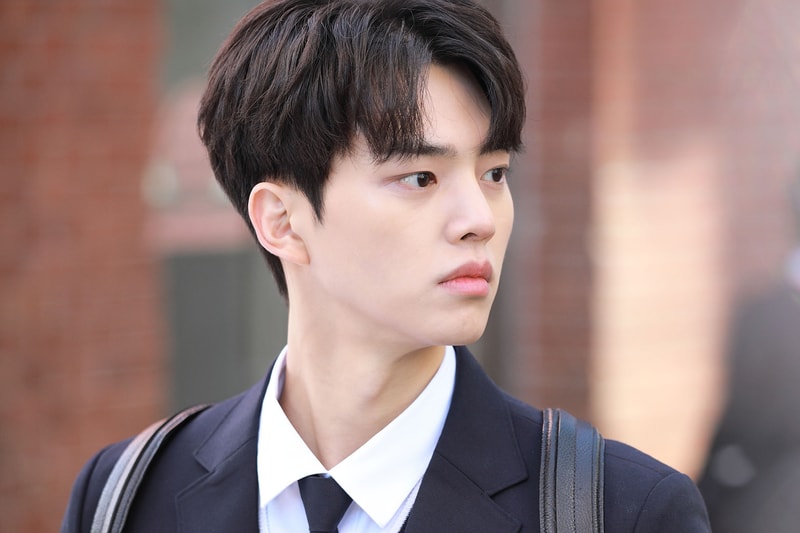 5 Things You Didn't Know About Song Kang From Netflix's 'Love Alarm'
Calling all fangirls.
If you've been on the lookout for a new show to watch on Netflix, Love Alarm should be next on your list. A typical cringy but cute Korean romantic comedy, the K-drama is based on an online cartoon (otherwise known as webtoon) of the same name, illustrating the story of Jojo (played by So-hyun Kim), an unlucky teenage girl who finds herself falling in love with dreamy character Sun-oh (played by Song Kang) based on a dating app called Love Alarm.
The new app, created by a secret developer, syncs up with the user's mind and shows how many people have feelings for them within a 10-meter radius. It takes over the world to a point where couples finish their vows with the app at their weddings, and social statuses are determined by the number of likes a person has.
While the storyline is just as interesting, many viewers are finding themselves binge watching the series because of its male lead played by 25 year-old actor Song Kang. With Love Alarm being his breakout gig, we've rounded up five facts you should know about the star. Scroll down to take a look, and while you're here make sure to check out the best Netflix originals to watch this fall.
1. Song Kang debuted two years ago.
His first acting role was on tvN series The Liar and His Lover, a story based on a popular Japanese manga series titled Kanojo wa Uso o Aishisugiteru. Song Kang plays Jinwoo, a teenage boy who has a secret crush on Sorim, played by Red Velvet's Joy.
2. He was a show host for one of Korea's biggest music shows.
For those who are unfamiliar, only some of the biggest stars get to host Korea's SBS music show Inkigayo. Song Kang stood alongside SEVENTEEN's Mingyu and DIA's Chae-yeon Jung in 2018 as hosts for the weekly show.
3. There were around 900 applicants for his role.
The emerging actor beat around 900 applicants, including a few K-pop stars, to land the role as Sun-oh. "I honesty didn't know I would get the part. There was too much competition – we auditioned in pairs and it seemed like the producers were more interested in the other actor. I was so surprised when I heard the news that I couldn't sleep well," he said in an interview with Max Movie.
4. He says he would never download an app like Love Alarm in real life.
"I wouldn't use the app in real life, since I've already seen what it would do through this show. I don't want to lose loved ones through the app," he told Max Media when asked if he would ever download the dating app. Apparently, an app of the same name already exists, currently available only in Korea on Android devices.
[190818] #LoveAlarm webtoon writer Cheon Kye Young recently shared the existence of Love Alarm! The app is available on playstore (still working on iphone) but can only be used in Korea. If you're on the experience site, you can collect hearts. Amazing, isn't it? 😍📲💗 pic.twitter.com/NwStbiETMj

— Kim So Hyun PH (@KSHPhilippines) 18 August 2019

5. He will be appearing in another drama series very soon.
Song Kang is slated to appear in another webtoon-turned-drama, this time titled Sweet Home. While not much details on the show have been revealed just yet, the actor will be starring alongside Jin-wook Lee and Do-hyeon Lee.
---
Share this article