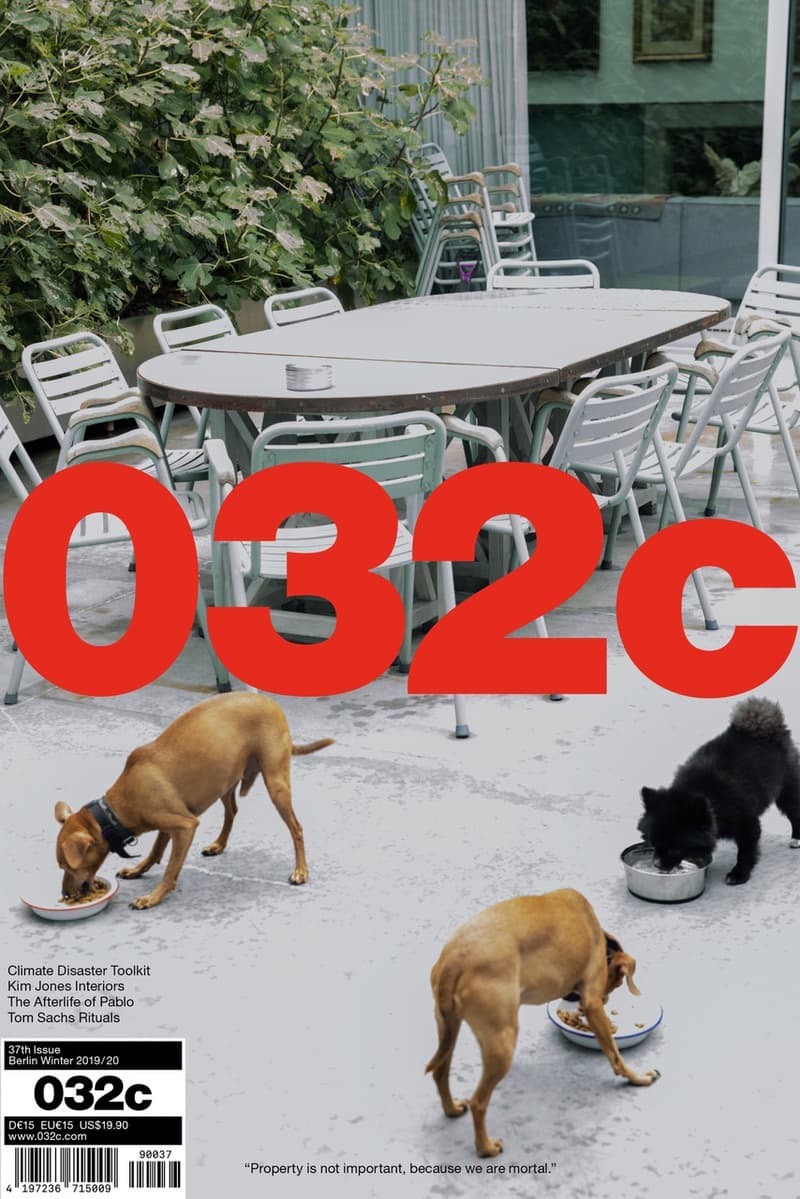 1 of 5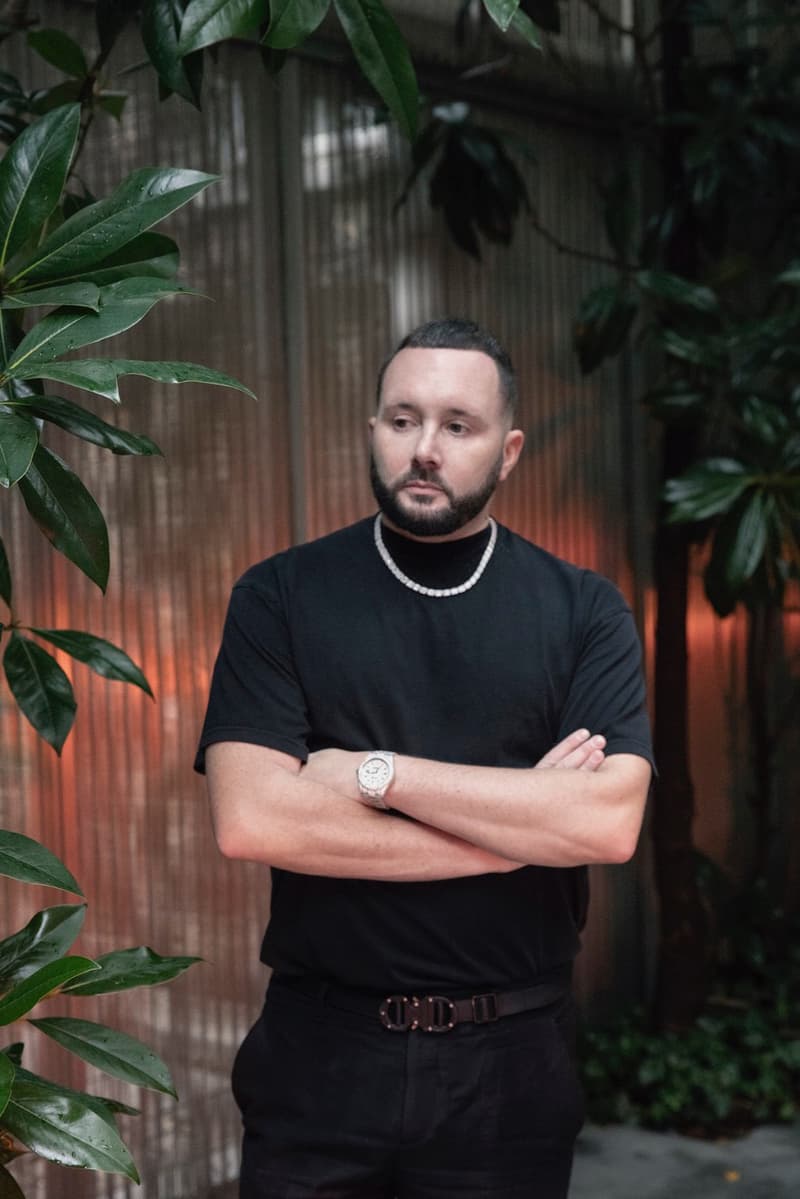 2 of 5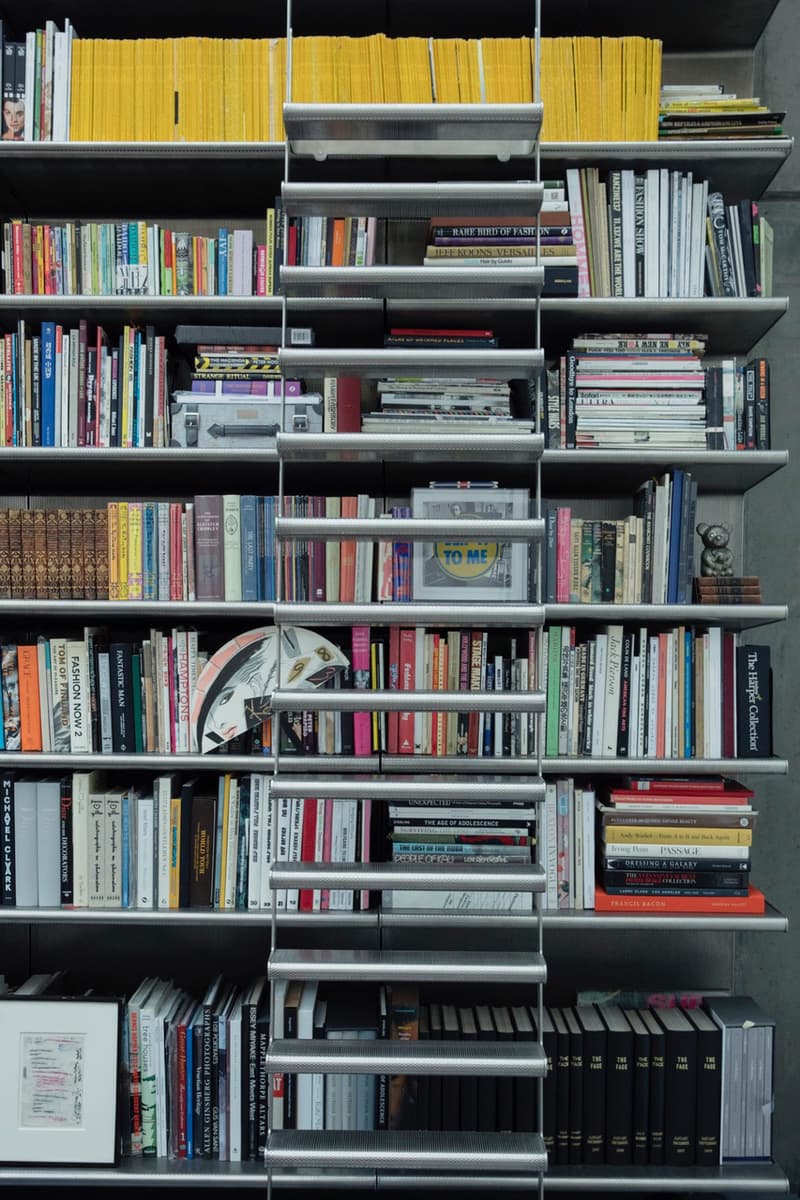 3 of 5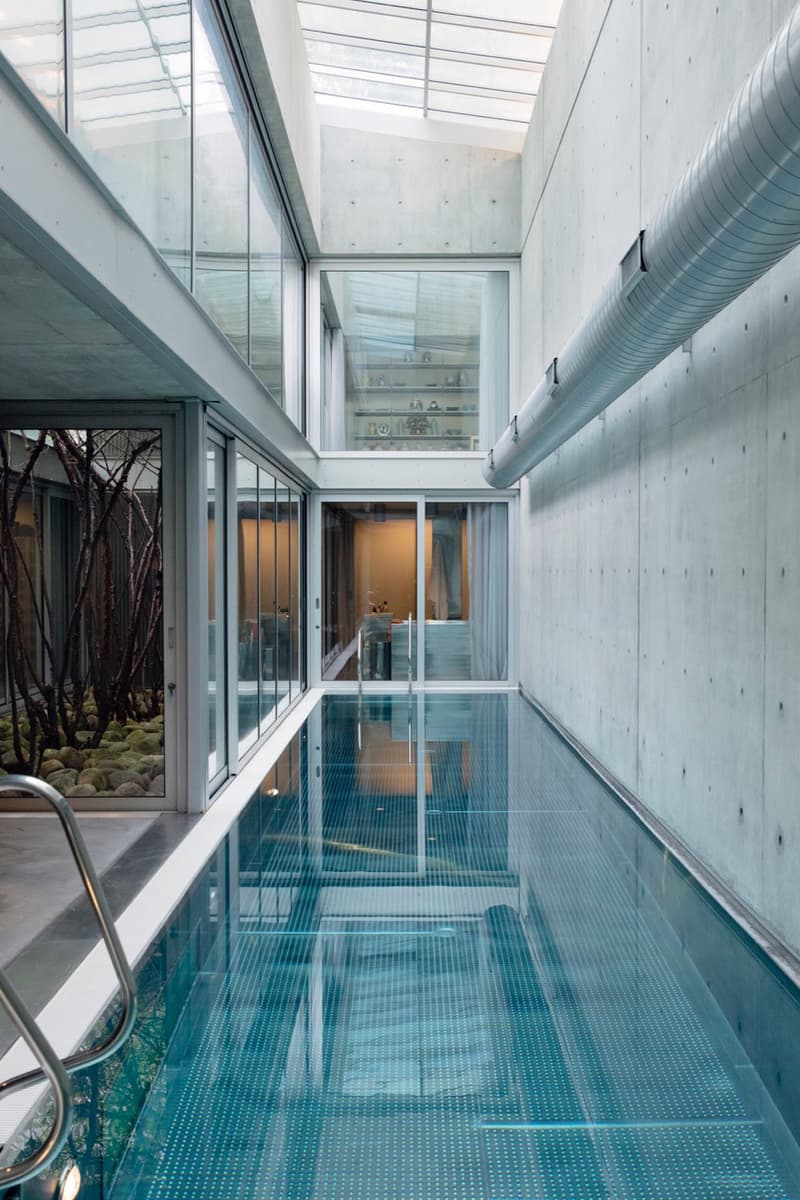 4 of 5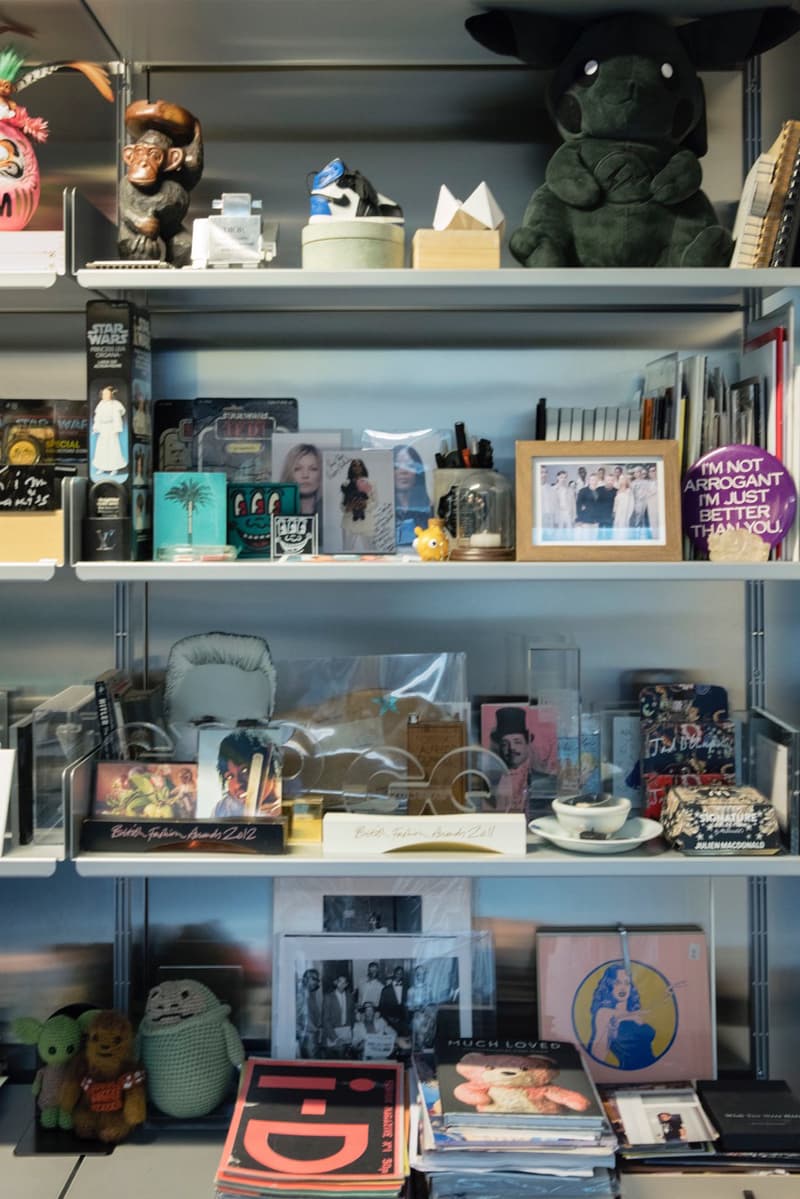 5 of 5
Fashion
'032c' Interviews Kim Jones in His Massive London Home
Talking interiors, reading books and the meaning of collecting with the Dior designer.
'032c' Interviews Kim Jones in His Massive London Home
Talking interiors, reading books and the meaning of collecting with the Dior designer.
The in-depth interview we've been waiting for, 032c Magazine spoke to Dior's leading man Kim Jones – as well as other notable names – for its latest print edition, Issue #37. Taking a more personal approach to the discussion with the menswear designer, writer Jack Self and photographer Jackie Nickerson take a tour of Jones' London home, using shelves of books, small ornate objects and niches within his interior to spark conversations not previously had before.
It's a discussion around visual inspiration, organization and a product's shelf-life, so to speak, in the fashion industry today. Jones' home is one which houses an array of limited-edition collectibles, a variety of abstract and realistic art pieces covering its walls and a futuristic stretch of pool water, all bringing together the space that makes the artistic director feel grounded and forever at home.
Alongside Kim Jones' feature, the magazine also includes a talk between Tom Sachs and UNIQLO's John C Jay, a pop culture chat with UNDERCOVER's Jun Takahashi and a fashion season chronicle that includes some of the industry's leading women, including Michèle Lamy, Anja Rubik, Shay and Laetitia Casta. Additional content includes thought-pieces from Jil Sander director Luke Meier, Miguel and Nicole McLaughlin, as well as others, and a selection of favorite books of the season for BERLIN REVIEW.
You can pick up a copy of Issue #37 on 032c's webstore and select magazine retailers, and scroll down to read a snippet of Jones' interview from the issue below.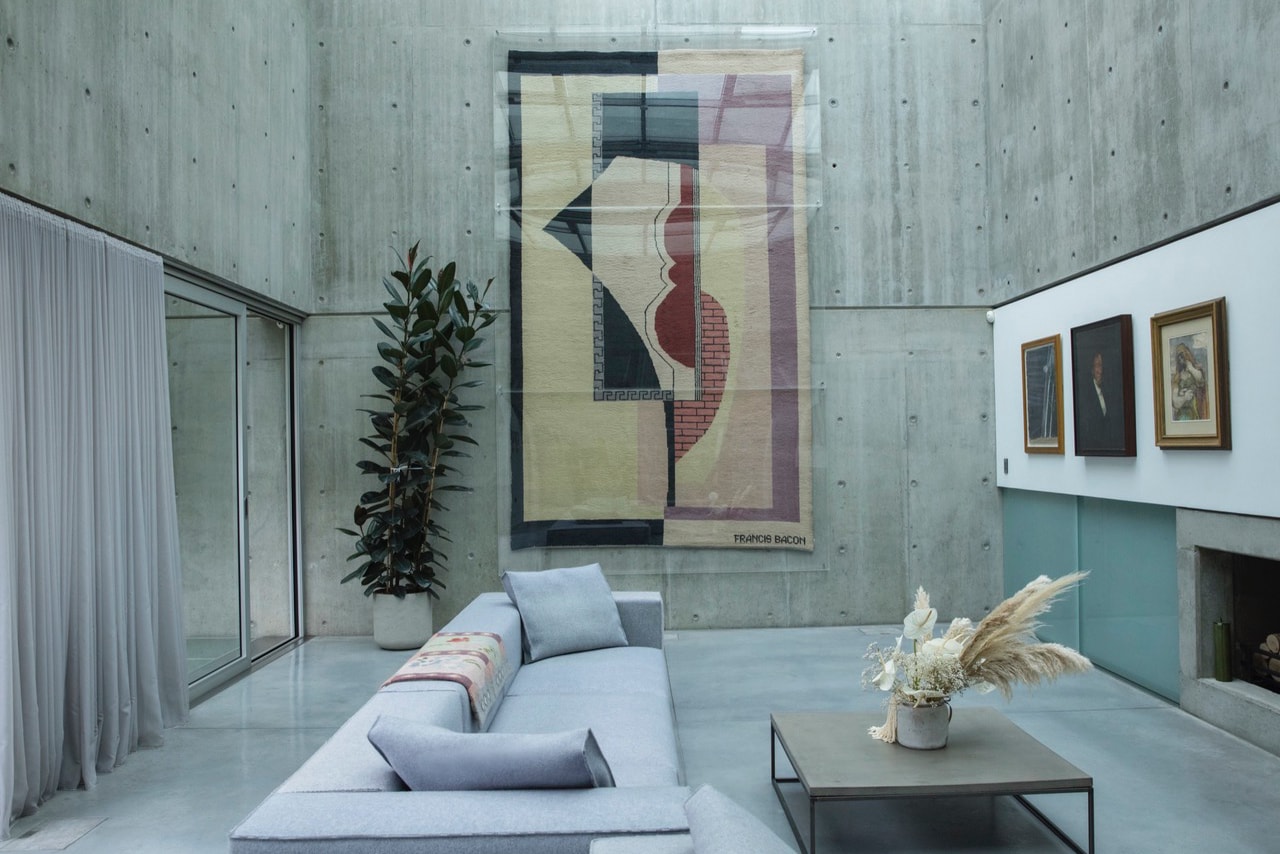 Do you spend a lot of time at home?
When I'm in London I do. I'm a homebody. For the last nine years I've been living in two places, so it's nice to get everything in one place. I gave up my place in Paris because I wanted to live in a hotel when I'm there. In London, I wanted to be more grounded. I had quite a nomadic childhood, so to be in one place where everything is together and peaceful – that is good for me.
A nomadic upbringing must have changed your relationship with objects. In my case, it made me disinterested in ownership. But you seem to have gone the other way. You've shown me a lot of "complete" collections of objects: full sets of books, complete streetwear collections, vinyl record back catalogues, even StarWars figurines. What is the meaning of collecting, and is the idea of completeness important?
My whole family have always been collectors. Particularly my father, who was a geologist. He amassed a huge collection of material from all over the world. I have quite a lot of natural and geological objects in my house actually, and I am very concerned about preservation of the environment and biodiversity. People always say that's hypocritical, given what I do, but I don't think it is. I simply feel that protecting animals and rare species is a responsibility, and it is part of who I am.
I'm not here to grill you on hypocrisy. The general public today seems to demand an impossible purity from public figures, and the press often wants to erase inconsistencies. But individuals are filled with contradictions. Do you form very strong emotional relationships with the objects in your home?
There are some pieces I love, but I also frequently edit.
Are you using the language of fashion to talk about domestic objects? When you say "pieces" and "edit," you mean acquisition and removal?
I'm talking about how objects enter my field of vision, and how they behave in the world. I am not nostalgic. If someone comes into my house and sees an object they really love, I will frequently give it away. Obviously, this doesn't apply to some of the really expensive things here. But when it comes to clothing, if it looks better on someone else, they should have it. I'm not precious about stuff, about daily objects. I quite often swap objects with friends: plates, pictures, bits and pieces. My home is constantly evolving. It's a fluid arrangement of objects. Letting go of an object is about letting it have an active role in the world. I don't want things to be static or preserved.
Is how strongly you feel about the object connected to how much attention you've given to its arrival in your space?
I do buy things sometimes and think, "why did I get that?" Then one of my assistants will like it, oran intern, and I'll let them take it home. Because if it was important to me I would have concentrated more in the beginning. It's a cliché to say it but I know what I like, and I know what I don't like. I am very fast at making that decision. So if I end up with an object without having considered whether I need it, I know that it's because I don't. That makes it easy to let go. I put a lot of consideration into this house. It took me quite a while to find somewhere I wanted to buy. The first one I wanted to get was very different: it was a late-Victorian villa in Little Venice [West London]. I started collecting for that. Then I saw this one, and I was like, "oh my god, I didn't even know you could get a house like this in London." I've always fantasized about living in Los Angeles, and having a house in a style like this – I didn't realize it could be done. Many people think living in concrete is very cold, but I don't agree.
Have you seen Juergen Teller's studio by 6a architects, just down the road? It is all concrete, but I think the architects did an amazing job of making it feel warm.
No, I haven't! We keep texting each other. Juergen wants to come over here because I've got a pool and he wants to use it, so we're talking about a housewarming. But getting an interior right with concrete isn't just about the material. The scale of this house is large: it's 800 square meters. The rooms are big, so they can easily look empty. I wouldn't say I've finished this interior at all. In the living room I think I want to design a rug rather than buy one. It's a process, and I have no need to rush it.
Many people want to live in ready-made or already finished interiors. I see them on Instagram all the time, as if the aspiration is to be thoroughly typical. They have uncanny qualities, a bit like hotels.
I'm suspicious of people who don't accept their homes as open processes. An interior has to evolve. I have hung art, but that doesn't mean these works will stay where they are or even in the house. There is maybe one exception, and that's the library and the study. Books need to be in a more or less fixed position. These two rooms are next to each other and are the ones I like to be in the most, where I do most of my thinking and research. Libraries need to be in order, otherwise they lose their function for memory. I can visualize the placement of all my books, and instruct someone to find exactly the right volume over the phone. I even remember where to find a specific reference in a particular book. In my mind, I can see that it's on the lower left page, halfway through, for example. Libraries let you create visual connections between ideas. But if a library is like a memory palace, you can't easily reorder its parts.
What are you reading at the moment?
I've been reading and rereading a lot of Virginia Woolf. Of course, once I find a new work, I quickly get obsessed, so now I am hunting for first editions, inscribed and signed copies, and so on. I bought quite a lot of Jack Kerouac's personal collection recently. I'm interested in where people's ideas came from, so I like to read around their work. I wanted to know what Kerouac knew.
Do you keep your own work mixed in with your library?
No, they are completely separate. I do refer to my own work, but not in the context of a library. I don't like to look backwards. I might consider some of the early work done for my own brand, which Dior is quite close to in some ways, but I mostly feel the need to keep moving on. I guess that's why I like fashion: it is relentless. If you look at someone like Matthew Williams, I like the fact that his work evolves, but has a certain level of consistency. In this day and age, a customer wants difference. You have to have a core. But you also have to have something exciting and new. I'm not scared of risk. For example, our next show in Miami is very different from the last one we did in Paris. It will be quite full on, and it will surprise people. But Christian Dior was a risk taker, and radical.
You do take a lot of risks, but you are also extremely commercially successful. That suggests a deeply calculated approach. How do you balance making a clear and fresh proposition with market demand?
I like facts and figures, and I follow how products perform very closely. I also think, "how can we consistently produce the opposite of what is expected or predictable?" I always want to flip things around. That's increasingly hard these days, because as a strategy it's kind of been done. But then, everything has already been done. That is the challenge. When you have the core of what Dior is, you can play around with it a lot to produce new and unexpected relationships.
---
Share this article