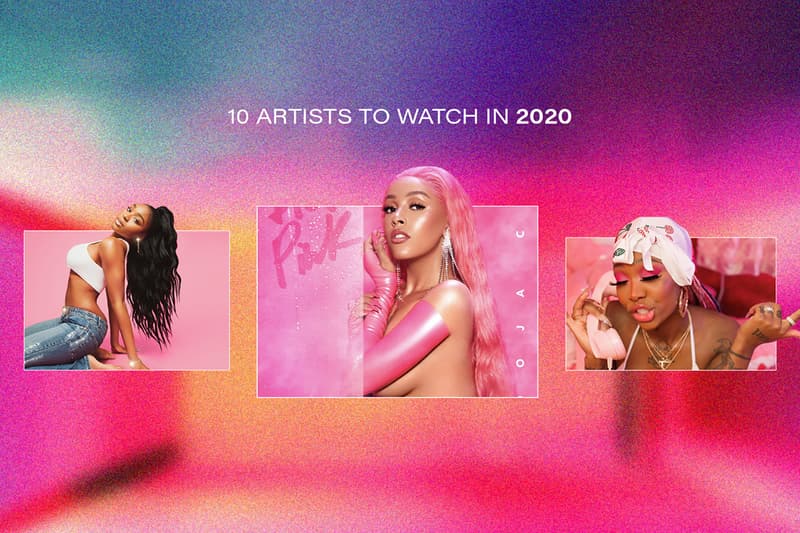 Music
The Top 10 Artists to Watch in 2020
From Normani to Summer Walker, meet the biggest rising stars in music today.
The Top 10 Artists to Watch in 2020
From Normani to Summer Walker, meet the biggest rising stars in music today.
As we enter 2020, there's a lot in store for artists of all genres in the music industry. A number of singers released memorable singles and albums in 2019 and made their mark in music history. Key highlights include the self-love glow-up of Lizzo who released some of the best tracks of the year like "Juice," while Billie Eilish's album WHEN WE ALL FALL ASLEEP WHERE DO WE GO? earned her six Grammy nominations for 2020.
While we can never get enough of our favorite artists, it's good to keep a lookout for new talent who have been putting in the work to release exciting projects in the new year. From R&B singer Summer Walker to former Fifth Harmony member Normani, read on to discover our top 10 artists to watch in 2020.
While you're here, check out our HYPEBAE Best 2019 series to see what we loved last year.
American-born British singer-songwriter Celeste blends British soul and jazz blues over subtle R&B melodies. At the age of 16, she wrote her first song called "Sirens" that she published on YouTube and caught the attention of her current manager. The Brighton-based artist released her debut single "Daydreaming" under Lily Allen's record label, Bank Holiday Records back in 2016. She then dropped her debut EP, The Milk & the Honey, under the same record label in March 2017.
Since her first EP, Celeste has released another record titled Lately, eight singles and supported Michael Kiwanuka on tour. She has also had the opportunity to perform at some of Europe's biggest music festivals including Glastonbury, Primavera Sound, Field Day and Rock en Seine.
Daughter of actress Christa Miller and producer Bill Lawrence, Charlotte Lawrence initially jumpstarted her career as a teenage model signed under IMG Models. Her first major gig was for Chanel, which led her to work for other big names like Vogue and Galore. However, music has always been Charlotte's passion ever since she was a little girl. In 2017, she released her own rendition of Grease's iconic track "You're the One That I Want," which instantly made her a viral sensation.
Taking advantage of her overnight success, the artist signed with record label Human Re Sources and released two digital singles "Seventeen" and "Sleep Talking," and her debut EP Young in 2018. Some may also be familiar with her track titled "Falling Skies" which she recorded for Netflix's 13 Reasons Why. 
Best known for calling out Kanye West through her viral freestyle rap over West's own "Jesus Walks" beat in 2018, after he sported a "Make America Great Again" hat, Chika is one to watch in the hip-hop scene. Having released her first single "No Squares" back in April 2019, the rapper told TIME that she wanted to "bring back what's real and let people be more in touch with themselves."
Since her first single, the artist has garnered support from the likes of fellow musicians Erykah Badu and Sean "Diddy" Combs, as well as supermodel Naomi Campbell.
Los Angeles-born rapper, singer and record producer Doja Cat has been in the game since 2013. After releasing her first-ever single on SoundCloud dubbed "So High," the artist signed with RCA Records in 2014. "So High" was chosen to be featured on the soundtrack of hit TV show Empire in the first season. In 2014, the artist released her debut EP, Purrr! along with a series of singles including "Go to Town" and "Tia Tamera."
By 2018, Cat's track "Mooo!" became a viral success on YouTube. The release was followed by her debut studio album, Amala. Last year, "Juicy" came out in August 2019 and landed a spot on the U.S. Billboard Hot 100 list, earning Cat her first entry on the chart. She then dropped her second album Hot Pink that features collaborations with Smino, Tyga and Gucci Mane.
Most of us were introduced to Jessie Reyez when she released her 2016 single, "Figures." The song eventually earned the 58th spot on the Canadian Hot 100 list, and by 2017, the artist would drop her single "Shutter Island" and tour around Europe with PARTYNEXTDOOR. That year, Reyez also dropped her EP, Kiddo, which earned her four nominations at the 2018 Juno Awards and won the title of Breakthrough Artist. Her second EP Being Human in Public , which won the R&B/Soul Recording of The Year award at the 2019 Juno Awards, has been nominated for Best Urban Contemporary Album for the upcoming 2020 Grammy Awards.
Reyez has since then had the opportunity to co-write songs for Calvin Harris and Normani, and is currently working on her own debut album.
Known for her gentle, yet husky voice, Joy Crookes has been compared to legendary musicians such as Amy Winehouse and Lauryn Hill — which says a lot about this 20-year-old's talent. Coming from a Bangladeshi and Irish background, Crookes passionately incorporates her experiences from her relationships, her culture and her South London roots into her work. She released two singles, "New Manhattan" and "Sinatra," back in 2016 at the age of 17. In 2017, Crookes debuted her first EP, Influence, in conjunction with Insanity Records.
She then produced two more records, Reminiscence and Perception, which earn her a nomination for the Rising Star Award at the upcoming 2020 Brit Awards.
An 88rising artist, Indonesian singer, songwriter and record producer NIKI started out making covers and posting her original songs on YouTube, which earned her 40,000 subscribers at the time. From 2016 to 2017, NIKI independently released her own tracks "Polaroid Boy" and "Anaheim." After moving to Nashville to study Music at Lipscomb University, the singer was able to drop "See U Never" and "I Like U" with the help of 88rising.
Since signing with the American mass media company, NIKI has been able to release two of her very own EPs, Zephyr and wanna take this downtown?.
Some fans may recall that Normani used to be a part of girl group Fifth Harmony. However, after the band's indefinite hiatus, Normani has been establishing herself as a solo act. In 2018, the singer and dancer collaborated with R&B artist Khalid on the track "Love Lies," which rose to top ten in the U.S. and was certified 4x Platinum by the Recording Industry Association of America (RIAA).
Since then, Normani has released her own single "Waves" featuring 6lack, and has worked with Sam Smith on "Dancing With A Stranger." Her first-ever solo track "Motivation" was released in the summer of 2019 which peaked at number 33 in the U.S. music charts.
In 2015, Raveena started working with record producer Everett Orr. Exploring topics such as self-love and healing, the Indian-native singer's first EP Shanti released in 2017 features a blend of R&B, soul and jazz. Her unique sound was quickly noticed by other musicians in the industry — in 2018, she performed in Tyler, The Creator's Camp Flog Gnaw Carnival.
Last year, Raveena finally released her debut album titled Lucid,  which touches upon the themes of sensuality, healing from trauma and spirituality. The artist also shared her personal experience as a sexual assault and abuse survivor in her tracks "Stronger" and "Salt Water."
Fairly new to the music scene, Summer Walker was discovered by a woman of the same name who works as the studio manager of Atlanta-based label LoveRenaissance. In 2018, she released her commercial mixtape Last Day of Summer, along with her hit single "Girls Need Love." Following the release of her first project, she had the opportunity to go on tour with 6lack on his From East Atlanta With Love Tour.
Last January, Walker dropped her first EP CLEAR, which consists of four acoustic tracks. The month after, she worked with Drake on a remix to her own song "Girls Need Love." She then released her album Over It last summer and won her first BET Soul Train Music Award for Best New Artist.
Composite Imagery

Yuri Hong/Hypebae
---
Share this article