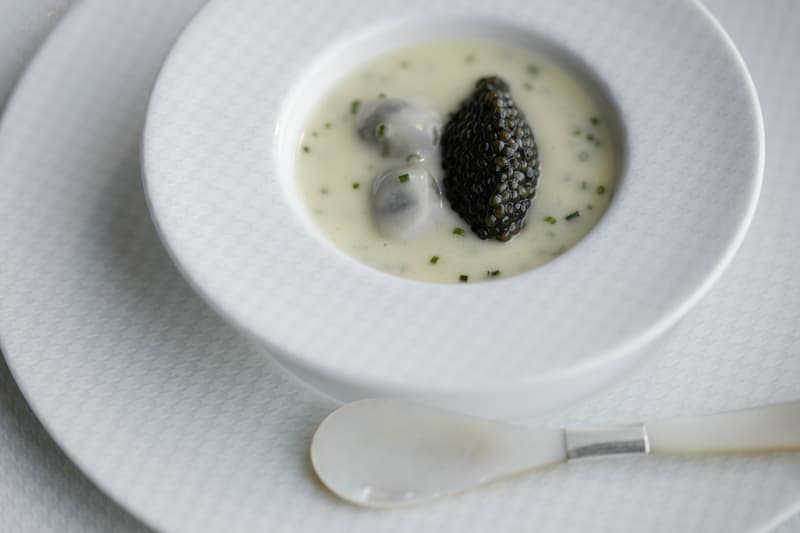 The 9 Most Expensive Restaurants in the U.S. in 2020
For serious foodies only.
It's no secret that meals at some of the best restaurants in the world come with hefty checks often verging into the thousands. Renowned chefs, premium ingredients and luxurious ambiance all account for high price tags, elevating fine dining to another level. From sushi restaurants Masa and Urasawa to Blue Hill's farm-to-table experience to Alinea's experimentation with molecular gastronomy, the country's priciest tasting menus span various cuisines and techniques.
Though price doesn't always indicate quality, these restaurants have been lauded by critics and customers alike for creating unparalleled dining experiences. So whether you're a curious foodie or looking to majorly treat yourself, read on for the 9 most expensive restaurants in America.
Location:
New York City
,
New York
Price Per Person:
$595 USD
Boasting three prestigious Michelin stars, Masa is known for its omakase prepared by chef Masayoshi Takayama. Takayama got his restaurant start as a dishwasher and eventually apprenticed under sushi master Sugiyama Toshiaki for eight years. Takayama opened his first restaurant, Ginza Sushiko, in 1987 — its understated yet expensive menu attracted food lovers and celebrities alike including Marlon Brando. Now, Masa, one of four New York City restaurants helmed by Takayama, has garnered rave reviews from The New York Times and Forbes for its Tokyo-sourced fish elegantly prepared with seasonal ingredients.
Urasawa
Location: Los Angeles, California
Price Per Person: $395 USD
Located on Beverly Hills' flashy Rodeo Drive, Urasawa is an incarnation of Takayama's original Ginza Sushiko. Takayama sold the restaurant to his mentee, Hiroyuki Urasawa, in 2003. Since then, the spot has become known for serving kaiseki, a traditional Japanese multi-course meal comprised of hot and cold dishes, followed by a sushi course. Eccentricities — such as its no-photo policy, lack of website and Urasawa's insistence that all fish must be consumed within 10 seconds — divide critics, but it's safe to say that the restaurant is one of the country's most notable.
Location: New York City, New York
Price Per Person: $362.21 USD
Serving a seafood-heavy menu inspired by Japanese and French cuisine, Chef's Table at Brooklyn Fare is so buzzy that prospective diners often face wait times up to six weeks for a reservation. Chef César Ramírez's multi-course tasting menu, ranging from 15 to 24 plates, present seasonal ingredients alongside advice from Ramírez himself on how best to consume each dish. Premium ingredients, such as caviar and truffles make frequent appearances. Though the restaurant's name retains its original location, Chef's Table quietly relocated to the west side of Manhattan in 2017.
Location: Yountville, California
Price Per Person: $350 USD
Frequently cited by critics as one of the best restaurants in the country, The French Laundry serves two nine-course tasting menus, including a vegetarian option, that changes daily. Thomas Keller, the only American-born chef to own two restaurants awarded three Michelin stars, specializes in French cuisine and elevates humble dishes such as macaroni and cheese and French onion soup, with high-quality ingredients and his signature technique.
Location: Washington, D.C.
Price Per Person: $295 USD
Named one of TIME's 100 Most Influential People of 2018, chef José Andrés combines art, technology and food for a truly avant-garde tasting menu. Outfitted to recall a laboratory, the restaurant serves experimental dishes that deconstruct and reconstruct traditional dishes and ingredients into something totally unexpected — for example, the Michelin Guide describes "snails" that are actually domes of ham-flavored gel served with escargot roe.
Location: Tarrytown, New York
Price Per Person: $278 USD
At Blue Hill, chef and co-owner Dan Barber regularly showcases fresh ingredients from the restaurant's surrounding farm on a menu — or rather, "journal" of ingredients — that changes each month. January's offerings fall under the theme of "Greenhouse" and feature produce such as winter squash, kale and parsnips. Meat consists of farm-raised harvesting pigs and hen eggs. Servers gauge diners' preferences, taking note of allergies and relay the information to the kitchen for a bespoke program of 20 to 40 dishes. Part of the farm-to-table experience often includes a short rendezvous across the farm grounds to the herb garden, for example, as one review describes.
Location: New York City, New York
Price Per Person: $225 to $355 USD
Thomas Keller's second three-Michelin-starred restaurant, Per Se serves both rave-worthy food and breathtaking views of Central Park. Similar to The French Laundry, Per Se offers a diverse menu that changes daily and features inventive combinations of ingredients ranging from seafood to poultry to seasonal fruits and vegetables. Notably, food critic Sam Sifton dubbed Per Se the best restaurant in New York City in a 2011 review published in The New York Times.
Location: Chicago, Illinois
Price Per Person: $190 to $395 USD
Currently the only Chicago restaurant awarded three Michelin stars, Alinea specializes in New American cuisine and offers three different tasting menus at varying prices. Dishes — such as an edible helium balloon — often feature the flair of molecular gastronomy, but don't rely on the flashiness of unconventional technique.
Helmed by William Bradley, Addison fuses French-inspired technique with clean California cuisine. Located in Carmel Valley, the restaurant overlooks rolling golf course greens and serves food informed by "the historical cookbooks [Bradley] has collected for years and by his near-photographic taste memory," The New York Times writes.