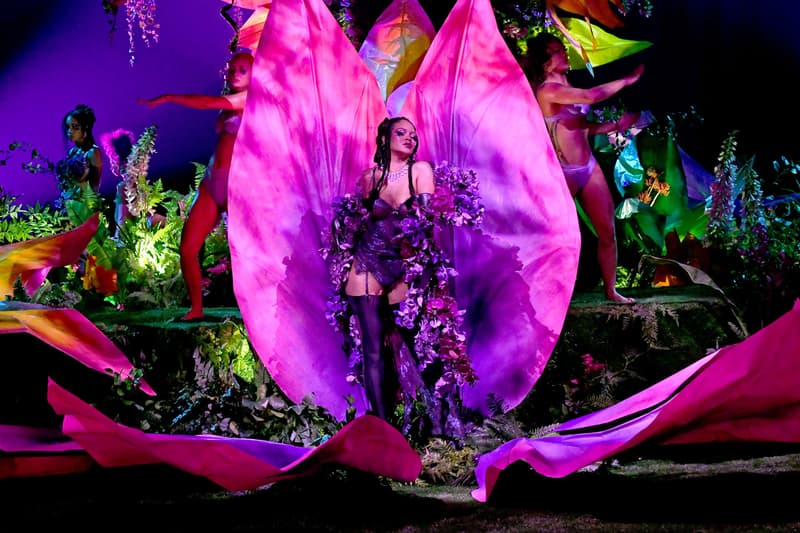 Fashion
Rihanna Apologizes for Using Sacred Islamic Text in Savage X Fenty Show
The show, widely considered a touchstone of inclusivity, alienated Muslims with the allegedly unintentional mistake.
Rihanna Apologizes for Using Sacred Islamic Text in Savage X Fenty Show
The show, widely considered a touchstone of inclusivity, alienated Muslims with the allegedly unintentional mistake.
Rihanna's second Savage X Fenty show, which premiered on October 2 to beaming reviews that praised the lingerie brand for its diversity, is under fire for a glaring oversight that Muslim viewers quickly pointed out. The show's soundtrack includes a song that samples a hadith, a collection of sacred Islamic texts containing the teachings of the prophet Muhammad.
According to a report by TIME, the song in question, "Doom" by Coucou Chloe, remixes a hadith reading by Kuwaiti preacher Mishary bin Rashid Alafasy. On Twitter, Chloe apologized for failing to properly research the sampled audio. "We have been in the process of having the song urgently removed from all streaming platforms," she wrote.
Rihanna also apologized for using the song in her show, characterizing the oversight as an "honest, yet careless mistake." The star posted a statement on Instagram Stories, captured by Instagram account @muslim, addressing the offensive blunder. "We understand that we have hurt many of our Muslim brothers and sisters, and I'm incredibly disheartened by this! I do not play with any kind of disrespect toward God or any religion…Moving forward we will make sure nothing like this ever happens again."
Twitter users pointed out the disconnect between Savage X Fenty's outwardly inclusive branding and its recent mistake. "The fact that rihanna's show was supposed to be a keystone for 'inclusion' while she completely alienated the Muslim community by disrespecting a Hadith recitation is the perfect showcase of how fashion brands & the media have never considered us as a part of their audience," @myeshachou wrote. The user, whose name is Myesha Choudhury, elaborated in a comment to CNN: "Muslims have been disrespected and mocked in the mainstream media for the longest time, from awful portrayals in TV shows to disrespecting to excluding modest fashion, and I am glad that artists are now being held accountable and learning from their mistakes."
Savage X Fenty's misstep only goes to show how important it is that companies diversify their workplaces. Back in 2018, Prada elicited outrage for selling dolls that seemingly referenced blackface. When asked if any Black people work at Prada's headquarters in Milan, Prada Chairman Carlo Mazzi reportedly said he didn't know of such employees.
---
Share this article