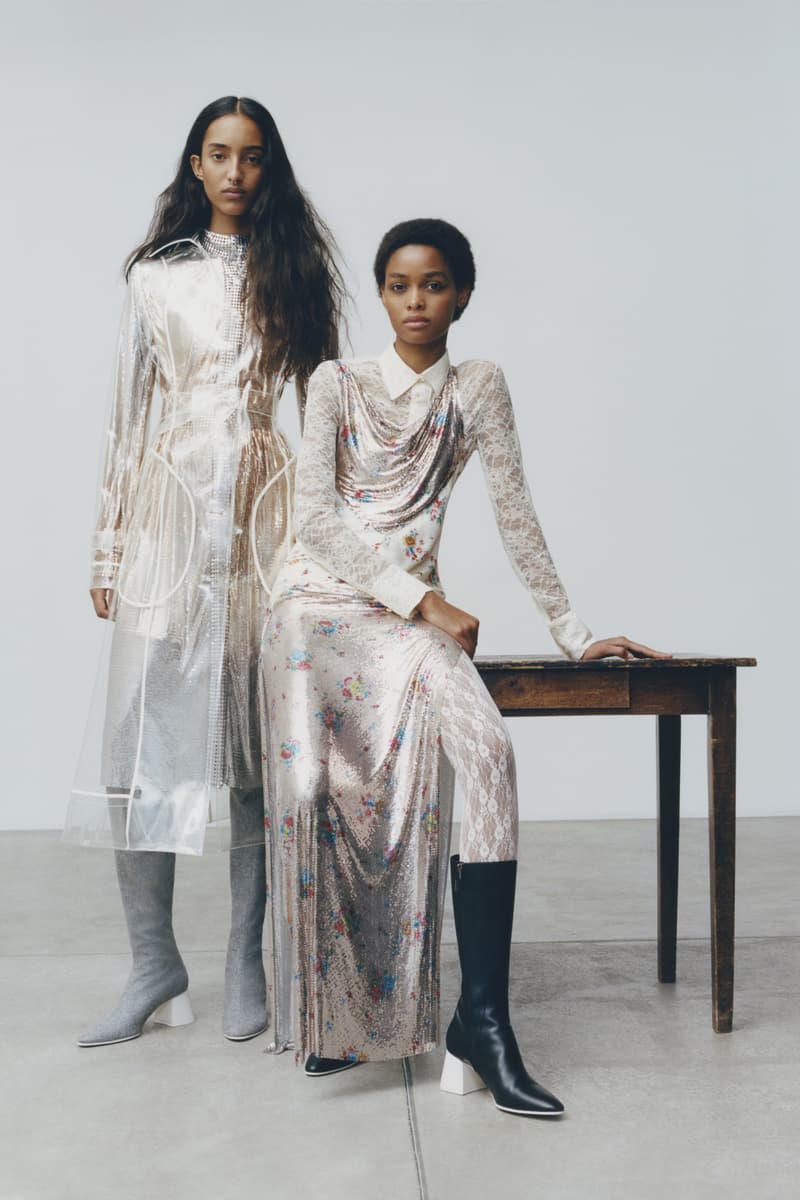 Welcoming a New Era of Paco Rabanne
Creative Director Julien Dossena is bringing the label back to the spotlight.
Fashion
Welcoming a New Era of Paco Rabanne
Creative Director Julien Dossena is bringing the label back to the spotlight.
Since Julien Dossena took over the role as creative director at Paco Rabanne, the label has seen a brilliant upswing that has given birth to a reimagined version of the household name. "His designs are diverse, and wearable whilst also remaining innovative," said Libby Page, Senior Marketing Editor at Net-A-Porter. According to page, his collections are "where unexpected fabrics such as brocade, chainmail and lurex are fused into sophisticated and wearable pieces," and he has managed to create a new version of Paco Rabanne that is appealing to a wider audience than ever before.
Prior to the label's show at Paris Fashion Week earlier this week, we had the chance to speak to Julien Dossena to learn more about his work this year, as well as where he sees the future of Paco Rabanne going. Keep reading to learn more, and head over to Net-A-Porter to shop Paco Rabanne.
How has Paco Rabanne evolved as a brand over the years?
Paco Rabanne has become more global over the years, fashion didn't exist in the same way at the brand for a long time before we arrived so we had everything to build from scratch: products, images, community etc. The goal was to put the brand back on the map because it's a classic, iconic French couture house and it deserved to be recognized again.
Are you seeing a new base of customers becoming introduced to the label?
Definitely, in the last five years we proposed products which were adapted to a new audience worldwide and at the same time making work inspired and educated by the legacy of the brand. Balancing the two led us to a strong response from customers for different reasons, both being taken as a new brand as well as wanting to buy an iconic fashion item.
How has the COVID-19 pandemic impacted your work?
It slowed down everything. Which is not that a bad thing because our growth was really going fast, and it gave us time to also begin to define a new way of proposing creative items. What rhythm? How many collections? Sustainability? Etc, etc, and we needed the time to figure this out as well.
Do you see a lot of changes brought on by the virus on both a personal level as well as across the fashion industry?
I see it more on a personal and daily level: the masks and the caution you have to have – the isolation also, sometimes. For the work it has the same impact: the distance during fittings, the time you spend on Zoom. It changes everything, actually.
How would you describe the Paco Rabanne aesthetic?
I would say a radical sensuality – edgy but effortless. A proposition of strong femininity and new masculinity. Well, a unique aesthetic that is bold and sophisticated at the same time.
Where do you find your main sources of inspiration?
Everywhere, all the time. A book, an artwork, a color on the street. By observing people most of the time, their attitude, gestures, and life style, the tools they use for their daily lives, and what makes them confident.
Where do you see Paco Rabanne in five years?
I hope in a place as sharp as we are now. But expanded and built in a special way, adapted to the modern world.
Why is Paco Rabanne important to the NET-A-PORTER customer?
I guess it's because the identity of the brand and products make it super individual: you can only find those things at Paco Rabanne
---
Share this article